There is an old interview of trainer Cus D'Amato in which he talks about how he instantly knew that Mike Tyson would be a great fighter. In the interview, he says that fighting has nothing to do with training or skill. D'Amato explains that when a good fighter takes a hard punch, he immediately knows to block or avoid that particular move at all times. He doesn't want to get hurt.
But the first time D'Amato saw Tyson get hit, when Tyson stumbled back to the corner, D'Amato asked Tyson if he was OK. Tyson shook his head "no."
"Do you want me to throw in the towel?" D'Amato asked the young boxer.
Tyson didn't respond like a good fighter. He responded the way great fighters do: "Of course not." He spat the blood out of his mouth, knocked his gloves together and said, "Now I have to go knock this motherfucker out."
Lucia McBath is a fighter.
When Michael Dunn gunned down 17-year-old Jordan Davis in the parking lot of a Jacksonville, Fla., convenience store, it broke his mother's heart, but it did not break her. It transformed McBath from a woman battling breast cancer into a fearless advocate for commonsense gun laws.
G/O Media may get a commission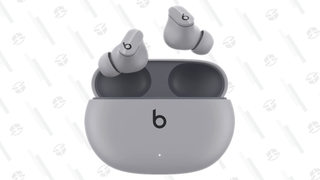 Today she and countless others across the country will wear orange for National Gun Violence Awareness Day, or Wear Orange Day.
After her son was killed on Thanksgiving weekend in 2012, McBath decided to quit her job and become a full-time activist working to change gun laws and make people aware of the proliferation of gun violence and the dangerous gun culture in America. McBath sat down with The Root for a wide-ranging interview about Wear Orange Day and National Gun Violence Awareness Month.
"Orange is the color that hunters wear. When other hunters see orange, they know it means they shouldn't shoot," McBath says. "After Jordan was killed, I knew we needed to do something about the gun culture in America. If we don't do something about this culture, people will continue to die."
McBath believes that gun-violence awareness is a particularly important issue for black communities. "They [politicians] don't worry about the rampant gun violence happening in our communities every day. It affects us disproportionately, but they aren't concerned with the guns flooding our neighborhoods." She goes on to add, "It's only when gun violence invades white spaces that you hear about gun reform."
The pushback against gun control is the biggest hindrance to reforming the laws, McBath says. "I liken the work that I do to being an educator. I'm educating people to the truth of what gun violence prevention is.
"It's not about gun control," she continues. "The gun enthusiasts, hunters and law-abiding owners are not the ones we are going after. But there are people with histories of domestic violence, mental illness or [a] criminal past who shouldn't be able to buy guns. Half of the fight is dispelling the NRA narrative that we want to kick in their doors, confiscate their guns and violate their Second Amendment rights."
McBath explained how the National Rifle Association perpetuates gun violence by instilling a fear surrounding gun control. "The narrative that the NRA spews around the country is that we need to be afraid of 1) them 'controlling' us, 2) [them] taking our guns and 3) fear of the 'others,'" McBath explains. "And basically 'the others' in this country is anybody that's not white."
McBath also believes that Florida's "Stand your ground" law contributes to gun violence, especially in the case of her son: "Michael Dunn was a card-carrying, legal gun owner. But when he pulled that gun out of the glove compartment and shot Jordan, he did it because of two reasons: 1) because Jordan was black, and 2) he knew 'Stand your ground' would allow him to get away with it."
In fact, in a 2012 study, researchers found that whites are 354 percent more likely to be found justified for killing a black person in states with "Stand your ground" laws.
McBath says that she saw the mothers of gun-violence victims and remembered the pain and loss she felt when she went through similar circumstances, and realized that she had to become involved in a substantive way. "I couldn't just sit back and wallow in my grief," she says. "I had to do something. We all have to do something. We are all fighters, after all. There's no way we would still be here if we weren't."
Wear Orange Day began in part because of 15-year-old Hadiya Pendleton, who was shot and killed in Chicago just two days after performing at President Barack Obama's second-inauguration parade in 2013. Her friends and family wore orange to her funeral, beginning the tradition of wearing the color to signal gun-violence awareness.

For more about Wear Orange Day, click here.
To find out more about National Gun Violence Awareness Month, visit here.