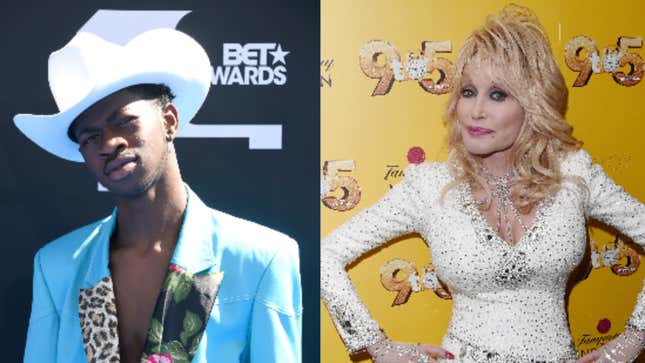 Lil Nas X is a goddamn masterclass in social media marketing.
The young artist continues to add me, you, your mama, your cousin and a partridge in a pear tree to his hugely popular hit and it doesn't look like he is stopping anytime soon. He's taking that "till I can't no more" lyric into real life. He is legit going to keep going until he physically can't anymore.

Small Town Horror Story: The Mississippi Burning of Three Anti-Segregationists
And that stamina has the potential to be historic, as he is in the running to score the longest-running No. 1 song in history. As Billboard reported last week, July 13 marked the 20-year-old's 14th week at the top of the charts. The song has to make it to 16 weeks—and pass it—to break the standing record.
It looks like each add is a level up, too. With artists from Billy Ray Cyrus to Mason Ramsey (the socially viral Walmart yodeling kid), X's moves had people wondering who was next.
Mariah Carey was a recent possibility, but X truly slapped the Big Joker on the table with his most recent move. Three words: Dolly Motherfucking Parton.

Um. That would be a game-changer and it looks like X may be able to pull it off since Madame Parton seems to be on board.

In other news, Young Thug expressed concerns over X publicly confirming his sexuality at the Wireless Festival, HypeBeast reports. The 27-year-old rapper noted how frustrating it was that X would now be completely defined by his sexuality instead of his art.

"I feel like he probably shouldn't have told the world," Young Thug said. "He shouldn't have told the world. These days, motherfuckers, it's just all judgment. Motherfuckers is just judging. It ain't even about the music no more. Once you found out he was gay, as soon as the song come on now, everybody like, 'This gay-ass nigga.' Niggas don't even care to listen to the song no more…It's just like, to certain people, you know what I'm saying? [...] I just feel like he young, and backlash can come behind anything. [His coming out] wasn't a bad idea, and it was most definitely the best time to do it, during Pride. That was the best time to do it. That was a G's move. But he young, and I know he going to be dealing with it in his mind. I dealt with this sh*t before. I know what he dealing with. So I was like, 'Fuck, he should have never said that, never should have told them'."

Personal aspects aside, Lil Nas X is winning with his popular song. Oh, and Megan Thee Stallion is still a popular choice, so stay tuned. At this point, anything is possible on the Old Town Road.