Alana Devich had been quietly intrigued with Malkia Cyril since the mid-1990s. Nearly 20 years later, she answered his text request for a date with what she called her "best line ever."

"In the words of my favorite ad campaign: You're hungry. I'm tasty. Let's do this," she wrote.
They'd first noticed each other while attending Sarah Lawrence College, a small campus in Bronxville, N.Y.—with an even smaller percentage of black students.

"She said she remembered three things about me: One, that I was always running my mouth. Two, that I was really, really smart. And three, she said my hands are so crazy looking," Malkia Devich Cyril laughs, speaking about his wife, Alana Devich Cyril. "And that's how she gave me the name Mitts, [because] she said I have mitts instead of hands."
G/O Media may get a commission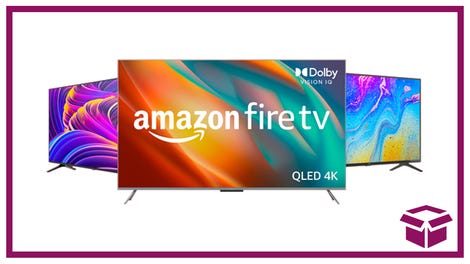 Ooh. stunning.
New Amazon Fire TVs
But the couple who became known as Mitts and Muffy (Alana's childhood nickname) didn't connect at Sarah Lawrence. Years after each settled in the Oakland/San Francisco area, they were reacquainted at a mutual friend's game night—while debating, of all things, the rules of Boggle.
Malkia, called "Mac" by friends, had never played before. He'd arrived with his partner, but sat down next to Alana. Misunderstanding the objective to find the hidden words in the lettered dice, he took literally her direction to make up as many words as possible within the allotted time—and did.

"Those aren't words," Alana scolded after hearing Mac's nonsensical list. Much to her dismay, he still won the game.
"The fact that she was challenging me ... I just thought that was so sexy," he remembers. "Somebody who's not afraid to be smart and really hold their ground—I just loved that."
Having attended college with Mac and Alana, I can confirm that they were both smart; I just never imagined they'd end up together. Alana, a San Francisco-born, biracial femme lesbian seemed somewhat reserved—the exact opposite of Malkia, the outspoken, Brooklyn-born stud raised to be a relentless activist by his late mother, former Black Panther Janet Cyril.
"I always saw [Alana] with white people," Mac laughs. "But little did I know, her family is the blackest family in the universe." What we'd all come to learn is Alana simply felt no need to prove her blackness.
"She was doing her thing, you know?" he says.
Alana always did her thing—whether it was avoiding the often petty racial politics at Sarah Lawrence, pursuing stand-up comedy in tandem with her career as a copy editor, or finding any reason to eat ice cream. Known for her wit, she was ready with her best line ever when, months after game night, a newly single Mac asked her out.
"I was enamored, but I was also trying to be respectful," he said. Though his former relationship had been open, he'd known his attraction to Alana wasn't casual.
"I kind of knew if I did something with this person, it was going to be disruptive." He was right.
"Honestly, I hate to sound like a cliché, but since our first date, we never let each other out of each other's sight," said Alana.
For those of us who'd known them individually, their union was a wonder to behold. They shared a language; both spoken and unspoken. They were unapologetically unfiltered in their love for each other, which regularly played out on social media. Aside from the aforementioned nicknames, there were others: Alana was "Princess," while Mac was "my knight," "handsome," or "my love." They shared an endless stream of jokes—and even a "Mitts and Muffy" YouTube channel.
It was the type of relationship that caused you to reconsider your own—though Mac admits it wasn't without growing pains.

"In the very beginning of our relationship, we had arguments," he recalls. "And then, [Alana] said this thing to me that I think changed my life. She said to me—and she used her hands to illustrate: 'this is the box. And inside this box is where I love you, and this is where we are together. And everything inside this box is us; there's trust, there's honor, there's commitment. Inside this box is where we live. ...
'I can promise you, if you stay inside this box, I'll love you forever,'" she continued. " 'If you leave this box, then you need to leave—either you're in here, or you're out there. Do you want to fight, or do you want these keys?'"
Mac chuckles at the memory. "She put these keys to her apartment on the table. And I was like, 'Well shit, I want the keys.'"
It was one of their last arguments.
"What she showed me was that it wasn't anything about perfection. She just showed me that love, there's an acceptance in it," Mac says. "Can you imagine—rather than being criticized, or scrutinized or judged—to have somebody who just thought everything you did was hilarious and wonderful? She just looked at me—she was always looking at me with this look of extraordinary love in her eyes. And that's what is possible in the world: to be looked upon with so much generosity, and so much gratitude, and so much grace."
And after several years of dating, marriage suddenly seemed the natural next step—despite the fact neither believed in the institution prior to that point.

"Interestingly, neither Mac nor I had any interest in getting married," Alana told me last fall. "Like, we've both been strongly anti-marriage for ourselves. And yet, we never wanted to be apart again."

After months of testing the waters, Mac produced a short film in which many of their closest friends helped him propose, popping the question while the two were vacationing in Hawaii. On a Sunday morning in September of 2015, they were married in Oakland, Calif., overlooking Lake Merritt. The theme? "Love's Revival."
"We asked folks to wear hats or fascinators," Alana recalled of the event; which was so highly anticipated, it was live-streamed for those of us not in attendance. "Everyone showed up in bright colors. It was beautiful."

It was a gorgeous ceremony, followed by the start of a beautiful life together.
"We were basking in love," Alana said. "There was a true magic to our days. We made things into adventures—especially when things weren't going right."
That happiness took a sharp turn only a year after their wedding.
"I had been feeling tired for basically our whole relationship but hadn't really figured anything out. I tried doing Couch to 5k, just to see if exercise would help," Alana recalled. "Meanwhile, I was starting to have digestive issues. My doctor tested me for H. pylori, which came back positive. I ended up doing a two-week antibiotic cycle, but it didn't resolve the symptoms. Ultimately, I ended up working with a GI specialist who did an endoscopy that found a tumor."
With no prior family history or indicators, Alana was diagnosed with Stage IV gastroesophageal cancer. Further testing showed the cancer was metastatic, and Alana's prognosis terminal.
"First there was shock. Then, there was the grief," Mac says. "And then, there was this question: How long does she have to live, and how will we live within that time?"

For the next two years, how to live became a daily battle as Alana was subjected to various treatment plans—the first of which threatened to kill her. And after a horrible first round of chemo, the anti-nausea medication she was initially prescribed caused Parkinson's-like symptoms.
"It was so sudden. It came just one year into our marriage and it felt like such a curse," said Alana. "At the beginning, I was so sick; I just remember Mac guiding me from appointment to appointment. I remember sleeping all the time."
But if it was a time of intense pain and fear, it was also a time of incredible creativity and community. Alana channeled her natural brilliance and humor into a blog about her cancer journey (and love of ice cream), as Mac rallied their social media community into a virtual circle of love, humor and prayer, in an effort to save his wife's life.

"Despite all evidence, and everything the doctors said, I believed I could save her life," he said. "I believed that I could do something that would make the difference—that together, we could do something that would make the difference."
"It's helped," Alana said at the time. "It helps me move forward with purpose. I want Mac to feel deeply seen and loved by me every minute of every day. Mac, in particular, is more present on social media, and I think it gives folks more of an insight into our relationship. I think people find it inspiring. I think it's a pretty magical love."
A year into treatment, there finally seemed reason to celebrate. Alana was on a break from the dreaded chemo, and Mac, founder and executive director of national nonprofit organization The Center for Media Justice, had been named part of the 2017 class of The Root 100. For a reprieve, the two returned to Hawaii to celebrate their second anniversary.
"We were excited to go, but I definitely was feeling a little off," Alana said. "Like my left side was feeling discombobulated. In the middle of the night, I had what we originally believed to be a stroke, but it turned out to be a hemorrhaging brain tumor."
Thousands of miles away from Alana's medical team and program, Mac scrambled to get his wife medevaced back to San Francisco, where she underwent "awake" brain surgery. In the aftermath, she had to relearn how to walk.
"It's hard not to feel like a burden with a prognosis like this," Alana said of her deteriorating condition. "Mac reminds me every day—through his words and actions—that he doesn't feel that way. He shows me the deep love and compassion he feels toward me. He fills my face with kisses and reminds me every day that we chose each other."
The two also continued to make the most of the life they'd begun building together. They made plans to write a children's book. Knowing Alana's natural proclivity for projects, Mac encouraged her to finish one she'd long wanted to: a film.
My Life, Interrupted not only chronicled Alana's cancer battle but her incredible love for life—and for Mac. Undeterred by her increasing physical challenges, which included spinal fractures as the cancer continued to spread, Alana premiered the film on the festival circuit, cane in hand. To date, it has been screened in San Francisco, Los Angeles, New York City, Portland, Or. and Gary, In.
"I mean, she was a bon vivant, for real," Mac says. "She says in the film, 'Don't worry, I'll still be alive at the end of this film; it's not that kind of story.' And I asked her, 'why did you say that? This film will live beyond you.' And she just wanted to keep it ... I think [this film] was a way of rejecting death; of living forever."
Similarly, Alana and Mac's decision late last summer to speak intimately with me about the battle they were beginning to lose was their rejection of the death of their love. Soon after we spoke about writing their story, Alana quickly began to decline further, unable to walk and forced to take steroids to stem the side effects of her painful treatments. A few weeks before she chose to sign up for end-of-life options and enter hospice, she and Mac celebrated their third wedding anniversary with a vow renewal. It was "Love's Revival 2."
"We are the luckiest unlucky people we know," Alana said, later adding, "I feel blessed to know that people really look to our marriage and partnership as a source of inspiration because it's a reflection of our authentic love for each other."
Most of all, she expressed her profound gratitude for Mac, whom she called her greatest advocate, support and teacher, writing:
Every morning, the first thing I do is look over at my beloved and I'm filled with love for him. He's usually still sleeping and I try not to disrupt him, but some mornings I wake up confused—my inability to walk came on very suddenly and sometimes I need to be reminded of what is true.

He reminds me every morning. With patience and with love. I couldn't be luckier in love.

I hope that every morning he feels held by me. I hope that is true forever. I hope that he can help me through this dying process, and that I get to guide him forward after that. I feel so blessed to have found him in this lifetime.
Alana Devich Cyril died the morning of October 27, 2018, looking at her beloved Mac as he held her. She was 42. Over 400 people attended Alana's memorial in San Francisco; some of whom only knew her and Mac from Facebook. Over 1,000 more watched from afar, as the memorial, like their wedding, was live-streamed.
For Mac, the months since have been filled with therapy, support groups, and survivor's guilt. He wears Alana's "Princess" necklace and a portion of her ashes around his neck, as well as her wedding ring.
"I had no idea that I could be loved so well, and I had no idea that such a perfect alchemy existed in the world. I didn't know that before we met," he says. "And then, to watch that person suffer in a way that you cannot alleviate—no matter what I did, I couldn't make it go away ... It didn't matter that I loved her. It didn't matter that she was my best friend. It didn't matter that she was a gift to the world; she died."
And as a lifelong activist still deeply committed to social justice and change, Mac is now trying to reconcile the limitations of the work he loves with the profound grief of losing the woman he loves.

"Everything we do is sparked by some injustice," he says. "Something happened to somebody, and it was horrible. Somebody's child was killed; somebody was taken from their family and deported; somebody was imprisoned unjustly. You know, all of these acts create loss, and they are sources of grief.

"I am processing how to turn my love, my rage, and my sorrow—how to turn all three of those things into action," he continues. "However I move in this movement, I want it to be fueled by my love for my wife."
Alana and I would've celebrated our birthdays a day apart in April. I ask Mac if they would've celebrated Valentine's Day, too.
"We celebrated everything," he answers. "We were people who loved to celebrate."

On Wednesday night, he wrote the following:
... I know Valentine's Day is an annual commercial intent on hypnotizing us into consuming love rather than experiencing it, but I loved every chance to show Alana how romantic I could be.


Yes, I picked her up at bars, over and over again.

Yes, I bought her flowers, gave massages, opened clasps to lay the chill of gold around her neck.

Yes, I helped her walk, fed her through a syringe, washed her body, reminded her every morning for that last month why she couldn't get out of bed when she forgot she couldn't walk anymore, sang to her, rocked her, told her stories, helped her make a film, recorded everything I could. This is when I learned that simply living in the sun shade of another's love is an insanely romantic act. ... #LovingAlana