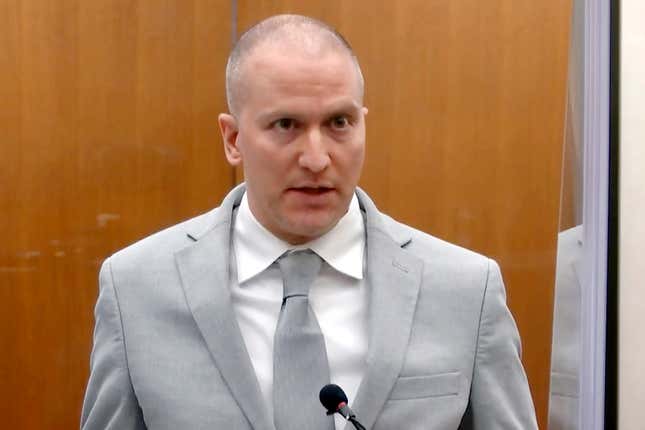 Updated July 7, 2022 at 4:34 p.m.
The enduring characteristic of bullies is that they always have an advantage over their victims. Schoolyard bullies pick on scrawny kids, not star athletes. Vladamir Putin was eager for war with outmanned Ukraine; nuclear-armed China, India or any NATO member, notsomuch.
Small Town Horror Story: The Vietnam Veteran Who Refused To Leave A Man Behind
That's also true of bully cops like Derek Chauvin, who find their courage behind guns, billy clubs, nightsticks and backup. With all of the above in his favor, Chauvin poked out his chest and stared down a crowd that begged him to stop while pressing the life out of a handcuffed George Floyd as he expired on a blistering hot pavement. Had he been on his own on May 25, 2020, Chauvin could've been overwhelmed by that crowd, which included a trained MMA fighter who likely could've twisted the fake tough-guy into a human pretzel without much effort. But Chauvin was armed and had backup, so George Floyd died a horrible death.
This afternoon, when U.S. District Judge Paul Magnuson added a 21-year federal sentence to Chauvin's current 22.5 year murder sentence for also violating George Floyd's civil rights, Chauvin won't be an armed officer protected by the three other badged cowards who held that crowd at by. Without all his advantages, Chauvin's defiance will magically disappear.
The Associated Press had reported that Chauvin, who didn't testify during his murder trial last year, might express remorse for the first time since he killed Floyd, with his attorney, Eric Nelson quotes as saying that, "remorse will be made apparent to this Court."
Ever the punk, Chauvin didn't even give us that much. Instead, he wished Floyd's children well before he was whisked off to federal prison to serve his sentence, instead of state prison where he would've done the harder time he deserves.
But Chauvin, in brief remarks, made no direct apology or expression of remorse to Floyd's family.

Instead, he told the family that he wishes Floyd's children "all the best in their life" and that they have "excellent guidance in becoming good adults."
That would have been a much greater possibility if Chauvin hadn't murdered their father. At least the ex-cop's kids might be able to visit him in jail. Floyd's kids will talk to their father in prayers and on the other side of a grave marker.

Maybe it was better that Chauvin didn't feign remorse. Remorse expressed only under duress isn't remorse at all. It's cowardice finding its way into the light once the cover of fake bravery, machismo, weapons and qualified immunity have been stripped away. Absent all the protections afforded him and other like him by their badges, we saw the real Chauvin: a small, weak man incapable of more than a passing gesture of empathy for the lives he's destroyed.
Anyway, Chauvin's opportunity to show remorse to Floyd, his family, the other victims of his savage cop ego, or to the public evaporated long ago. If he does possess genuine contrition, he should be afforded as many years of solitude in prison as he needs to take that up with God.

The rest of us aren't here for it.