One of 20th Century's Most Influential Journalists
N.Y. Times' Conservative Hire Out in Half a Day
Ethiopian Journalist Freed After 7 Years in Prison
Sensitivity Training to Follow Advertiser Backlash
Trump's Losing Effort to 'Keep America White'
NAHJ to Meet With Editor Over Cartoon
Monica Richardson Gets Expanded Duties at AJC
Critics Weigh In on New Obama Portraits
Philadelphia Tribune Partners With NBC
Publisher Jake Oliver Replaced at Afro-American
Short Takes
One of 20th Century's Most Influential Journalists
Lerone Bennett Jr., executive editor of Ebony magazine, where he worked for 52 years, and arguably the 20th century's foremost African American "people's historian," died peacefully as he slept Wednesday in his Chicago home, a daughter, Joy Bennett, told Journal-isms.

Bennett was 89 and died of advanced vascular dementia, she said.

"He has authored books and short stories examining the history of Blacks in the United States — as well as Chicago — and their struggle for equality," Cheryl Pearson-McNeil wrote in 2010 for the Chicago Defender. She was describing Bennett's participation in a documentary about the story of black people in Chicago, where he lived for 35 years.
G/O Media may get a commission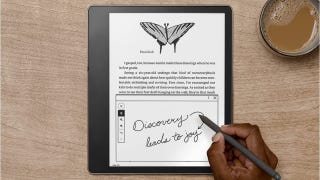 Releases November 30
Borrowing the display from the much-beloved Paperwhite, this screen provides a glare-free experience both indoors and outdoors so you can read by the pool or on the beach on a sunny day. New to this model is the inclusion of a pen. Take notes directly on the pages as you might in a traditional book, but the notes are automatically organized by title in a single place–letting you review and export them with ease.
"His 1963 seminal work, Before the MayFlower, traces Black history from its origins in Western Africa through the trans-Atlantic sojourn that would be slavery, the Reconstruction, and the upheavals of the Civil Rights Movement," Pearson-McNeil continued. A 2008 exhibit about Bennett at Chicago's DuSable Museum of African American History called him "the people's historian."
Joy Bennett noted the significance of the timing of her father's passing. "Dad would die on Valentine's Day in the heart of Black History Month. He even went out as a historian," she said by telephone.

Black History Month began as Negro History Week, commemorating Abraham Lincoln's birthday, Feb. 12, and Feb. 14, which Frederick Douglass celebrated as his day of birth.
One of Bennett's most controversial books cast Lincoln in less than a glowing light.
"The real Lincoln, the author says, was a conservative politician who said repeatedly that he believed in White supremacy," according to the dust jacket of "Forced Into Glory: Abraham Lincoln's White Dream," published in 2000.
"Not only that: He opposed the basic principle of the Emancipation Proclamation until his death and was literally forced — Count Adam Gurowski said he was literally whipped —into the glory of having issued the Emancipation Proclamation," which Lincoln drafted in such a way that it did not in and of itself free a single slave."
"Forced into Glory" won the 2002 American Book Award.
Bennett also co-wrote 1989's "Succeeding Against the Odds: The Inspiring Autobiography of One of America's Wealthiest Entrepreneurs," the story of John H. Johnson, co-founder of Johnson Publishing Co., publishers of Ebony and Jet magazines.
"We helped create the foundations of this [African American] struggle in the forties and fifties when the ground was hard and there were few laborers," Johnson wrote in the book. ". . . we anticipated the changes and gave focus and form to them. In 1959, for example, I detected a growing interest in Black history and authorized a pathfinding Black history series. The response was so enthusiastic that we published a book, Lerone Bennett's Before the Mayflower, which became one of the most widely read Black History books ever. This marked the beginning of the Johnson Publishing Company Book Division. . . ."
Despite Bennett's passion for writing history for the average person, he wanted journalists to be generalists. "I've always believed that you write history one day and you write entertainment the next," he said in "Writing for a Black Publication," (video) a 2010 interview with the Visionary Project.
Thus, his Ebony would feature such purported people-pleasers as "Is It True What They Say About Twins?"
Bennett's association with Ebony, which he helped make the nation's leading African American publication, ended in 2009 when the publication forced his daughter Joy from the editorial staff. Her father demanded that his name be removed from the masthead, where Bennett was listed as executive editor emeritus. The magazine complied, adding that "his wise counsel will always be appreciated."
Bennett was born in Clarksdale, Miss., and grew up in Jackson. One of his proudest moments came in 2007, when he was honored by the Mississippi State Senate. He said he never thought he'd live long enough to see a black man so welcome in the state Capitol.
" 'I'm 78 years old. I thought I would die before I saw this,' Bennett said. 'Thank you for making it possible for me to see the great dream that could be realized in this state,' " Holbrook Mohr reported then for the Associated Press.
According to a 2002 profile by the HistoryMakers, "Bennett attended Morehouse College, earning a B.A. in 1949. He has always considered Morehouse as the center of his academic development. After graduating, Bennett formally entered the world of journalism as a reporter for the now defunct Atlanta Daily World. He became the city editor for the magazine and worked there until 1953, when he began his work as an associate editor at Jet magazine in Chicago, Illinois. In 1954, Bennett became an associate editor at Ebony and he was promoted to senior editor of the magazine in 1958. Since then, his comprehensive articles have become one of the magazine's literary hallmarks." He retired in 2005.
At Morehouse, Bennett was a classmate of Martin Luther King Jr., Mohr wrote.
Mohr's story also said, "In 2006 he was inducted into the Hall of Fame of the National Association of Black Journalists.
"In February, Bennett's footprints and those of 12 others were added to the International Civil Rights Walk of Fame near the Atlanta church where King preached. The walk, established in 2004, now includes 50 pairs of footprints, marked in granite, from people who organizers call the 'foot-soldiers' of the civil rights movement.
"Former President Bill Clinton appointed Bennett to the President's Committee on the Arts and Humanities. President George W. Bush appointed him to the Presidential Commission to study the proposed National Museum of African-American History and Culture, according to the Senate resolution passed in his honor." He was too ill to attend the museum's 2016 opening, Joy Bennett said, but he watched it on television.
"Though Bennett was born in Clarksdale, he moved with his family to Jackson at an early age where he was greatly influenced by teachers at Lanier High School," the story continued.
" 'I'm indebted first to the black teachers of Mississippi, who literally saved my life,' he said. 'The great black school teachers in Clarksdale and Jackson told me I could dream and do anything.' "
Bennett is survived by three daughters, Courtney and Constance Bennett of San Diego, Calif., and Alma Joy of Chicago. Their brother, Lerone Bennett III, died in 2013; their mother, former Johnson Publishing Co. journalist Gloria Sylvester, in 2009. He also leaves three granddaughters. Arrangements are being handled by the A.A. Rayner & Sons Funeral Home in Chicago, which is historic in its own right.
It cared for the mutilated body of Emmett Till, the Chicago teenager who was abducted and killed in Mississippi in 1955.
The newest NY Times columnist: pic.twitter.com/BjJpWcsH7B

— jordan(@JordanUhl) February 14, 2018
N.Y. Times' Conservative Hire Out in Half a Day
"The latest addition to the New York Times' editorial board lasted less than half a day, departing the job over previous social media postings in which she used offensive language and admitted she was friends with neo-Nazis, while saying she did not agree with them," Tom Kludt reported Tuesday for CNN Money.

"At around midday Tuesday, the Times announced it had hired Quinn Norton, who most recently worked at Wired, to serve as its 'lead opinion writer on the power, culture and consequences of technology.'

"By 9 p.m. the same day, Norton said on Twitter that she would no longer be working with the Times, the culmination of several hours of intense criticism directed at her over some of her previous writings on the site. . . ."
Separately, "Bari Weiss, an op-ed writer for The New York Times, triggered an intense online debate on Monday when she tweeted about Mirai Nagasu's historic Olympic performance," Doha Madani reported Monday for HuffPost.
"Weiss captioned a video from the NBC Olympics account 'Immigrants: they get the job done,' after Nagasu became the the first American woman to land a triple axel in Olympic competition.
"The problem is that Nagasu isn't an immigrant. She was born in California to Japanese immigrants and maintained dual U.S. and Japanese citizenship until she was 22 years old."Many people criticized Weiss' now-deleted tweet for 'othering' Nagasu — implying that because she is not white, she is an immigrant.
"Weiss pushed back, saying she'd used poetic license in quoting the line from the wildly popular Broadway show 'Hamilton.' . . ."
Ashley Feinberg added Wednesday for HuffPost, "On Monday night, the fury over [Editorial Page Editor James] Bennet's op-ed page and its contempt for readers coalesced around something Weiss tweeted (and later deleted)."
"Criticism flew in from all points of the compass — including from within the Times itself, where staffers were unusually frank in expressing their anger at both Weiss and the newspaper, according to an internal chatroom transcript obtained by HuffPost. . . ."
Glenn Greenwald, the Intercept: The NY Times's Newest Op-Ed Hire, Bari Weiss, Embodies its Worst Failings — and its Lack of Viewpoint Diversity
Ethiopian Journalist Freed After 7 Years in Prison
Ethiopian journalist and blogger Eskinder Nega "has finally been released from a prison facility after seven years in jail, a top Oromo activist has said," Africa News reported on Wednesday. The Oromo Federalist Congress is an opposition party.

"His release comes barely a week after [he] reportedly refused to sign a 'false confession form' in exchange for his liberty.
"Eskinder, who has been in jail since 2001, convicted of having links with banned groups, was among the over 740 prisoners who were set for release by the federal government as part of political reforms announced in January 2018. . . ."
Alison Bethel McKenzie, a veteran journalist, media trainer and former press-freedom group executive, messaged Journal-isms that she was "ecstatic" to learn of the release of Nega and Woubshet Taye. "It has been a long time in coming," she said.
"In 2013 I led a press freedom mission to Ethiopia as executive director of the International Press Institute, who last year named [Nega] one of its World Press Freedom Heroes. The mission was a joint effort between IPI and the World Association of Newspapers (WAN_IFRA).
"South Africa's Ferial Haffajee as well as Kabiru Yusuf of Nigeria joined me on that four-day mission. Unfortunately our attempts to meet with the journalists in prison was repeatedly denied, but Ferial and I were able to meet with some family members. I only hope that other journalists who remain in prison are also released. I, along with other members of the press freedom advocacy community, will continue to fight for their release and until that time, humane treatment while they are imprisoned."
Sensitivity Training to Follow Advertiser Backlash
In Boston, "WEEI has canceled its live programming Friday in order for its full staff to participate in sensitivity training, a response to the advertiser backlash to a host mocking Tom Brady's agent with a stereotypical accent last week," Chad Finn reported Wednesday for boston.com.
Shirley Leung, a Boston Globe columnist, wrote Wednesday, "defections are on the rise, especially after I contacted advertisers to explain themselves. On Tuesday, three more organizations — Citizens Bank, the Massachusetts State Lottery, and the Massachusetts Health Connector — cut ties with WEEI.

"For those keeping score at home, that means at least five advertisers — including Comcast Corp. and City of Boston Credit Union — have either terminated or suspended commercial buys on the popular sports talk station.
"Entercom, WEEI's owner and one of the biggest radio companies in the country, is condoning a culture of hate and acceptance of the unacceptable.
"The reason some advertisers are taking their money elsewhere is simple. It's hard to defend WEEI's offensive commentary. . . ."
Leung also wrote, "Midday cohost Christian Fauria set off the current wave of advertiser blowback when he imitated sports agent Don Yee using a stereotypical Asian accent. Yee, who is of Chinese descent and was born in the United States, speaks English without an accent; he represents Brady and San Francisco 49ers quarterback Jimmy Garoppolo.
"On Friday, WEEI suspended Fauria for five days, characterizing his behavior as an 'insensitive and ill-conceived attempt at humor.'
"His reprimand came two weeks after the suspension of another WEEI personality, Alex Reimer. The fill-in host was suspended indefinitely after using a derogatory phrase to describe Brady's daughter.
"For too long, WEEI drove ratings by spewing hate and vitriol disguised as sports talk. Finally, some advertisers have had enough. What about the others? Let me know if you still want your name associated with the station. . . ."
Asian American Journalists Association: AAJA MediaWatch, New England Chapter, Sports Task Force condemn WEEI segment
Renée Graham, Boston Globe: When it comes to race, Boston keeps punching itself in the face

Shirley Leung, Boston Globe: WEEI is taking a step in the right direction with 'sensitivity training' for all employees

Trump's Losing Effort to 'Keep America White'
"The efforts by President Trump to keep America white are getting increasingly dark," columnist Dana Milbank wrote Tuesday in the Washington Post.

"Make no mistake: What's happening on Capitol Hill this week, at Trump's behest, is nothing other than an attempt by Republicans to slow the inexorable march toward that point at midcentury when the United States becomes a majority-minority nation.

"In the long run, they are merely putting a finger in the dike. But in the short term, the Trump-backed immigration proposal, combined with other recent moves by the administration and its allies — support for voter suppression, gerrymandering and various other schemes to disenfranchise minority voters — could extend the white hegemony that brought Trump to power and sustains Republicans.
"For ages, Republicans said that their beef was with illegal immigrants and that legal immigrants should be embraced and welcomed. No longer. In the immigration fight on the Hill, there is broad bipartisan consensus to legalize the 'dreamers' — illegal immigrants brought here as children — and to fortify border security. The dispute is really about the Trump proposal to rein in legal immigration by undoing the family-based approach, in which immigrants petition to bring over immediate family, that has always been at the heart of U.S. immigration.
"Though details aren't yet known, estimates are that the legislation would cut legal immigration, currently 1.1 million per year, by 300,000 to 500,000 annually. A previous version of the 'chain migration' proposal by Sens. Tom Cotton (R-Ark.) and David Perdue (R-Ga.) would have cut legal immigration by half a million a year, by their own account. . . ."
TheGrio.com: Member of the Central Park Five blasts Trump for 'due process' comment
Leonard Pitts Jr., Miami Herald: Is this country in trouble now? You'd better believe it.

NAHJ to Meet With Editor Over Cartoon
A delegation from the National Association of Hispanic Journalists plans to meet March 5 in Albuquerque, N.M. with Karen Moses, editor-in-chief of the Albuquerque Journal, over an offensive cartoon for which Moses has apologized.

The illustration, by onetime New York Post cartoonist Sean Delonas, equated the young, undocumented immigrants known as "Dreamers" with members of the criminal Latino gang MS-13, a favorite target of President Trump in his discussions of immigration.
Delonas, explaining to the New York Times the basis for the cartoon. said, "I've learned that MS-13 is purposely sending minors over here to commit crimes. I'm pretty sure that the cartels are using minors for a lot of their drug dealing."
However, a Washington Post opinion piece by José Miguel Cruz, director of research in the Kimberly Green Latin American and Caribbean Center at Florida International University, pointed out on Jan. 31 that Trump's arguments about MS-13, and thus Delonas' cartoon, rest on a faulty premise.
Cruz, who has conducted research on Central American gangs since 1996, wrote, "According to Justice Department estimates, MS-13 is a small gang, compared with the Bloods, Crips and Almighty Latin King Nation.
"The estimated 10,000 MS-13 gang members in the United States account for less than 1 percent of the estimated 1.4 million total gang members in the country. According to CNN, 104 of the 1,300 gang members arrested during an Immigration and Customs Enforcement sweep last May — 8 percent — were linked to MS-13.
"And the gang did not come from south of the border. MS-13 is as American-made as Google — or, for that matter, as Trump. . . ."
NAHJ Region 7 Director Dianna Náñez, New Mexico Chapter President May Ortega and former NAHJ President Dino Chiecchi are to join NAHJ President Brandon Benavides to meet with Moses, Editorial Page Editor D'Val Wesphal and Managing Editor Dan Herrera.
"We are meeting with members of the NAHJ board next month, and are interested in hearing their views," Moses messaged Journal-isms.
Editorial, Los Angeles Times: Pressing prisons and jails to violate the 4th Amendment isn't part of ICE's job description
Shelley Murphy and Maria Cramer, Boston Globe: Meet the criminal who went undercover in the country's largest MS-13 takedown

Monica Richardson Gets Expanded Duties at AJC
Monica R. Richardson becomes senior managing editor at the Atlanta Journal-Constitution in a reordering of responsibilities prompted by the departure of Managing Editor Bert Roughton, Editor Kevin Riley told staff members in a memo Tuesday.

Richardson was digital managing editor. She will now "oversee the largest part of our newsgathering and reporting areas, as well as the digital and social media teams. She will continue to report to me," Riley wrote.
Also reporting to Riley will be Mark Waligore, managing editor and senior print operations director.
In addition to Richardson, black journalists in AJC management ranks include Leroy Chapman Jr., deputy managing editor, who reports to Richardson; and Andre Jackson, editorial editor, who reports to Riley.
Richardson joined the AJC in 2006 from the Lexington (Ky.) Herald-Leader. She has been senior editor/metro, senior editor/planning, Gwinett bureau chief and beats team leader for for News, Sports, Living and Business.
Critics Weigh In on New Obama Portraits
"The official portrait of Michelle Obama, painted by Baltimore-based artist Amy Sherald, was unveiled at the National Portrait Gallery on Monday morning, and became a national event, with everyday tweeters, art enthusiasts and art critics sounding off," Brittany Britto reported Tuesday for the Baltimore Sun.

"While some critics complimented Sherald's signature style, which included her trademark 'grayscale,' others thought Obama's floor-length dress, which was reminiscent of the quilts made by a black community in Alabama, was distracting, or worse — that the former first lady's portrait looked nothing like her.

"Here's a roundup of some of the art experts' reactions: . . ."
Renée Graham, Boston Globe: Two iconic portraits for the iconic Obama presidency
George M. Johnson, theGrio.com: Why Obama presidential portrait artist Kehinde Wiley's sexuality can't be ignored

Christopher Knight, Los Angeles Times: Now the Obama portraits cheerfully buck the trend of instantly forgettable presidential paintings

Mary Carole McCauley, Baltimore Sun: Michelle Obama portrait by Baltimore artist Amy Sherald makes national splash

Clarence Page, Chicago Tribune: Obama portraits test our feelings about Obama era

Philadelphia Tribune Partners With NBC
"NBC10 Philadelphia/WCAU and Telemundo62/WWSI and The Philadelphia Tribune Media group are announcing a new collaborative partnership in the Greater Philadelphia region," the Tribune reported on Friday."Under the new partnership, The Philadelphia Tribune and NBC10/Telemundo62 agree to share news and community resources to better serve the region.

" 'We are excited about this new partnership with NBC10 and Telemundo62,' said Robert W. Bogle, president of The Philadelphia Tribune. 'This is an opportunity for the stations to further expand its coverage of the African American community and for the Tribune to enhance its coverage of breaking news, weather, investigative and consumer reports across the Philadelphia region.'

"Founded in 1884 by Christopher James Perry, Sr., The Philadelphia Tribune is America's oldest and the Greater Philadelphia region's largest daily audited newspaper serving the African-American community. . . ."
WBAL-TV reported on the Afro-American's 125 anniversary last year.
Publisher Jake Oliver Replaced at Afro-American
The board of the Baltimore-based Afro-American, which says it is the longest-running African American family-owned newspaper in the nation, undertook a leadership shakeup Monday. John "Jake" Oliver Jr., chairman and publisher since 1986, was replaced with the Rev. Dr. Frances Murphy Draper, who served as president of the company from 1987 to 1999, the newspaper reported on Tuesday.
Oliver said "I'm not ready to talk about it" when asked by telephone Wednesday what precipitated the shakeup, but he was willing to discuss what he considered the paper's signature achievement under his leadership: an early embrace of the Internet. "We were one of the first to have a website," he said, pegging the digital embrace to about 1987.

The Afro, which once had editions in Richmond, Va, New Jersey and Washington as well as Baltimore, has consolidated operations in Baltimore. Print circulation is "constantly going down," Oliver said, and is now somewhere around 10,000 to 13,000. However, the Afro is active on social media, with page views dependent on individual stories.
"Black folks don't have too much time to focus on Trump," Oliver said. "They're pretty much holding their breath and not paying too much attention to him."
Instead, Afro readers prefer positive stories about other black people. Also popular are stories about "us doing stupid things," to which readers can express their disapproval. "Someone compared Tom Brady to LeBron James. People went crazy," he said.
Draper, great-granddaughter of the paper's founder, John H. Murphy, did not respond to requests for comment.
Short Takes
CNN's Oliver Darcy emailed Wednesday to CNN's "Reliable Sources" newsletter, "In the hours that followed the deadly Florida school shooting, misinformation circulated online," Brian Stelter reported. "Lucian Wintrich, White House correspondent for the far-right Gateway Pundit, peddled a photoshopped image of a BuzzFeed News story that supposedly said, 'Why We Need To Take Away White People's Guns Now More Than Ever.' Jon Passantino, BuzzFeed's deputy news director, quickly shot that hoax down, tweeting, 'Let me be clear, this is a fake.' ." The shooting at Marjory Stoneman Douglas High School in Parkland, Fla., Wednesday left 17 dead.

"The parent company for San Francisco radio station KNBR has let go host Patrick Connor after he called 17-year-old Chloe Kim a 'hot piece of ass,' according to Awful Announcing and Deadspin," Daniel Rapaport reported Wednesday for Sports Illustrated. " 'Patrick Connor is no longer with Cumulus Media,' KNBR program director Jeremiah Crowe told those two sites.Connor made the comments on Tuesday on Barstool Sports' "Dialed-In With Dallas Braden" program on Sirius XM radio, which he co-hosts with former MLB pitcher Dallas Braden. . . ."

"In the heart of Downtown Rock Island, our newest Local 4 News reporter Tahera Rahman is making history and breaking barriers," Tiffany Lundberg reported Friday for WHBF-TV/KGCW-TV/KJLB-TV in Rock Island, Ill. Lundberg quoted Chicago radio news anchor Mariam Sobh, who said she has been trying to make the transition from radio to TV news for more than 13 years. Lundberg also wrote, "With the help of Mariam and The Muslim American Women In Media group, we believe Tahera is now the first full-time reporter who is a Muslim woman to wear a hijab on mainstream TV news in the United States. . . ."

"Since 2014, at least 81 elderly and terminally ill federal prisoners have died while waiting for the Bureau of Prisons (BOP) to rule on their applications for 'compassionate release,' according to a letter the Justice Department . . . sent to 12 members of the Senate. The letter was obtained and published by Families Against Mandatory Minimums," Mike Riggs reported Tuesday for Reason.

"I am a child of domestic violence," Leonard Pitts Jr. wrote Tuesday in his syndicated Miami Herald column. "As a boy, I couldn't fall asleep until I heard my father return from his nocturnal ramblings. I'd listen hard, trying to gauge his mood from the tone of his voice, trying to determine if it was safe to close my eyes. Some nights, it was. Other nights, it was not. . . . So forgive me if I take the latest White House scandal personally. I don't know any other way to take it. . . ." Pitts was referring to the scandal surrounding Rob Porter, staff secretary to President Trump, who resigned after a report by DailyMail.com that he allegedly abused his two ex-wives.

"People will ask what is the best thing about your job, and I'll say legacy" (paywall), Fox News daytime host Harris Faulkner told R. Thomas Umstead, as Umstead reported in the Feb. 5-12 issue of Broadcasting & Cable. "I'm now in rarefied air. Take out your clicker and try to find a brown face between daytime hours, and not on the weekend. . . ."

"Danielle Herrington has landed the cover of Sports Illustrated Swimsuit," the Jasmine Brand reported Tuesday. "The 24-year-old model, who is from Compton, California, is the third black woman to cover SI Swim since the franchise began in 1964. . . ."

"The WSVN-Channel 7 producer caught lobbing the n-word at a Fort Lauderdale neighbor during a dispute over street parking was fired by the Fox affiliate on Monday morning, just days after her second anniversary at the station," Jose Lambiet reported Monday for the Miami Herald. "Robin Cross, 49 and a South Florida news figure for most of her adult life, was placed on leave last week when the neighbor's son sent the station a letter and video about the incident. . . ."

"As I detail in my new book, the media enshrined communities with low voter turnout as the beating heart of Trump Country," Elizabeth Catte wrote Feb. 6 for the Guardian, updated Friday. "There has also been a journalistic disappearance of nonwhite people in the region, seemingly to satisfy a narrative fetish about the white working class and their anxieties. And that's before questioning why so many readers on both sides of the political aisle used a memoir (Hillbilly Elegy) written by a venture capitalist (JD Vance) to decode the political choices of the region's poor. . . ."
"Each year, we put together a list of 52 places to inspire travelers for the coming year," the New York Times reported on Jan. 10. "This year, we're actually sending a traveler to each and every place. You have seen some of our favorite submissions (we got 13,000 of them) and perhaps perused this year's list — now meet the traveler: Jada Yuan. Jada has spent the last decade at New York magazine, covering celebrities, film festivals and presidential conventions. . . ."

At the University of Georgia, "Dean Charles N. Davis of Grady College of Journalism and Mass Communication appointed Maria Len-Ríos as the new associate dean of academic affairs," Ashley Soriano wrote Jan. 19 for the Red & Black, the campus newspaper. ". . . Prior to Len-Ríos joining Grady in 2014, she taught public relations, health communication and cross-cultural journalism at Missouri School of Journalism, University of Kansas and Georgia Southern University. . . . Len-Rios said incorporating diversity in this position will help with communicating with audiences as well. . . ."

Last year, as parent company Tronc embarked upon a plan to revitalize the ailing Los Angeles Times, "it approached Janice Min about the possibility of running the newsroom, she said at the Code Media conference in Huntington Beach, Calif. Min, who had previously edited UsWeekly and managed a significant turnaround of the Hollywood Reporter, has been on many editor shortlists," Edmund Lee reported Tuesday for recode.net. " . . . Ultimately, she withdrew her name, saying the owner's intention to create a national content network was ultimately unclear. The bigger issue, according to Min, was just how uncomfortable owners were with the Los Angeles Times newsroom. . . ."

"Publications like The Source, XXL, Vibe and Honey grew out of a need to cover and preserve the growth of hip hop music and culture," Sameer Rao reported Monday for ColorLines. "Syreeta Gates, a digital archivist and former creative director for Travel Noire, explores the mark that hip hop journalists left on the [art form] in her upcoming documentary, 'Write On! The Legend of Hip-Hop's Ink Slingers.' Gates launched a Kickstarter campaign to support the documentary . . . ."
William G. Douglas, a longtime reporter covering Washington politics for the McClatchy news service and the co-host of its Majority Minority podcast, somehow finds time in the 24-hour news cycle to write regularly about diversity in hockey in his popular blog, The Color of Hockey," Melissa Hopper wrote Tuesday for the New York Times, introducing a Q-and-A with Douglas. "Mr. Douglas fell for the game at an early age while growing up in Philadelphia. . . ."

"Ugandan authorities must make every effort to secure the safe release of Charles Etukuri, an investigative journalist for the state-owned New Vision newspaper," the Committee to Protect Journalists said Wednesday. "Five unidentified men dressed in military camouflage seized Etukuri outside the newspaper's office in Kampala yesterday, days after he published an investigation into the murder of a foreign national in Uganda, the paper's editor John Kakande and the Independent Media Council of Uganda executive secretary, Haruna Kanaabi, told CPJ. . . ."

---
Support Journal-isms Go Fund Me page.
Richard Prince's Journal-isms originates from Washington. It began in print before most of us knew what the internet was, and it would like to be referred to as a "column." Any views expressed in the column are those of the person or organization quoted and not those of any other entity.
Send tips, comments and concerns to Richard Prince at journal-isms-owner@yahoogroups.com.

Follow Richard Prince on Twitter.
Like "Richard Prince's Journal-isms" on Facebook.
Journal-isms is originally published on journal-isms.com. Reprinted on The Root by permission.