Known loudmouth LaVar Ball got his comeuppance from the city of Compton, Calif., on Saturday—and NBA star James Harden was there to see the whole thing.

Ball's AAU basketball team—the Big Ballers, which his oldest son, LaMelo, plays for—got crushed 109-57 by the Compton Magic at the Magic Memorial Day Festival in Southern California, according to USA Today.

The silencing occurred when baller Timmy Allen executed a magnificent dunk and put his Magic team up by 50 points, 74-24. Ball, who was reportedly yapping nonstop from the sidelines, had nothing to say after that. All the retired football player could do was grin.
Allen reportedly heckled Ball while running up and down the court during the game, some get-back for all the trash-talking Ball does, saying, "Big Baller, what?"
G/O Media may get a commission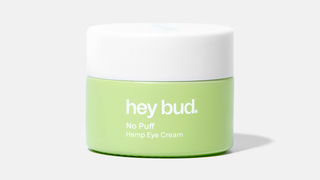 15% off
Hey Bud - No Puff Hemp Eye Cream
"I don't like to back down to anybody, no matter who you are, and LaVar is nobody different," Allen told USA Today. "So I said some stuff back."
After that embarrassing slam, Ball tried to pick up his face, saying, "This ain't nothing but entertainment. You want to know what I'm going to do when I get out of here? I'm going to get a burger, lay down and take a nap."
He reportedly also trash-talked referees, saying, "Nobody's here to see you. Nobody's here to see you," and called one a "peon."
Burger? Ball should have been full after eating his words, because earlier during the game, he said that players such as Allen couldn't guard LaMelo, who once scored 92 points during a high school game. On Saturday he managed only 15 points.
LaMelo is expected to be one of three top picks in the NBA draft.
Regardless and besides all that, Ball's team got its ass whupped. And shut him up, if for but a moment. Good job, Compton Magic!
Read more at USA Today.