"I think one thing that's really important with me is I have no shame," Sophia Hyacinthe says.
She has nothing to be ashamed of. Hyacinthe is one of the hardest-hustling creatives in New York City, crafting a hybrid career out of her two greatest passions: music and fashion. By day, the stylist and CEO of Immaculate Wardrobe dresses Fortune 500 female power brokers; by night, she's DJ Soda Pop, spinning hip-hop and house at Manhattan venues like the Museum of Sex—where she launches a weekly residency tonight.
The Glow Up recently caught up with the busy Bronx-born beauty to discuss her parallel creative careers and her future as a fashion DJ. The product of what she describes as a traditional Haitian-American family, Hyacinthe grew up on a steady diet of hip-hop and haute couture, influenced by three older brothers and a style-obsessed stepsister. Her own obsession with fashion began so early, she recalls cutting out and stashing Vogue spreads under her pillowcase, just so she could wear the outfits in her dreams:
I remember being in school—we had to list our skills, what we were good at. And the only thing I [could] think of was that I can put clothes together nicely. ... And I remember picking up—it was Vibe magazine—and they used to have the fashion editorials, and I saw [celebrity fashion stylist] June Ambrose. And they had this article, and I remember it led with "style architect," and I was just like, "That's what I want to do!" She was a major inspiration. ... I just saw her, and I was like, "This is what I aspire to be."
Ultimately, it was a mentoring program led by image activist Michaela angela Davis that would be the conduit for bringing Hyacinthe's aspirations to fruition—and would teach her a powerful lesson in asking for what you want:
It all starts with Michaela; she was running something called Salon du Shine at her house, where there'd be a group of, like, 10 of us girls [getting] together in her loft in Brooklyn. And we would just talk about stuff, you know.

And I remember going up to Michaela, like, "Can you introduce me to June Ambrose?" And she was just like, "I don't know ... June is super-busy."

I kid you not: A couple of days later, Michaela calls me and she says, "June is looking for an intern."... So I went to the interview—June's two assistants at the time, they tore me to pieces—but I wound up getting the internship.
G/O Media may get a commission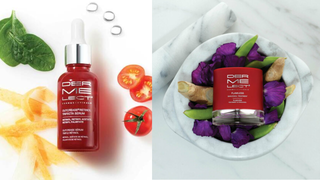 Save $19
Retinol Renewal Kit
While interning for Ambrose, Hyacinthe also worked full time to put herself through the Fashion Merchandising Management program at New York City's Berkeley College. It was the beginning of a career path that her Haitian parents, unfortunately, didn't understand:
My parents—although they were very loving—they didn't understand the concept of me wanting to be a stylist and me being in a creative field; it was foreign to them. ... They didn't have the opportunity to dream as we do, and I think because of that, they're unable to—they're in a sense blind to that. ... So I wound up having to put myself through college; I worked full time [in retail] and I did this internship.
Working for Ambrose taught Hyacinthe how the editorials she once obsessed over were created, but it was working in retail that helped her find her niche: helping busy professional women build their wardrobes.
I would work with clients, and they'd be like, "Sophia, I love working with you; you style me so well. I wish you could come dress me at home." And one day I actually got the courage to say, "Well, I can." ...

So this one client took me up on it, and I went to her house and started with her closet. But then she had me speak with her career coach, and that's when it really clicked: This is on another level. Like, you know, female executives really need this. And I really found the value that I could add.
Identifying her core clientele and their unique need to possess a high-end wardrobe without having the time to curate or shop for it, Hyacinthe launched her company, Immaculate Wardrobe. The self-described "wardrobe whisperer" currently dresses about 20 clients, all of whom are powerful women who inspire her daily, as she explained:

I work primarily with female boss bitches. These are women that are working [as] CEOs of companies, and they're also moms. ... I feel like it's really important for me to surround myself with these powerful women. And I feel like since they're at the top of their companies, not only am I empowering them, but also the women that come [into their companies] that've just graduated from college ... to see that someone at the top of their career is not only killing it, but also killing it with style.
But while helping other women fulfill their potential, Hyacinthe also realized an opportunity to further fulfill her own. A longtime avid lover of music, she was often critical of DJs on the New York City nightclub scene. Challenged by an exasperated friend to learn for herself, she accepted his gift of a DJ class at New York's famed Rock & Soul record store. Instantly, another passion was born, along with an alter ego: DJ Soda Pop.
Like her styling career, Hyacinthe's growth as a DJ has been simultaneously organic and self-driven. She initially asked more-established DJs for opening slots and cultivated her own contacts and connections. It's a path that called into conflict the hip-hop-loving girl from New York's Bronx borough and the cultured style expert whom elite businesswomen entrust with their wardrobes:

Growing up in my family, I grew up listening to Reasonable Doubt, to Onyx, to Nas—like, really hard music. Like, I'm very feminine and girly now, but I grew up liking really hard-core rap. I've always known that I've had this love and passion for music, but it was, "OK, Sophia, either you can pursue fashion styling or you can be a DJ." I didn't think in my mind—I couldn't fathom the idea of me flourishing in both fields ...

[But] to be honest with you, I can't exist with one without the other. ... I feel like they feed into each other so much, especially the route that I want to go. ... I want to be New York's new fashion DJ, and there's not enough of us brown girls up there that are actually doing it.
While her dual careers may seem to be a study in contrasts, Hyacinthe approaches both spinning and styling instinctively, using unexpected textural combinations to evoke new feelings. And in the process of embracing her dual passions, her own identity fell into place.
I feel like deejaying has really helped me fully come into my skin. ... Even with race: It's like before, I thought that I needed to kind of neglect my own identity to be accepted.

And I know I'm not the only one that feels that way; as a black woman in the fashion industry, which is predominantly white. I thought that I needed to strip some of my identity—the fact that I listened to hip-hop, the fact that I loved it, the fact that I came from the Bronx—I thought that I almost needed to move away from that in order for me to be seen in society as being this elegant person in fashion ... [but] I feel like once you accept yourself, they have no choice but to accept you for who you are. And I feel like deejaying has really allowed me to accept myself.
The Glow Up tip: If you're in the New York City area, you can catch DJ Soda Pop every Thursday night at the Museum of Sex at 233 Fifth Ave. She launches her weekly residency Thursday night with a viewing party for RuPaul's Drag Race.