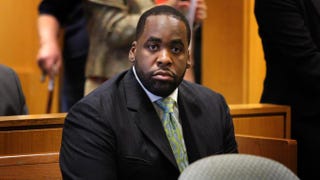 Former Detroit Mayor Kwame Kilpatrick apparently has had enough of courtrooms.
He prefers to sit out on a Dec. 10 court hearing that will determine just how much he owes Detroit and tax collectors after convictions for corruption and other crimes, the Detroit Free Press reports. He says it can be hashed out by the judge and his attorneys Harold Gurewitz and Margaret Raben.
After he and a friend, Bobby Ferguson, were convicted on charges related to bribes, extortion and fixed contracts, the government says Kilpatrick should be ordered to pay $4.5 million in restitution to Detroit and $195,000 to the Internal Revenue Service. He is serving a 28-year sentence and is being housed at a federal prison in southeastern Michigan. 
Read more at the Detroit Free Press.