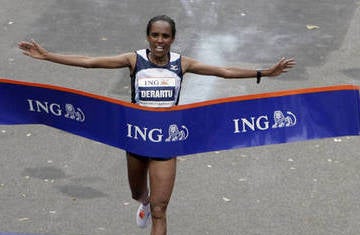 Born in Eritrea, runs as American.
Such is the story of Meb Keflezighi, the runner who took the mens' New York City Marathon title yesterday. His victory signals a resurgence of American distance runners, but for Keflezighi the victory was bittersweet. From ESPN
Keflezighi was back Sunday, wiping away tears after the New York City Marathon — for his historic victory for his country, for his recovery from an injury he once feared might end his career.

And for Ryan Shay, his friend who collapsed and died at the U.S. Olympic trials in New York in 2007.

The 34-year-old Keflezighi became the first American man since 1982 to win the NYC Marathon, the latest twist in the story of a family that fled war to thrive in a new home.

"It can't get any better," Keflezighi said.
In the womens division, Derartu Tulu of Ethiopia ran away with her first New York City Marathon victory, the first ever by an Ethiopian woman. Tulu first made a splash by winning gold at the Barcelona Olympics and repeated teh feat in 2000. Though she had struggled with weight issues after the birth of her second daughter three years ago, a good showing in a Philadelphia half-marathon gave her all teh confidence she needed
Tulu is the oldest champion since 42-year-old Priscilla Welch in 1987 and the first Ethiopian woman to win in New York.

Asked about the significance of this win, Tulu said she plans to compete at the London Olympics in 2012 when she is 40.

"I hope to be able to bring another victory for my country," she said, "so I hope you will be there to ask me the same question."

She needs look no further than Ludmila Petrova for proof she can still succeed at that age. The 41-year-old Russian was the runner-up for the second straight year, as Tulu pulled away in the final mile. Christelle Daunay of France was third.

Tulu won in 2 hours, 28 minutes, 52 seconds, as 14 mph winds slowed the runners on a cool day.