New Yorker Cover Imagines the Unimaginable for 2020
'Kanye West's announcement of his intention to seek the Presidency reminds us that it's not too early to start thinking about the 2020 campaign. (2016's already old hat by now, anyway),' Barry Blitt says about '2020 Vision,' his cover for next week's issue," Mina Kaneko and Françoise Mouly wrote Friday for the New Yorker.
"And when one considers Mr. West, it doesn't take a whole lot of imagination to be reminded of another scrappy kid who won the Presidency, back in 1948, against all odds. The press wrote him off, too.
"That's right — Harry Truman. Here is the historic photo that inspired Blitt's image of the future."
Tim Giago, Native Sun News: The 14th Amendment did not include American Indians

Scott Eric Kaufman, Salon: Jorge Ramos puts Bill O'Reilly in his place: "You're not the right person to lecture me on advocacy and journalism"

G/O Media may get a commission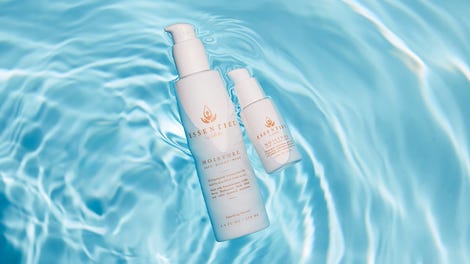 20% off
Essentiel by Adele
Geraldo Rivera, Fox News Latino: Geraldo to Trump: You're wrong, boss, immigrant murder wave is factually false
Double Standard Seen in Use of Graphic Videos
"It's sad enough when a violent crime mesmerizes the nation — such as the murder of nine African Americans in a Charleston, S.C. church, a fleeing Walter L. Scott being fatally shot in the back by a North Charleston Patrolman Michael T. Slager, or two young, White journalists, Alison Parker and Adam Ward, gunned down on live television — but those tragedies are compounded by the media's double standard," George E. Curry wrote Monday for the National Newspaper Publishers Association.
"Let' begin with how the initial crime is reported.
"How many times have we seen the graphic video of a uniformed Michael Slager in South Carolina remove his gun from his holster on April 4 and shoot 50-year-old Walter Scott as he was running away? With two huge trees in the foreground, we heard eight shots, four of them striking Scott in the back and one lodging in an ear.
"Contrast that with the coverage of two promising White journalists in Roanoke, Va. Because it was what is called a live shot, we have even more graphic footage of their actual murders. The shooter also filmed his dastardly crime, later posting it on social media before committing suicide.
"Did we see repeated clips of the two White journalists being murdered? No, we saw some freeze-frames just before the act. And when the New York Daily News published freeze-frame photographs of Alison Parker as she was shot, there was widespread condemnation. . . ."
L. Chris Stewart, lawyer for the Scott family, could not be reached for comment.
Anita Bennett and Itay Hod, theWrap: TV Crews Reveal the Dangerous Downside of Covering News

Ariel Edwards-Levy, Huffington Post: Americans Are Divided On How Media Outlets Should Handle Graphic Footage

Andrew Knapp, Post and Courier, Charleston, S.C.: Court filing seeks video, cellphone in Walter Scott's death
Charleston Paper Urges Death Penalty Over Massacre
"Ninth Circuit Solicitor Scarlett Wilson announced Thursday that she will seek capital punishment for Dylann Roof, who is charged in the Emanuel AME Church massacre" on June 17, the Post and Courier in Charleston, S.C., editorialized on Friday. "It's hard to imagine a crime more fitting for the death penalty.
"As Solicitor Wilson aptly put it: 'This was the ultimate crime, and justice from our state calls for the ultimate punishment.' . . ."
Jarvis DeBerry, NOLA.com | the Times-Picayune: Louisiana town seeks to get rid of cop with Klan ties

Ben Duell Fraser, Detroit Free Press: A guy, his truck and the Confederate flag

Judy Kurtz, the Hill: Julianne Moore joins fight to take Confederate name off her high school (Aug. 24)

Conor McCue, WMBF-TV, Myrtle Beach, S.C.: Darlington Raceway offering Confederate flag swap

Scott Sutton, Chicago Sun-Times: Meet the man behind 'Buy Confederate Flags From a Black Guy'

Yvonne Wenger, Baltimore Sun: Mayor names Confederate monument review commission

Ben R. Williams, Martinsville (Va.) Bulletin: Clark removes Stuart's portrait

Michael Paul Williams, Richmond (Va.) Times-Dispatch: Judge renders clear-headed verdict on Confederate symbols
FBI Agents Call After Story on Black Lives Matter
"Government agents make a surprise visit to a young journalist's home with questions about articles he's written about an emerging protest movement," Sarah Stuteville wrote Thursday for the Seattle Globalist, which describes itself as "a daily online publication that covers the connections between local and global issues here in Seattle. We highlight diverse voices and train the next generation of media makers." Stuteville is a co-founder.
"It may sound like a scene from a distant and frightening land, but it happened last week to 22-year-old Jama Abdirahman, a college student and recent graduate of the Seattle Globalist's youth-reporter apprenticeship program," Stuteville continued.
"Abdirahman wasn't home when the two FBI agents came calling, but his 16-year-old brother was, and handed over his cell phone number.
"During the apprenticeship program, where other Globalist reporters and I mentor young people hoping to become journalists, Abdirahman wrote about stereotypes of his South End neighborhood and even did the photography for a few of my Seattle Times columns, one about issues facing the Somali-American community.
"But it was a story he wrote about Black Lives Matter protests — specifically about women in the movement — that particularly interested the agents. . . "
Wayne Bennett, the Field Negro: Fear of a black movement.

Charles M. Blow, New York Times: Ratcheting Up the Rhetoric

Julia Craven and Nick Wing, HuffPost BlackVoices: 5 Things To Tell Anyone Who Blames Black Lives Matter For Violence Against Cops

Stephen Deere, St. Louis Post-Dispatch: Ferguson police say they don't have video from protester's arrest

Amelia Dickson and Alexis Krell, the Olympian, Olympia, Wash.: Two groups take to the streets over officer-involved shooting charges

Editorial, Houston Chronicle: Flowers for Goforth

Lisa Falkenberg, Houston Chronicle: Officials were wrong to jump to conclusions in deputy's slaying

Megan Favignano, Columbia (Mo.) Daily Tribune: Local group meets to take on police issues, racial divide

Josh Feldman, Mediaite: 'Shut the Hell Up!': Roland Martin Calls Out O'Reilly for Slamming #BlackLivesMatter

Cindy George, Houston Chronicle: Slain deputy remembered as 'one of the good guys'

Gary A. Harki and Jonathan Edwards, Virginian-Pilot, Norfolk, Va.: Portsmouth police officer indicted on first-degree murder charge in shooting death of William Chapman II

Earl Ofari Hutchinson, syndicated: Black Lives AND Police Lives Both Matter
John Kerr and Eric Wuestewald, Media Matters for America: Fox News Calls Black Lives Matter A Hate Group After Repeatedly Lauding Actual Hate Groups

NewsOne Now: Bill's Lies Matter: Roland Martin's Talking Points Memo On #BlackLivesMatter Controversy

Nicholas Rogers, Media Matters for America: Mainstream Media Call Out Conservative Outlets For Linking Black Lives Matter To Anti-Police Violence And Increased Crime

Andrew Rosenthal, New York Times: The Real Story of Race and Police Killings

Fran Spielman, Chicago Sun-Times: Police officer who said, "Mike Brown deserved it," to get off lightly
Journalists "Pushed Away" from Migrants at Train
"Journalists have reported being 'pushed away' by police from 'distressing scenes' involving migrants at a Hungarian train," William Turvill reported Thursday for pressgazette.co.uk.
"According to reports, hundreds of migrants were allowed on to a train in Budapest, Hungary, bound for Austria before they were ordered off in Bicske, also in Hungary, to be taken to a registration centre. The migrants are reported to be resisting.
"James Mates, Europe editor of ITV News, has been covering the situation since early this morning. As well as reporting for the 1.30pm news, he has also been tweeting and picturing the scene.
"Just before 2pm British time (Hungary is one hour ahead) he tweeted that journalists were being 'shepherded away' and accused the Hungarian authorities of not wanting the 'world to see' what they were doing. He also reported migrants as saying: 'Don't leave us.' . . ."
Mates continued reporting, however, and tweeted on Friday, "If the Hungarian strategy was to create a media circus, they can consider this a triumph."
David Folkenflik, NPR: Image Of Dead Syrian Child Shakes Up Media Coverage Of Refugee Crisis

Max Fisher, vox.com: The drowned Syrian boy photo is viral social media at its most hollow and hypocritical

Roy Greenslade, the Guardian: So Aylan Kurdi's picture did make a difference to the refugee debate

Kristen Hare, Poynter Institute: Front page of the day: 'Somebody's child' (WARNING, DISTURBING IMAGE)

Askia Muhammad, Washington Informer: Refugee Crisis is Africa's Shame

Smita Nordwall, Voice of America: Migrant Crisis: Why They're Fleeing, Where They're Going

Dominic Ponsford, pressgazette.co.uk: Agency photographer who pictured Aylan Kurdi wanted to 'express the scream of his silent body'
Díaz-Balart Might Survive MSNBC Daytime Shakeup
"José Díaz-Balart may not be leaving MSNBC dayside after all," Joe Concha reported for Mediaite on Friday.
"The news comes after another highly-placed source with knowledge close to the situation says while Díaz-Balart may lose an hour off of his current two-hour weekday morning timeslot (The Rundown with José Díaz-Balart) as reported yesterday, he will remain as an anchor in a condensed capacity during weekday mornings.
"Said capacity will likely be the 10:00 AM-11:00 AM slot that immediately follows the extended version coming for Morning Joe, which — as originally reported here &mash; will run until 10:00 AM. . . ."
Adrian Carrasquillo reported for BuzzFeed,"A coalition of 40 national Latino organizations sent a letter to Phil Griffin, the president of MSNBC, and Andrew Lack, the head of NBC News, saying that any effort to eliminate or minimize Jose Diaz-Balart's show would be met with strong organizational opposition, in response to a Thursday [Mediaite] report that the anchor would be the odd man out in lineup changes.
"The letter sent by Felix Sanchez, chairman of the National Hispanic Leadership Agenda's (NHLA) media committee, said that the group met with MSNBC executives to discuss increasing Latino representation on air, and noted that the network has only had one Hispanic anchor since its inception in 1996. . . ."
Carrasquillo also reported, "Latino organizations mobilized soon after the  report was released, contacting MSNBC and each other to first find out if it was true, and second to decide how they would respond.
"Alex Nogales, the president of the National Hispanic Media Coalition, spoke with Griffin who reassured him that the report was inaccurate. Briefed on the call, NHLA leaders were given the indication that Griffin would release a clarifying statement but with the long [Labor Day] weekend coming, decided to send the letter. . . ."
Concha also wrote, "As MSNBC continues its largest overhaul in history, some at the network win, some lose. Díaz-Balart may be losing one hour, but it appears he'll still be keeping another, basically putting him back where got his own program on the network 16 months ago. . . ."
Chris Ariens, TVNewser: Why a Progressive MSNBC Dayside Didn't Last

Jack Mirkinson, Salon: Hell is 4 hours of "Morning Joe": Why MSNBC just made a horrible & disappointing mistake
Media Covering Obama in Alaska Missed Tribal Story
"President Barack Obama's visit to Alaska was inspiring," Mark Trahant wrote Thursday for his Trahant Reports. "I eagerly watched everything I could see online: The official restoration of the name Denali, his powerful words on the climate, his visits to Resurrection Bay, and his interaction with Alaska's Native communities. I especially loved the Yup'ik dancing (and the president showing his moves).
"But there is one story that's missing from the national accounts of the president's visit: the role of tribes in determining Alaska's future. The president himself referred to this debate in several ways.
"The first mention was in his statement to tribal leaders when he said: 'My administration also is taking new action to make sure that Alaska Natives have direct input into the management of Chinook salmon stocks, something that has been of great concern here.' Then a few sentences later he promised to follow up on 'everything from voting rights to land trusts.'
"Those last two words are the story that needs to be told. . . ."
Adam Gopnik, New Yorker: Denali and the Names of the Past

Tony Norman, Pittsburgh Post-Gazette: Denali critics seriously boggle the mind

Alice Rogoff, Alaska Dispatch News: Mr. President, welcome to Alaska, America's land of opportunity (Aug. 29)

White House: President Obama's Trip to Alaska (photos)
Oakland Residents Trained as Correspondents for 4th Year
"When we in the media tell the story of East Oakland, we often weave a narrative of crime, violence and despair," Martin G. Reynolds reported Friday for the Bay Area News Group. "And while significant challenges exist within this community, often untold or underreported are the stories of vibrancy, resilience, activism, diversity and pride.
"In late July, the newest Oakland Voices cohort began and, over the next nine months, these 12 East Oakland residents will be trained as community correspondents and write stories they feel need to be told.
"All the stories will appear on the www.oaklandvoices.us website and some will appear in this newspaper.
"The goal of the program is to empower residents to be the storytellers of their neighborhoods and to build a relationship between the community and this newspaper.
"Former Oakland Tribune columnist Brenda Payton enters her second year as our Oakland Voices coordinator, providing guidance and the benefit of her more than three decades of journalism experience.
"Oakland Voices began in 2010 and now enters its fourth cohort. The program is run in partnership with the Robert C. Maynard Institute for Journalism Education, an Oakland-based national nonprofit dedicated to diversifying America's newsrooms, and is funded in large part by The California Endowment, a nonpartisan health care foundation. Voices has been replicated in Jackson, Mississippi, and has another cohort underway in Sacramento. . . ."
"The Chicago Reporter, a magazine focused on 'race, poverty and income inequality' that got its start in 1972, will publish its last print issue this year in a nod to the changing media landscape," Lynne Marek reported Thursday for Crain's Chicago Business. "The magazine's editor and publisher, Susan Smith Richardson, told readers in an email today . . . that the nonprofit has 'decided to end the quarterly publication of The Chicago Reporter and focus our work online, where we can reach wider audiences and have a greater impact while staying true to our mission.' . . ."

In his one-year as moderator, Chuck [Todd] has made several updates to the show, including a new set," according to a media announcement about NBC's "Meet the Press." "Now, this Sunday, you may notice another modern touch: actor and humanitarian Dennis Haysbert offers his voice to the show's opening." Haysbert is a film and television actor who also appears in commercials for Allstate Insurance. NBC News compiled a brief video featuring the voices that have announced the program over the years (video).

The National Association of Hispanic Journalists said Thursday it commends member Vanessa Ruiz and KPNX-TV in Phoenix "for standing up for accuracy in pronunciation of Spanish words. " 'Vanessa was eloquent and unapologetic in explaining the importance to pronounce certain things the way they are meant to be pronounced,' said Mekahlo Medina, NAHJ President. 'I received the same criticisms when I was a reporter at KPNX a decade ago. NAHJ is happy KPNX and its staff [are] standing by Vanessa. More importantly, we are happy they are standing by accuracy.' . . . " More on the story.

"It's getting to be old news now," Tom Zind wrote Thursday for folio:. "Magazine newsstand sales are declining, according to the latest data from MagNet. But what is new, and worrisome, is that the declines are accelerating and the pain is spreading. The newsstand tracker's first-half 2015 numbers are in and they show that the key metric of sales efficiency hit what it says is an all-time low. Only 26.8 percent of the magazines publishers distributed to retail outlets actually sold, down from 31 percent in the first half of 2014. . . ."

Shankar Vedantam's new podcast for NPR about human behavior, "Hidden Brain," will debut later this month, Andrew Beaujon reported Friday for Washingtonian magazine. "It will be organized around that idea of stories told at various lengths, or even, in the case of the 'two-day version,' hashed out at a 'Hidden Brain' event that takes advantage of what he calls NPR's ability to 'play the role of convener.' . . ."
"The William H. Cosby Future Filmmakers Workshop is no more. According to NYU Local, New York University has removed Bill Cosby's name from the workshop," Chris O'Shea reported Thursday for FishbowlNY.

"Joe Ruiz is leaving Kansas City NBC affiliate KSHB, where he has been Executive Producer of New Media since 2013, for a job as Weekend Editor at NPR.org in Washington, D.C.," Veronica Villafañe reported Wednesday for her Media Moves site. "In his new role, Joe will be the lead editor for digital coverage, including planning, production and promotion of site content, coordinating with staff from the weekend on-air shows. . . ."

"A Hollywood diversity report just released by USC's Annenberg School of Media and Journalism notes that, among other things, Latinas and Black women are most likely to star in Hollywood films only when they are dressed in 'sexy attire,' " Julianne Escobedo Shepherd wrote Thursday for jezebel.com. "The report, which spans inequality across 'Gender, Race, and LGBT Status' in the top 100 films from 2014, pointed out that 30.6 percent of Latinas and 29 percent of Black women in movies with major roles are shown wearing sexualized clothing, as compared to 27.5 percent of White women and 25.7 percent of Asian women. . . ."

"Women, blacks, Asians and Hispanics have built up substantial positions as business owners in several sectors of the U.S. economy, Drew DeSilver reported Tuesday for the Pew Research Center. "But based on revenue, those businesses are on average considerably smaller than white- or male-owned firms, according to a Pew Research Center analysis of recently released data from the U.S. Census Bureau. . . ."

Reporters Without Borders said Thursday that it urged Guatemala's political class "to respect the freedom of journalists to work as they see fit. Against a backdrop of extreme political and social tension, President Otto Pérez Molina resigned today on the eve of a hearing on a corruption case in which he is allegedly involved. Journalists have been pressured and harassed by both government officials and candidates in the run-up to general elections on 6 September. . . ."

"A Sudanese journalist has been detained for more than a month without charge in Saudi Arabia, according to news reports," the Committee to Protect Journalists reported on Thursday. "Waleed al-Hussein al-Dood could face deportation to Sudan, where he is at risk of arrest and abuse by security forces who have threatened his life, according to statements by his family to CPJ. . . ."