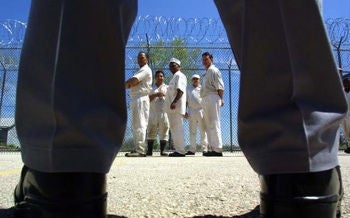 Justice: crack-sentencing reform applies to old convictions: ColorLines reports that the U.S. Sentencing Commission voted today to apply retroactively sentencing reform for crack-cocaine convictions that Congress passed last year. This will give more than 12,000 inmates — 85 percent of whom are black — the opportunity to go before a judge and seek a reduction in their sentences. The commission estimates that the decision will reduce sentences by an average of more than three years and could save the government $200 million in the next five years.
Don Cheadle's company signs first-look deal with Showtime: The star of Showtime's upcoming comedy series House of Lies is expanding his relationship with the pay cable network through a first-look deal for his Crescendo Prods. Under the one-year pact, Cheadle and his producing partners, Kay Liberman and Lenore Zerman, will develop and executive-produce series projects for Showtime. 
"Postcards From Hell": Images from the world's most failed states: A quarter of the world's human beings live in the 60 worst-ranking countries on the 2011 Failed States Index (FSI). Foreign Policy provides a glimpse into their daily existence.
Top black celebrity chefs: From traditional Southern dishes to Asian fusion, they've prepared it all, and in some of the most exclusive eateries in the nation. The Atlanta Post has a list of the top black celebrity chefs who are keeping the competition hot.
In other news: 'Interrupters' Documentary Takes on Chicago Youth Violence.