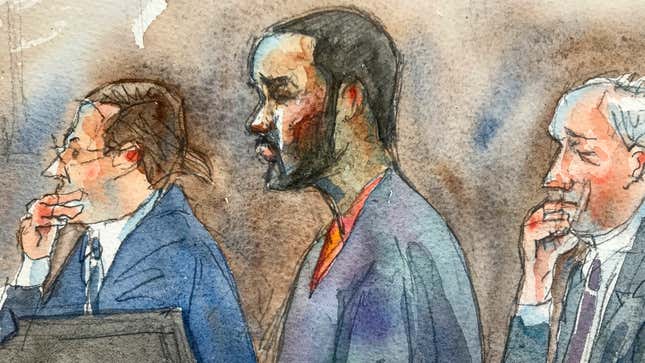 Tsk, tsk, tsk. It's a sorry state of affairs for Robert "R." Kelly as he awaits trial in multiple jurisdictions on state and federal charges he sexually abused women and girls.
American Ninja Warrior: Season 15 Is Our TV Pick of The Week
According to his lawyer, the besieged R&B crooner is being held in solitary in federal prison in Chicago, with just a Bible the reportedly illiterate Kelly can't read for comfort, the Chicago Sun-Times reports:
"I've seen him get very emotional," said attorney Steve Greenberg, who is spearheading Kelly's courtroom battle in Chicago on child pornography and sex abuse charges.

"He's dealing with a lot of stories that have been made up. He's not a fighter. I've seen him cry when he talks about the situation."
Conditions where Kelly's being held in the Special Housing Unit—or SHU—of Chicago's Metropolitan Correctional Center are admittedly spartan—no TV, radio or books, Greenberg said But Kelly, said his lawyer, is determined to "fight for the truth."
All that said, Kelly has new "truths" to fight for as he faces yet another civil battle—this from the owner of the Chicago building he once used as a studio.
Kelly is being sued for more than $200,000 in rent and other charges in a suit filed in Cook County Circuit Court, the Sun-Times reports. A court date of Oct. 1 has been set in this case.
But what's a little back rent when one is facing serious, hard time on federal charges out of Chicago, New York and—just this month—Minnesota, including underage prostitution, child pornography and recruiting women and girls "to engage in illegal sexual activity?
As the Sun-Times recounts:
Earlier this month, Kelly was charged with two federal counts of underage prostitution in Minnesota. The alleged victim met Kelly in July 2001 when the singer was signing autographs in Minneapolis.

In July, the U.S. attorney's office in Chicago charged him with nine counts of enticing a minor, three counts of child pornography and one count of obstruction of justice.

In Brooklyn, federal prosecutors have charged Kelly and two associates with acting as a criminal enterprise to "promote R. Kelly's music and the R. Kelly brand and to recruit women and girls to engage in illegal sexual activity with Kelly."
Not to worry, though; Kelly, who has pleaded not guilty to all charges, still has some comforts as he awaits his fate.
He's still getting misguided fan mail, "which is 97% positive and he pores over it," Greenberg told the Sun-Times. Kelly can't read for all intents and purposes, but he can recognize a few words, his lawyer said.
And he remains a sharp dresser—as much as one can be in prison-issue.
"I swear, every time I visit him, he's dressed in a different colored jail suit," Greenberg shared.
As for that album Greenberg said Kelly's fans were anxiously awaiting?
Kelly's legal team has requested a computer so the record can be finished, but "we gave up on it for now," Greenberg said.
O-K.
Kelly and his team may just need to give it up permanently.