(The Root) — There have been countless Olympic moments that are memorable because of sporting achievements, but one stands out for the political statement it made. After winning a respective gold and bronze medal in the 200-meter dash at the 1968 games in Mexico City, two American track stars — Tommie Smith and John Carlos — shocked the world when they bowed their heads and raised their black-gloved fists in the air while they stood on the victor's podium. As the national anthem played, the runners' symbolic gesture was a protest of the social inequality endured by blacks in America and an expression of solidarity with the world's oppressed peoples.
According to Carlos' biographer Dave Zirin, events around the world — from the assassinations of Dr. Martin Luther King Jr. and Robert Kennedy to the war in Vietnam and the massacre of hundreds of Mexican students and workers — that year informed the runners' demonstration. "For them it was a question of how could they not express themselves at that particular moment in time," Zirin, who co-authored The John Carlos Story: The Sports Moment That Changed the World, told The Root.
In the run-up to the games, Smith and Carlos had joined the Olympic Project For Human Rights (OPHR), a group of black athletes led by San Jose State sociology professor Harry Edwards who were prepared to boycott the athletic event if authorities failed to meet certain demands. They wanted apartheid countries barred; they called for Muhammad Ali to have his boxing title restored. (It had been stripped away after his opposition to being drafted for the Vietnam War.) They also stood for hiring more African-American assistant coaches, but the most controversial stance was their demand that Avery Brundage, who had a history of being a fascist sympathizer, be removed as head of the International Olympic Committee.
Some of urgency of the boycott relented, however, when Olympic officials excluded South Africa and Rhodesia from the games. When The Root caught up with Carlos, 66, via phone recently, he said he still considered staying home. But it was probably one of the best and hardest decisions he made to eventually attend, win a bronze medal and make history in one of the most enduring images in sports history. Carlos, who once dreamed of being an Olympic swimmer before turning to track, recalled how important it was for a kid from Harlem to make a statement on the world stage, no matter how he was vilified for it at the time.
The Root: I read you first attended East Texas State but left after one year. When did you connect with professor Edwards and his OPHR movement?
G/O Media may get a commission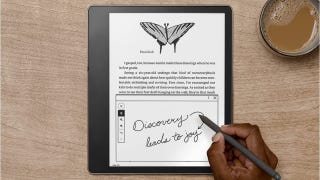 Releases November 30
Borrowing the display from the much-beloved Paperwhite, this screen provides a glare-free experience both indoors and outdoors so you can read by the pool or on the beach on a sunny day. New to this model is the inclusion of a pen. Take notes directly on the pages as you might in a traditional book, but the notes are automatically organized by title in a single place–letting you review and export them with ease.
John Carlos: I had been reading in Track and Field News about the Olympic Project for Human Rights since I was a student at East Texas State. Everything they were saying I agreed with. I'm saying to myself, these are the people I want to be affiliated with.
After leaving East Texas State, I was back in New York and I got a call from professor Harry Edwards, who invited me to a meeting at the Americana Hotel. In this meeting, Dr. King wanted to let professor Edwards, the SCLC and all those that were involved know that he was coming out in support of the Olympic boycott. After that, I got an offer from professor Edwards to matriculate at San Jose State.
TR: Was the black-glove fist professor Edwards' idea?
JC: Harry had no idea. He was as surprised as you or anyone else who was walking the Earth that day. I would say collectively, it was Tommie Smith and I. It was our idea together.
TR: Describe your feelings and emotions before the race. Were you nervous about your performance?
JC: The main thing that ran through my mind when we ran the final race, my statement to myself was, "Damn, let's get it on." Now the formality is out the way, now we can do what we came to do and that's take care of business on the victory stand.
My premise for going to the games was to make a statement. I wanted to represent the people from where I came from. It was the first time the Olympic Games was televised worldwide. The first time the Olympic Games was televised in Technicolor. The first time that anyone even cared to step up and make a public statement about humanity.
TR: When did you start planning to use the black glove and walk out without wearing running shoes? There were other items you had as well, right?
JC: I said to Mr. Smith, after we ran our quarter- and semi-final race, that I wanted to make a statement. He was with me on that. Then we came to the next stage — what do you have to bring to the table? Mr. Smith said, "I have some gloves." Bring 'em. I had some black beads. Bring 'em. He had a black scarf. Bring 'em. I had a black shirt. Bring it. We decided that we would wear black socks, roll our pants cuffs up, go out there barefoot and put the Puma shoe on the victory stand.
Like The Root on Facebook. Follow us on Twitter.
The black glove was to say that we want the world to know, although we are here for humanity, we want the world to know that these are black people concerned about humanity. We wanted to represent our blackness through that black glove. My black shirt that I had over my USA jersey was for the shame I had for America: Why do we have to come as second-class citizens to be your warriors in the wars? Second-class citizens in the business world … in the realms of education or housing or employment.
Mr. Smith put that black scarf on his neck to show unity. We put black socks with no shoes to show third-world poverty. Individuals are walking miles a day without shoes to try to get an education and we're sending spaceships to the moon but we can't stop poverty in the U.S.
TR: The news media's reaction was harsh. Time had a distorted version of the Olympic logo on its cover with the words: "Angrier, Nastier, Uglier." The Chicago Tribune called the act "an embarrassment visited upon the country." Brent Musburger, then a young reporter at the Chicago American, called you "a pair of black-skinned storm troopers."
JC: We were ostracized. We had everything pelted against us, we had no means to defend ourselves. We couldn't make them come and have a dialogue with us about the why, where's and what's. Then you had individuals like Brent Musburger calling us neo-Nazis … all across this nation, the major newspapers just decimated us. What vehicle did we have to express ourselves? We didn't have social media, Twitter or Facebook.
TR: Have you talked to Brent Musburger since then? Do you think he should apologize?
JC: Brent Musburger is a louse, and I don't care to speak with him. He is going to have to deal with that when he goes before his maker. Between you and I, man, I don't think Musburger is man enough to apologize. It takes a man to make the right move and it showed where he was by the statement he made. He is not even thinking about an apology.
TR: Reports have said that you and Tommie Smith don't get along. What's your relationship with Smith like these days?
JC: I have the utmost honorable love and respect for Tommie Smith. We don't necessarily see eye to eye on how we deal with the issues. But I always respect and admire him for his courage. I don't agree with some things he see or do and he don't necessarily agree with some things that I see or do. But we have honorable respect and love and admiration for one another. We'll have that for eternity. And Peter Norman [Australian runner who won silver that day] as well. Peter is no longer with us in the flesh but I think about him every day.
TR: What's your feeling about the Olympics today? Will you be watching or does it represent a sore spot for you?
JC: Don't get it twisted when I say I'm against the Olympic movement. I'm against the structure of the Olympics. I'm against the power brokers walking away with all the money. I'm for the athletes 100 percent to exploit their talents that God gave them and they perfected and made better to be the best in the world. I don't want no less for their dreams than I had when I was a young individual. But I just want them to realize that it's far greater than just the medal. It's about humanity.
Brett Johnson is The Root's associate editor.