Want to know what phase the moon is in? There's an app for that. Want to track your meals? There are dozens of apps for that. Want to see which works of art your face resembles? There's an app for that, too.

Want to address mass incarceration? Well, Jay-Z—and many others—are hoping a new app may be the answer.
The rapper and mogul's entertainment company, Roc Nation, has just been announced as an investor in Promise, an app that hopes to chip away at our country's incarceration problem.
Promise offers a "comprehensive intake procedure" through a number of services. The first thing the app provides to clients is financial assistance with bail costs, as the Vera Institute of Justice found (h/t Complex). A major contributing factor in the issue of America's overcrowded jails is the huge swells of people who can't afford to post bail.

The Promise app, which, according to its press release, is designed to help government agencies "support those who would otherwise be in custody" or are on probation or parole, will also provide an "intelligent calendar" that allows users to keep track of court appearances, drug testing and other important dates.
G/O Media may get a commission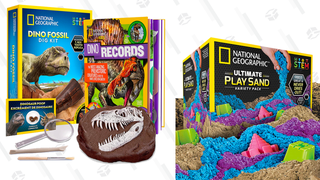 Up to 33% off
National Geographic Science and Activity Kits
Promise will also provide individualized referrals and support for job training, housing and counseling, depending on users' needs.
"We are increasingly alarmed by the injustice in our criminal-justice system," said Jay-Z in a statement announcing Roc Nation's partnership with the app.
In recent years, Jay-Z has donated a lot of time and resources to address the criminal-justice system; he recently produced a docuseries based on the lives of Trayvon Martin and Kalief Browder and penned an op-ed for Time speaking out on the "exploitative bail industry."
"Money time and lives are wasted with the current policies. It's time for an innovative and progressive technology that offers sustainable solutions to tough problems," he continued in the press release concerning the Promise app. "Promise's team, led by [co-founder] Phaedra [Ellis-Lamkins], is building an app that can help provide 'liberty and justice for all' to millions."

The app will be officially introduced Tuesday at the Y Combinator Demo Day event by Ellis-Lamkins and Promise co-creator Diana Frappier.