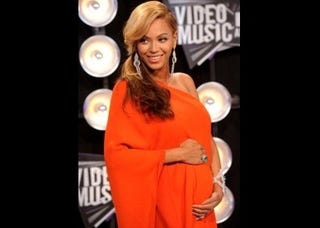 It's not like us to gush at The Root, but we can't resist it this one time. Beyoncé Knowles used the red carpet for Sunday night's MTV Video Music Awards to proclaim that she and husband Jay-Z are with child. "I have a surprise!" she teased as she posed in a scarlet Lanvin gown with her hands cradling a modest baby bump. The news was confirmed by Us Weekly and People via a spokesperson for the pop superstar.
Jay-Bey got married in 2008, and their matrimony has paid dividends ever since: Together they currently rank second on the Forbes list of Wealthiest Celebrity Couples, behind NFL star Tom Brady and his bride, the supermodel Gisele Bundchen.
Beyoncé, who has little left to prove as an entertainer, previously said that she wanted to experience motherhood by age 30. She hits the big 3-0 on Sept. 4.
How do you think motherhood will change Bey?
Read more at People.com.
In other news: Chauncey Bailey Case: Life for Arranging Murder.