'American Violet': Staying Strong
Dee Roberts (Nicole Beharie) is a 24-year-old single mother of four in this 2009 based-on-a-true-story film. Dee is charged as a drug dealer after the local police sweep her house — even though she has no record and no drugs were found in the raid. Her mother, Alma (Alfre Woodard), later tries to convince Dee to take the plea (which would get her out of jail, but with a record). "Dee, it ain't always about you. You got kids to take care of," Alma says.
'Something New': Disapproval
Seems like Alfre Woodard and Sanaa Lathan are a natural mother-daughter pair (Love and Basketball, Something New, The Family That Preys). In this 2006 film directed by Sanaa Hamri, Kenya (Sanaa) is a lawyer striving to become a partner at a prestigious law firm. Joyce (Alfre) doesn't approve of Kenya's "something new" boo — and of course urges her to date the high-powered tax attorney (Blair Underwood).
'The Family That Preys': True Worth
G/O Media may get a commission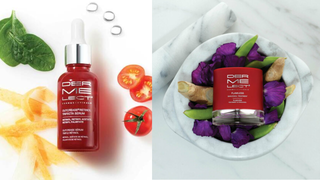 Save $19
Retinol Renewal Kit
Andrea (Sanaa Lathan) and Pam (Taraji P. Henson) are two sisters at war from start to finish of this 2008 Tyler Perry film. Their mother, Alice (Alfre Woodard), owns a local restaurant, where she feeds and clothes a homeless man — something Pam doesn't understand. And in the opening scene, Andrea doesn't understand why her mother's white friend wants to pay for her wedding — or why she has to wear her mother's (dated) wedding dress. By the end of the film, at least Pam finds out that her saintly mother is worth more than she ever could have imagined.
'Diary of a Mad Black Woman': Real Wisdom
Cicely Tyson was far from the main character in this 2005 Tyler Perry film, but the Oscar-nominated actress definitely left her mark. Her words of wisdom to her daughter, Helen (Kimberly Elise): "When somebody hurts you, they take power over you. If you don't forgive them, then they keeps the power. Forgive him baby, and after you forgive him, forgive yourself."
'Madea's Family Reunion ': Serious Issues
In Tyler Perry's sequel to Diary of a Mad Black Woman, Victoria (Lynn Whitfield) is that out-of-touch mother whose actions leave you thinking, "What kind of mother would do that?" She let her husband rape her daughter, Vanessa (Lisa Arrindell Anderson), and always held her other daughter, Lisa (Rochelle Aytes), in high esteem. And despite Lisa's abusive relationship with her fiancé (Blair Underwood), Victoria urges her to go through with the wedding. By the end of the film, Victoria finally apologizes to Vanessa.
'What's Love Got to Do With It': Abandonment
In this gritty biopic of the life of singer Tina Turner (neé Annie Mae Bullock), which garnered Angela Bassett a 1994 Oscar nod, a teenage Turner (Bassett) confronts her mother, Zelma Bullock (Jenifer Lewis), with whom she has been newly reunited:
Zelma Bullock: Now, Anna Mae, I know I wasn't around. But believe me, you were too young to know what was going on with your daddy and me.
Tina Turner (Angela Bassett): Did Alline understand? She ain't that much older than me.
Zelma Bullock: Now, don't think you're going to come live in my house and make me feel bad.
'Soul Food': Creating Unity
Mama Joe (Irma P. Hall) had three daughters who couldn't have been more different. Teri, the oldest, and a type-A lawyer (Vanessa L. Williams); Maxine, the nurturing housewife and mother (Vivica A. Fox); and Bird, a newlywed hairstylist (Nia Long). "One finger won't make an impact, but you ball all those fingers into a fist, and you can strike a mighty blow. Now this family has got to be that fist," Mama Joe said. And who could forget Boyz II Men's "A Song for Mama"?
'Eve's Bayou': Love and Chaos
Kasi Lemmon's 1997 directorial debut featured young Jurnee Smollett (The Great Debaters) and Meagan Good (Biker Boyz, Waist Deep) in perhaps their most memorable roles to date.
Eve (Jurnee Smollett): Mama keeps stabbing herself in the kitchen! Show her your hands, Mama.
Roz Batiste (Lynn Whitfield): I think you'd better hush …
Eve: And where Daddy? He's never home. He's supposed to be home sometimes!
Roz Batiste: Listen, you little ingrate. Your father works hard so we can have a house with four bathrooms!
Eve: Not every night he's working; I know he's not!
'Crooklyn': Remembering Mama
Spike Lee's 1994 semiautobiographical film about growing up in Brooklyn, N.Y., in the 1970s has some classic mother-children scenes. Kids not wanting to eat their vegetables? Check. Waking up a house full of sleeping children 'cause the kitchen ain't clean? Got it. But most of all, this one's a tearjerker.
'Double Platinum': Getting Closure
Olivia King (Diana Ross) is a superstar singer who leaves her infant daughter, Kayla, to pursue her singing career. Wrong move, diva. Watch as an older Kayla (Brandy Norwood) reads Olivia the riot act.
'Love & Basketball': A Generation Gap
Monica Wright's (Sanaa Lathan) tomboy tendencies battle her mother Camille's (Alfre Woodard) "Susie Homemaker" persona. Throughout the film, Monica plays in hundreds of basketball games, "but can only remember [her mother] at two." In this scene of the 2000 romantic film, Camille explains how she gave up her life's ambition — to be a caterer — once she had her oldest daughter, Lena. It's a sentimental scene, with tears — and a much deserved slap — to boot.
'The Women of Brewster Place': Deeper Meanings
Remember this 1989 TV miniseries based on the Gloria Naylor book of the same name? One of our favorite subplots: Socially conscious, Afrocentric Kiswana (Robin Givens) anxiously awaited her bourgie mother Mrs. Browne (Cicely Tyson)'s "approval" of her new, rundown apartment in the hood. Arguments ensued when Mom is not pleased. "White man's n—ger," Kiswana calls her mother. But then Mrs. Browne sets her straight, explaining that Melanie — Kiswana's real name — was named after her brave grandmother, who faced a band of angry white men.
'Claudine': Gone Too Far This Time
Claudine Price (Diahann Carroll) is a single black mother raising six kids in 1970s Harlem. And of course, none of them are having it regarding her new boyfriend, Roop (James Earl Jones). But her oldest daughter comes home late ("half-nekkid" and drunk, at that) one night and talks too much smack for her own good: "He was teachin' me how to meet people and hold my likka." Oh no, she didn't.
'A Raisin in the Sun': Mother's Rules
"In my mother's house, there's still God," Beneatha (Diana Sands) repeats in the 1961 film based on Lorraine Hansberry's classic play of the same name. Beneatha was determined to be independent and a woman of her own mind — despite being raised in her mother's (Claudia McNeil) strict Christian household. In this clip, she definitely needed "her fresh little jaw slapped."
'Imitation of Life': The Cost of Passing
"She was all I had. Tell her, Miss Lora," Annie (Juanita Moore) said of her daughter, Sarah Jane (Susan Kohner), on her death bed. After trying to pass for white her whole life, the light-skinned Sarah Jane cries and cries over her mother's casket. Watch a clip from this 1959 film as Mahalia Jackson sings "Trouble of the World."