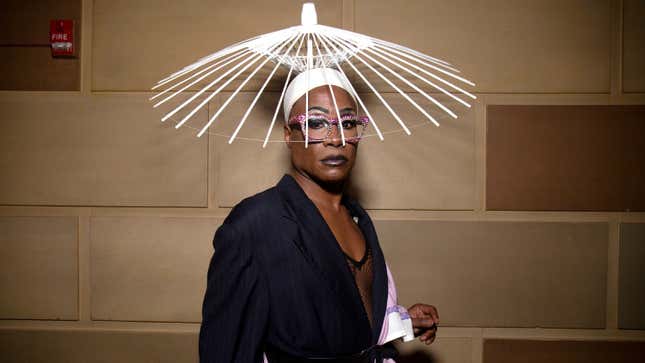 The category is: LOVE.
There's camp, and then there's camp, honey—and, as evidenced by this year's Met Gala, not everyone gets it. But as Lena Waithe pointed out that night, the LGBTQ community has always gotten it—in fact, she maintains that black drag queens and the ballroom culture they and their brown counterparts birthed is the genesis of what we now recognize as "camp."
But Billy Porter always gets it, and on Tuesday night, he gave the crowd a multitude of costume changes—and a musical performance—when he hosted Suzanne Bartsch's Love Ball III, produced in partnership with the CFDA and sponsored by MAC Cosmetics. As usual, the Pose star hit the red carpet in incomparable style, wearing a custom canary-colored, gender-fluid suit by Francis Libiran with a lusciously ruffled collar-turned-train and a custom brim by millinery go-to Rodney Patterson's Esenshel.
The look? Matador chic, much like the look Libiran created for Porter's arrival at the recent Pose Season 2 premiere. But Porter wasn't the only one serving looks at Love Ball III; according to Vogue, invitees were intentionally given no dress code—with wondrous results.
Mary J. Blige, Dapper Dan, Teyana Taylor, and members of the Houses of LaBeija, Balenciaga, Xtravaganza were among those wearing their outrageous best to celebrate the third iteration of the Love Ball, which was first staged in 1989 and again in 1991. Legendary event producer and fashion icon Bartsch created the event as an homage to ballroom culture, as well as a fundraiser and rallying cry against the HIV/AIDS epidemic ravaging the gay and trans communities at the time. The first two events remarkably raised over $2.5 million to address the crisis.
The conversation around HIV and AIDS may have evolved in the decades since, but the threat remains present. Coincidentally, today, June 27 is National HIV Testing Day as recognized by the National Association of County and City Health Officials (NACCHO), which estimates that 1.1 million people in the United States are living with HIV, and 1 in 7—nearly 165,000 people—are unaware of their status.
"I'm celebrating how far we've come," Bartsch told Vogue. "We've come a long way since the first Love Ball. But it's not over until it's over." This year's sold-out revival of the event, held mere days before the 50th anniversary of the Stonewall riots, benefitted the New York City AIDS Fund.
But despite the devastating epidemic that inspired the event, the Love Ball III was, by all appearances, a celebration of living and loving freely. From legendary drag icons and ballroom houses to Porter's fellow Pose luminaries Janet Mock and Indya Moore, the event reportedly stayed true to its roots in ballroom culture.
For instance, Vogue lists Blige and Taylor as two of an all-star panel of judges that also included Marc Jacobs, Dita Von Teese and camp-centric designers The Blonds, among others. After what were undoubtedly some incredible performances, the panel handed out six-foot trophies customized by acclaimed artists to the winners of six categories: Head to Toe, Hair Spectacular, Beauty and Face, Move to the Groove, Show Stoppers, and Battle of the Legendary Houses.
Frankly, we can't think of anything more fun—or worth fundraising for, especially as the fight against HIV and AIDS wages on. And while it may take another 30 years for a Love Ball IV, we're begging for invites and declaring the category right now: How can we be down?
The Glow Up Tip: The Centers for Disease Control and Prevention (CDC) recommends everyone between the ages of 13 and 64 be tested at least once for HIV as part of routine healthcare, more frequently for those with specific risk factors. Know your risk, and get tested. Find a location near you here. For more information and organizations to consider donating to, check out HIV.gov.