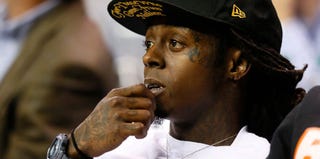 Update: Saturday, March 16: The publicist of Lil Wayne's record label, Sarah Cunningham, has confirmed that the rapper did have a seizure. Kia Selby, the MC's personal publicist, told CNN that he's "doing well" and denied that he was in a medically induced coma. Young Money MC Drake dropped by the hospital to visit his friend, along with Los Angeles Clipper Chris Paul and his wife.
Recent conflicting reports about the health of Wayne have confused many fans, who don't know whether to believe he is near death or well enough to watch basketball with his friends.
Friday, March 15: The gossip site TMZ reported that Lil Wayne, who was hospitalized at Cedars-Sinai Hospital in Los Angeles after suffering a seizure, was in a coma and was being given his last rites. The site also reported that the rapper's mother was en route to California, and "all major decisions about Wayne's health (including the decision to discontinue life support) will not be made until she arrives."
As fans reacted with despair, Mack Maine, friend of the rapper and president of his label, Young Money, refuted the report, tweeting:
Wayne also chimed in on Twitter:
TMZ has since removed the information about last rites but is reporting that sources say Wayne's prognosis is still "uncertain."