Updated Monday, April 9, 2018, 11:13 a.m. EDT: It looks as if Bill Cosby's sexual assault retrial has already hit a snag, with opening statements in the case being delayed Monday as Judge Steven O'Neill acknowledged that he intended to look into allegations that one of the jurors selected was overheard claiming that the 80-year-old comedian is "guilty."
According to the New York Post's Page Six, O'Neill, the prosecution and the defense are expected to privately question the woman who said she overheard the comment, O'Neill announced to the court early Monday.
The witness, who was a member of the jury pool, said that she didn't know if Juror No. 11's alleged statement, "He is guilty," was serious or made in jest. The woman who said she overheard the comment was not selected to sit for the retrial, but contacted Cosby's defense team last week to tell them what she had heard.
Naturally, the defense team has motioned for the judge to dismiss Juror No. 11, who will also be questioned.
It is still not clear if opening procedures for the case can still be expected to begin Monday, Page Six notes.
G/O Media may get a commission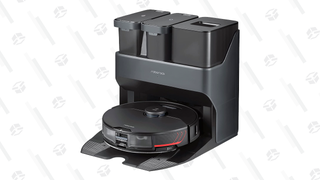 24% off
Roborock S7 MaxV Ultra Robot Vacuum and Mop
Earlier:
So much has happened since Bill Cosby's first sexual assault trial, which ended in a mistrial. The #MeToo movement and Time's Up protests came to a head, bringing new awareness and heightened scrutiny to the rich, powerful and famous men who have been accused of preying on women. And, now, Cosby will face another trial, with a new jury, a new defense team and perhaps even more scrutiny, and I suppose we will see just how much—or how little—has changed.

As Variety notes, Cosby is currently (so far) the only major Hollywood entertainer accused of such offenses to actually face a jury; he is facing three counts of aggravated indecent assault, to which he has pleaded not guilty. How his case is handled this time around may very well set the tone in terms of what to expect in other similar cases.
Opening statements for the retrial will begin Monday, with Cosby facing a jury of seven men and five women, two of whom are black.
And indeed, it already has the makings of a contentious retrial. The New York Post's Page Six reports that on his way into the Montgomery County Courthouse in Norristown, Pa., this morning, a topless protester charged at the once well-loved, 80-year-old comedian. The woman had several words and slogans painted across her body, including "Women's Lives Matter."
The protester apparently pushed through a barricade, charging toward Cosby before she was stopped by sheriff's deputies. The protester, whose identity was not immediately revealed, was subsequently arrested.

Cosby is specifically facing charges for allegedly drugging and assaulting Andrea Constand, who, at the time, in 2004, was operations manager of Temple University's women's basketball team. However, Constand is but one of some 50 women who have accused the once beloved actor of drugging and assaulting them.
As Variety notes, this trial will probably be longer than the first, going for perhaps a month, as Cosby's defense team is expected to more harshly target Constand's credibility, portraying her as a greedy liar who was just out for a money grab. Judge Steven T. O'Neill has tentatively permitted one woman to testify. That witness has claimed that Constand once said that she could claim she had been assaulted in order to receive a settlement.
Cosby switched up his legal team before the retrial, securing Los Angeles defense lawyer Tom Mesereau, who most notably (and successfully) defended Michael Jackson against child-molestation charges.
However, the defense is not the only team that is bolstering its argument. Prosecutors are expected to call some five women to the stand, all of whom accuse the comedian of assaulting them. In the first trial, only one other woman ended up testifying.