Spike Lee has proved once again that sometimes unconventional is the best way to go when you want something done right. Last year the director stepped into the crowdfunding wading pool to fund his new film, Da Sweet Blood of Jesus. Lee didn't give fans too much to go on when it came to the film's premise, but he assured those who donated that they wouldn't be disappointed. And after watching the film, I can say I definitely wasn't.
Lee's Da Sweet Blood of Jesus is bloody but aesthetically sexy and perfectly reimagines Bill Gunn's blaxploitation film Ganja & Hess. From the music composed by Bruce Hornsby to the immaculately designed abode of the movie's main character, Lee takes viewers on a ride through horror, love and social themes—doused in blood.
Da Sweet Blood of Jesus follows Stephen Tyrone Williams as Dr. Hess Greene, an African-artifact collector who becomes cursed with a bloody addiction. When Ganja Hightower (Zaraah Abrahams) steps into Greene's life, the two explore their desires, ultimately leading to tragedy.
In an interview with The Root, Lee discusses Da Sweet Blood of Jesus and shares an exclusive clip.
The Root: The first time I watched Ganja & Hess was in a black-film class my freshman year in college, and I was left mesmerized by it. What made you pick this film as a project?
G/O Media may get a commission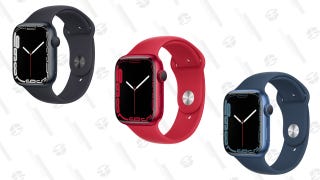 Up To $45 Off
Apple Watch Series 7
Spike Lee: I saw it while I was in film school at NYU. Here's where it happened. I knew I could raise money from my next film on Kickstarter by suggestion of my students who were doing it for their thesis films. And so I knew the range, or what the budget would be, so therefore I had to think what I could do for the money. My Kickstarter goal was $1,250,000; we raised $1.4. We don't call it a remake—we call it a reimagination.
TR: What were the driving factors in choosing the leading actors?
SL: I was welcomed to Zaraah in one of my student's thesis films. I saw Stephen Tyrone Williams during the opening night of the Broadway play of Lucky Guy.
TR: In the movie, the attention to aesthetics and details, including the accompanying music, played a huge role. What was the mood you wanted to evoke with the music?
SL: I wanted to help tell a story. It was very simple. Everything at a director's disposal, I used to tell a story. The editing. The acting. The cinematography. The production design. The costume design. Bruce Hornsby's music. The songs are by unsigned artists I got through social media. It's all telling a story.
TR: One aspect that I fell in love with was the house and the interior design of it.
SL: The house did not look like that when we started. The whole thing was dressed.
TR: There are a couple of themes throughout the movie, but ones that stood out were the socioeconomic and religious themes. How do you think those correlate to real life?
SL: There are black people who live like Dr. Hess, somewhere in Martha's Vineyard. There are very wealthy black people who aren't entertainers or athletes.
TR: The movie was filmed on Martha's Vineyard. How was it working on the island, and did the locals participate?
SL: All of those cars you see? Those are locals' cars. They were all donated. I've had a house there for 20 years. Everybody helped. We were low-key, and we didn't announce that we were shooting there. People reached out and helped us a lot.
TR: What's up next for you? Do you have projects already in the works?
SL: Just writing and doing a documentary called Off the Wall, about the making of Michael Jackson's Off the Wall album.
Da Sweet Blood of Jesus opens in select cities on Feb. 13 but can also be viewed on demand right now.