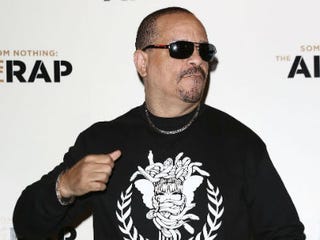 Ice-T Calls Limbaugh "racist piece of shit": In the wake of last Friday's shooting in Colorado, rapper and actor Ice-T spoke out in defense of gun rights, calling them "the last form of defense against tyranny." Rush Limbaugh reacted yesterday by praising Ice-T and noting that he "knew the word 'tyranny,' " to which Ice-T responded last night by calling Limbaugh a "racist piece of shit," Mediaite reports.
New Orleans Police agree to overhaul plan: The goal is to rid the force of corruption, discrimination and unnecessary use of deadly force.
Ne-Yo won't gain weight for MLK role: He says that packing on pounds to play the civil rights icon just wouldn't be worth it around the time of his next planned album release.
Olympian booted over racist tweets: "So many Africans in #Greece at least West Nile mosquitoes will eat homemade food," combined with retweets of a far-right candidate who some label a Nazi, got Greek triple jumper Voula Papachristou banned from the London games.