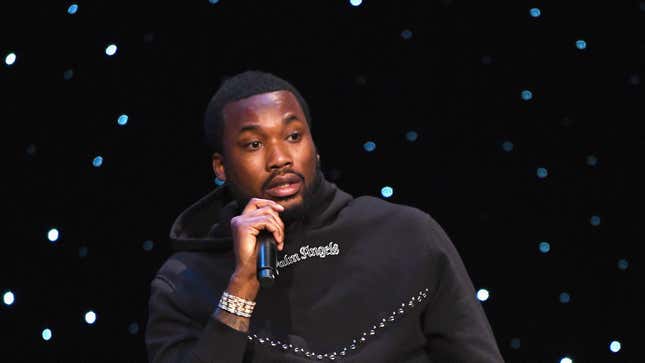 Las Vegas is poppin' with hot ticket residencies lately, such as Cardi B, Drake and Janet Jackson, but, according to Meek Mill, Sin City is also the residency of discrimination against black rappers.
Tackling A Black Maternal Health Crisis & Embracing Reproductive Justice | The Root Institute
Meek will be reportedly filing a lawsuit against the Cosmopolitan Hotel Las Vegas, claiming discrimination and racism.
Reports TMZ:
Meek's celeb lawyer, Joe Tacopina, tells TMZ, he will ask for "heavy monetary damages" for "lying and humiliating Meek," adding, "I'm going to take this place down because of what they did."

Tacopina claims there's a list of black rappers who are persona non grata at a group of Vegas hotels. Cosmo denies it excludes anyone because of race, but Tacopina tells us he's already identified 2 other rappers — Yo Gotti and BlocBoy JB — who claim other Vegas hotels have denied them because they're black rappers.

TMZ broke the story, Meek and his crew were going to see DJ Mustard Saturday at the Marquee Nightclub at the hotel but they were met by security as they pulled up and were ordered to leave, and if they got out of the car they'd be arrested for trespassing.
In video obtained by TMZ, Meek is seen arguing with a hotel security guard about the validity of the venue's arrest threats. Security informs the rapper he will be served with a misdemeanor for trespassing if he doesn't leave.
"You're gonna arrest me for what? For being a black rapper," Meek retorts, incredulously.
The hotel has denied any allegations of discrimination, according to TMZ, and claims the denial of the 32-year-old rapper was due to capacity limits at the Marquee nightclub.
However, Tacopina ain't buying that one.
"Show us one other incident where a white individual was denied hotel club access or access to the grounds because Marquee was full?" Tacopina reportedly wrote in the letter to the Cosmopolitan.

The Root has reached out to Meek Mill's team and the Cosmopolitan Hotel Las Vegas for comment.