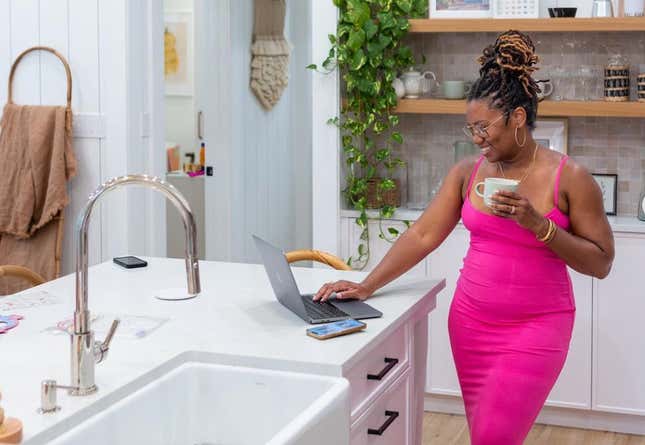 Since adding mom to my list of titles, comfort often takes priority over color when I'm getting dressed. Throwing on black pants or a pair of jeans have been my go-to. I mean, what's not to love? They go with everything (especially a black top), and they're great for camouflaging everything from playground dirt to a few extra pounds.
"Too Black" or "Not Black Enough": W. Kamau Bell on the Politics of Black Identity
But now that my kids are older and my days at the playground are mostly behind me, it's the perfect time to do a little more than all-black everything. So I decided to ask an expert for advice on easy ways to add some color to my wardrobe.
I caught up with Brooklyn-based designer Mikaela Pabon, a self-described "print-obsessed wife and mom," for help. Her Dressed in Joy line is a colorful collection of size-inclusive pieces that work seamlessly together and with items already in your closet.
"We take styles and silhouettes that are familiar to women," she said. "Everyone wears a blouse, a pencil skirt, and pants. So we just take those every day silhouettes and put them in not-so-everyday colors."
Pabon, who has being doing Hawaiian dance since she was 8, says she's always loved to wear bright colors. "We always wore bright prints, fresh green adornments, or big floral headpieces, so that was all I knew," she said.
She says adding color to your wardrobe is easy, if you stick to the basics. And if you keep colorful pieces on hand, it won't feel like such a shock. Basically, stay ready, so you don't have to get ready.
"I keep those things in my closet. There's always something bright," she said. "I'll never pull out a pair of black leggings and a black t-shirt because I always feel like I need more.
Take it From the Top
Pabon suggests you start building your look with a bright colored blouse in a simple shape. "Maybe a nice bright blue or green, something that makes you feel good and not self-conscious," she said.
This split-neck ruffle sleeved blouse from New York & Company has a simple silhouette in a bold color.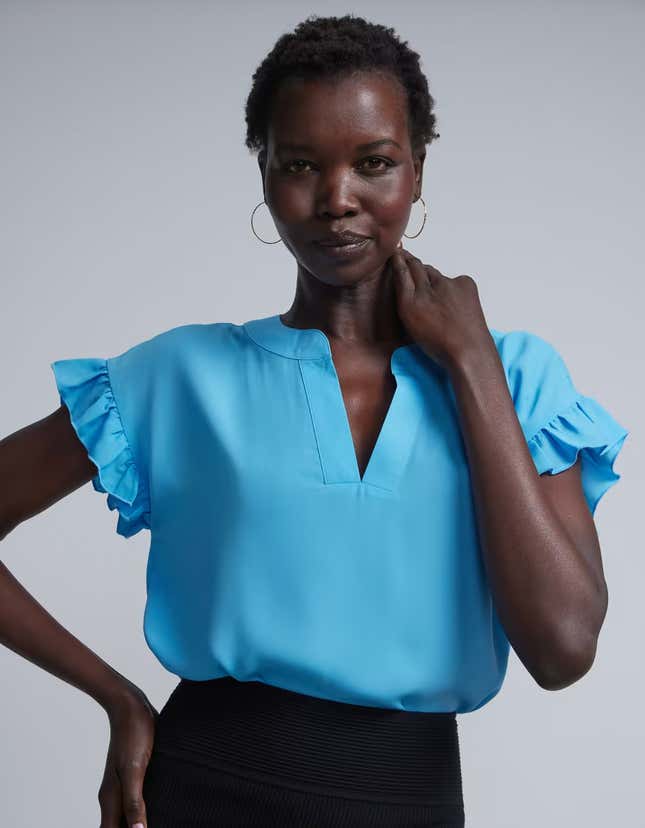 Build With a Blazer
A blazer is a simple way to add style to any outfit. But Pabon says it's also another opportunity to infuse a little color into your look and turn a simple white blouse and jeans into something special. "Everybody's got their black and brown blazers. But throw in a yellow or a pink," she said. "Your colored blazer can go with anything."
We love this pink single button blazer from Theory for a pretty pop of color.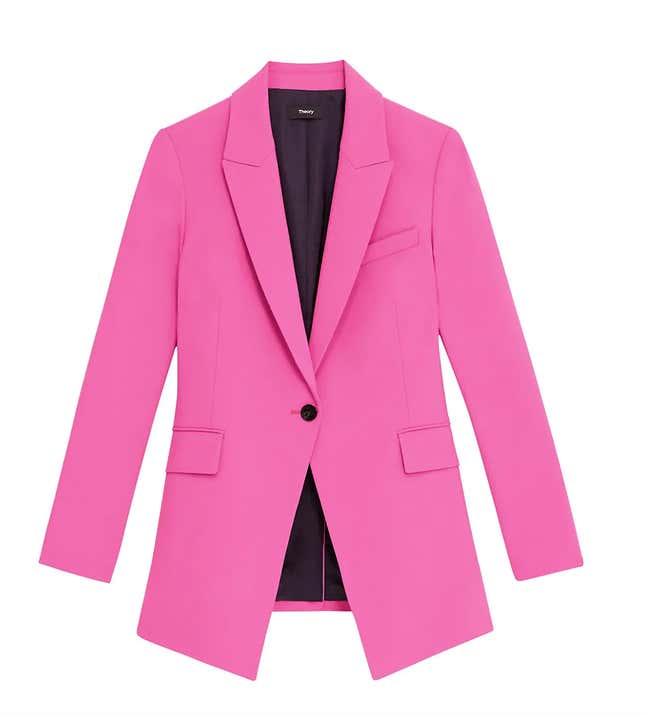 Pump it Up
When you're putting together a look, you can't forget the shoes. And Pabon says the bolder, the better. "I think every woman needs a pair of red pumps," she said. "Everything looks amazing with red pumps." And she's right, whether you're rocking a white blouse and jeans or a little black dress, red pumps are sure to set it off.
The Meryl D'Orsay pump from Marc Fisher is a simple shape that just says sexy.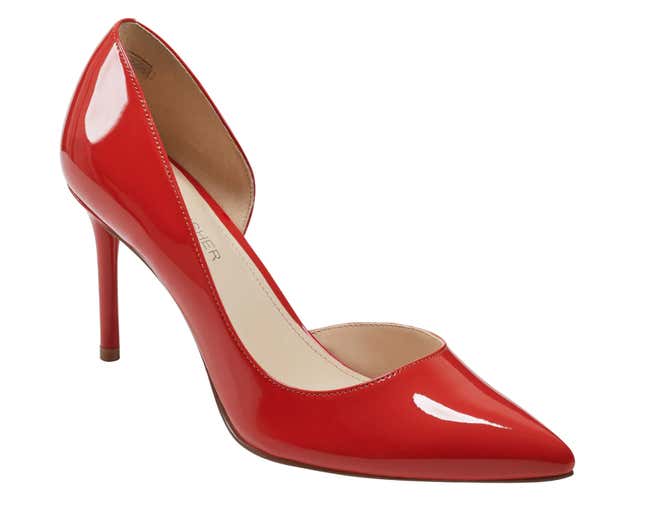 The Perfect Pants
It's easy to slip into a pair of black pants, but Pabon is challenging us to level up the look by adding color to the bottom. I already know what you're thinking, the idea scares me too!
"You don't have to go with a print. But pick one color you know can go easily with anything in your closet," she said. In the winter, you can do a plain black turtleneck with Kelly green pants. Throw on a pair of white sneakers easy outfit and you've got that bright pop of color that's going to get you that compliment."
There's no way to ignore the bright color of the Vivian pant from Dressed in Joy. With a fully elastic waistband and side pockets, they are comfortable enough to wear all day.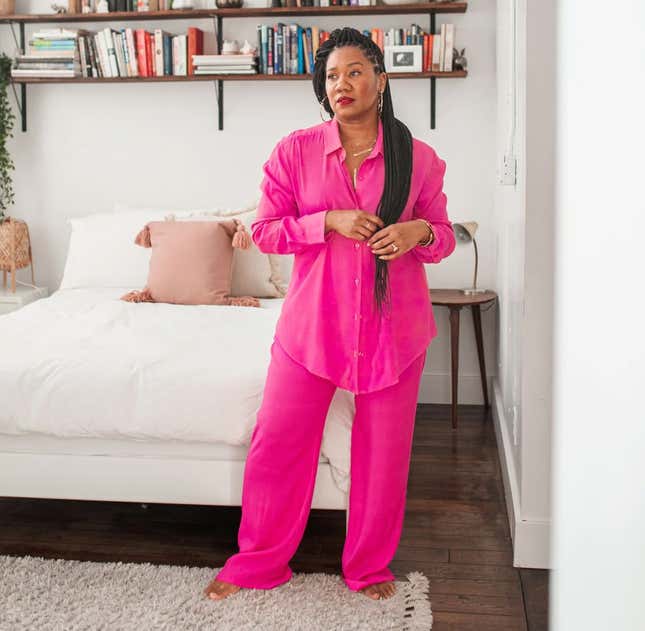 It's in the Bag
One of the easiest ways to add color to your outfit is with bold accessories. And when it comes to accessories, Pabon says handbags are her favorite. "I have a green bag that I just love to wear all of the time. It takes everything up a notch."
We love this Mansur Gavriel tote with a style that's simple enough for every day, in a bright bold green that makes a statement.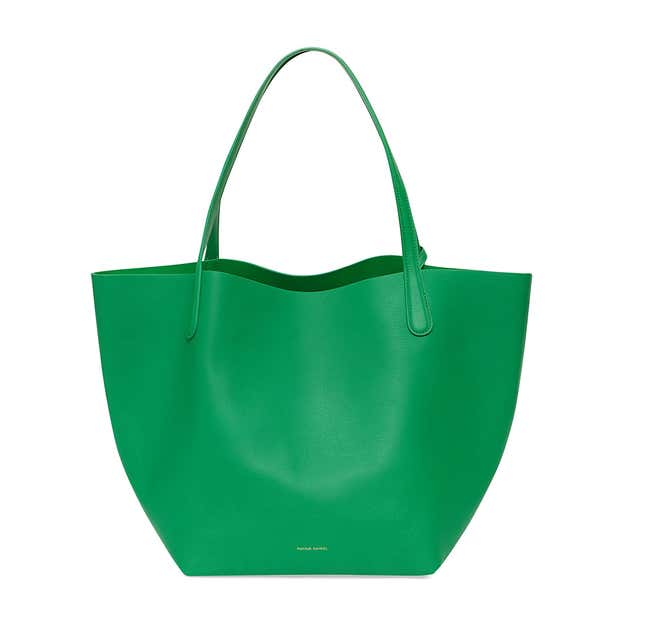 If you're looking for something great for on-the-go, check out the Slingback Mini Bag from Ashya. This adjustable bag is made with vegetable tanned cow leather and finished 14K gold plated hardware.