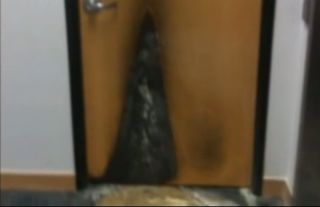 The homeless man who firebombed Texas state Sen. Wendy Davis' office door two years ago has pleaded guilty to arson and was sentenced to seven years in prison on Monday, CBS DFW reports.
In March 2012 Cedric Carmond Steele, 42, threw a bag of lit Molotov cocktails at the third-floor door in the state office building in Fort Worth, the news station notes.
Steele suffers from mental illness. He told KVUE that he was a CIA agent raised from the dead.
"Things of biblical proportion have been happening," he told KVUE a few days after being arrested. "I'm actually the guy who caught bin Laden."
There were no injuries resulting from the incident, and an employee quickly put out the fire with an extinguisher. The senator was not in the office at the time.
According to authorities, Davis was consulted about the sentencing. "As we do with all victims, I conferred with Senator Davis prior to taking this plea," Deputy Chief District Attorney Jack Strickland told CBSDFW. "Senator Davis was in agreement with the disposition of this case. I was especially concerned with the gravity of this offense, given the public's justifiable concern with attacks on and threats to public servants in this country."