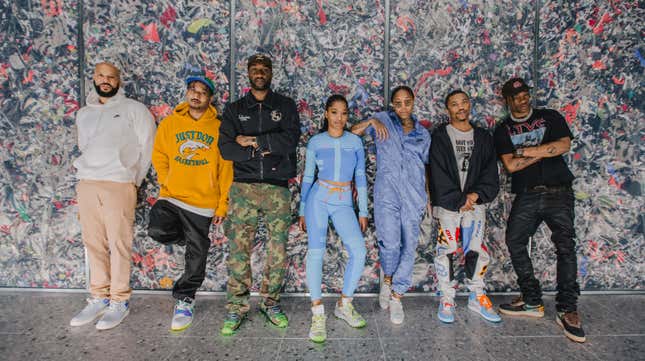 He's conquered runways from New York City to Paris (and recently garnered significant criticism), but Virgil Abloh's native Chicago is clearly never far from his heart, as proven by his newest venture.

Courtney B. Vance in Heist 88 Is Our Black TV Pick of the Week
Teaming up with collaborator Nike, Abloh returns to his hometown to launch the NikeLab Chicago Re-Creation Center c/o Virgil Abloh from May 31 to July 28, 2019. Abloh, who is also the subject of an exhibition opening at the Museum of Contemporary Art Chicago on June 10, will be on hand to launch the center's programs with a panel discussion "on the historic impact of Chicago's cultural impact on the world and set the stage for the merit of enabling a new generation of homegrown talent to blossom."
Per a press release:
Committed to empowering youth, the Re-Creation Center will engage in the physical and cultural energy of Chicago to make the city, and the world, better through sport. The Re-Creation Center will spark creativity through workshops, giveback programs, exclusive product, and local influential forces.
Especially of note is the center's mentorship program, in which 10 lucky local creatives will experience "an immersive eight-week experience" with Abloh and his personally selected group of Chicago-based creators, including:
Chuck Anderson (Graphic Design)

Paul Octavious (Photography)

Alyx Harch (Fabric Design)

Thomas Kelley and Carrie Norman (Brand Identity)

Ann Lui and Craig Reschke (Architecture)

Along with Abloh, the group will host workshops on their respective areas of expertise "with the goal of sharing their knowledge through mentorship." In turn, mentees are offered the opportunity to refine and advance their chosen disciplines with the benefit of expert guidance, culminating in the presentation of a final project.
Additionally, visitors to the NikeLab Chicago Re-Creation Center will have the opportunity to participate in Nike's Reuse-a-Shoe initiative, "a unique installation that reuses worn-out athletic shoes by turning them into Nike Grind." Made from recycled athletic footwear that would otherwise end up in landfills, Nike Grind is sustainable surfacing material that can be used to cover running tracks, courts, turf fields, gym floors, carpet padding, and playgrounds. The footwear recycled at the Chicago Re-Creation Center will presumably be used in the construction of a proposed Abloh-designed basketball court in a local community, in advance of the Chicago-hosted 2020 NBA All-Star Game.
Chicago area residents and visitors can experience the NikeLab Chicago Re-Creation Center c/o Virgil Abloh from May 31 to July 28 at 673 N. Michigan Avenue, Monday through Saturday from 10 a.m. to 7 p.m., and Sunday from 11 a.m. to 6 p.m. NikePlus members will be able to unlock unique access and experiences while visiting, including exclusive product drops and sign-ups for the workshops mentioned above, by connecting digitally with Nike on the SNKRS app.