Something incredible happens when black women join forces. We've become accustomed to considering our collaborations another iteration of "black girl magic," but truthfully, it's more like "black girl Voltron," an amalgamation of forces so powerful that they are undeniable. All that to say, there's something we can't help but love about Cardi B being photographed by acclaimed artist Mickalene Thomas for W magazine's Art Issue.

Both are experts, in their own unique ways, at being what Dr. Yaba Blay has termed "Professional Black Girls"—meaning there is something strategically unapologetic in the way they approach both their work and the world. Both seem to say: "You will get these sometimes rough edges. You will love this extra-ness. I will serve you this, and you will celebrate it, in spite of the world telling you not to."
As Pitchfork, quoted by W, aptly said of Cardi when reviewing her debut album, Invasion of Privacy: "[She is] a born star who's grown accustomed to being told to dim her light for the sake of others. Each new triumph rejects such a ridiculous premise, and each naysayer has seemingly only granted her more power."
G/O Media may get a commission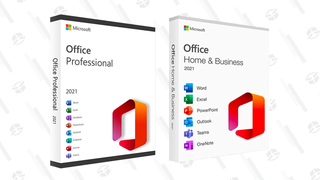 89% off
Microsoft Office Professional 2021 Lifetime License
And it was that undeniable power that Thomas sought to harness in Cardi's cover spread, combining the artist's collage-based multimedia artistry with a heavy dose of the old school glamour the entertainer has been serving as of late. Cardi was dressed by standby stylist Kollin Carter in Rodarte, Givenchy, Giuseppe Zanotti, Chanel, Zac Posen, Valentino and more, and the concept was based on "Latina glamour queens of a bygone Hollywood era such as Maria Montez, Chelo Alonso and Rita Moreno."
Said Thomas: "They were all powerful women who claimed a space for themselves, in an industry that wasn't exactly inclusionary." (Sound like anyone else we know?)
The internationally-renowned Thomas knows something about inclusion; she has spent decades making a name for herself and a place for her unapologetically black, woman-centric art in a still white male-dominated art world. Her first major solo museum show in Canada opens Nov. 29 at the Art ­Gallery of Ontario, in Toronto, and, showing her versatility, her recent collage-inspired fashion spread featuring curator, longtime partner and muse Racquel Chevremont in October's Harper's Bazaar is the stuff technicolor dreams are made of. In shooting Cardi for W, the challenge was to capture a moment of evolution.
"On many ­levels, [Cardi] portrays herself through a male gaze. I wanted to see if she could transform herself and go beyond the prescribed notion that's expected within an industry that wants to only perceive and present you as one dimensional."
Challenging preconceived notions about herself, her intelligence and her talent is nothing new for the woman born Belcalis Almanzar in the Bronx, N.Y.
"I'm the person who has to prove everyone wrong, constantly," she told W. "Constantly."
Known for her candor, one can't escape the feeling that Cardi's transparency has often been a caveat. Her former career as a stripper and admitted regretful affiliation with the Bloods street gang have repeatedly been used to diminish and dismiss her obvious charisma and star power—as well as her talent, work ethic, values and parenting. As we witnessed during her now-notorious Fashion Week meleé with nemesis Nicki Minaj, the latter is an incendiary issue.
But beneath the "ready to set it off" exterior is a 25-year-old new mother and breakout star in a celebrity marriage who is clearly vulnerable about all of the above, especially with regard to her baby daughter.
"When Kulture was born, I felt like I was a kid again; everything was making me cry, and I needed a lot of love," she told W. "I want her to know me. I feel ­better now, but sometimes I just feel so vulnerable, like I'm not ready for the world yet. It's weird."
Kulture wasn't planned; she was conceived just as Cardi was mid-production on Invasion of Privacy last winter. But then again, neither was Cardi's spontaneous marriage to Offset in September 2017 (which she admits comes with its own insecurities), or her meteoric rise, about which she told W she'd all but given up on when it finally happened.
"I was just, like, over my dreams," she said. "I gave it a try when I could afford it."
And now that she can afford most things her heart—and new family—desire?
"My baby. That's all I give a fuck about right now," she told W. "I'm thinking about how my money's going to last so this girl is 21 and put in college. I'm thinking about investments. I'm thinking about five years from now and about the craziest shit like, 'How am I going to discipline this girl?'"
"I'm going to be very strict," she later said. "Like, you can have whatever you want, but you can't do whatever you want."
Because hair-trigger temper, impulsive nature and street mentality aside, discipline isn't a foreign concept to Cardi B; all she has to do is continue to harness that power. As Craig Kallman, the chairman and CEO of Atlantic Records recounted to W, speaking of her work ethic and drive while recording and promoting Invasion of Privacy:
"She was a ­ferocious worker, unreal. I think she wanted to show women around the world that you can have it all. And I think she's showing that."