Before North Charleston, S.C., Police Officer Michael Slager fatally shot 50-year-old Walter Scott, he had been subject to two complaints, including a separate complaint about inappropriate use of force, for which the 33-year-old cop was exonerated, NBC News reports.
According to documents released by the North Charleston Police Department, the news site notes, the U.S. Coast Guard veteran faced a complaint in September 2013, when he was accused of using his Taser against a man and slamming him to the ground for no reason. The case was investigated and Slager, who has been with the department since 2009, was exonerated.
A more recent complaint, in January, accused the officer of failing to file a police report, NBC News notes. That complaint was sustained, although it was not made clear whether the veteran cop faced discipline, or what kind.
David Aylor, who was Slager's attorney at the time, pointed out that his client had "no disciplinary issues" while he was at the department and wrote in a statement, "Officer Slager believes he followed all the proper procedures and policies of the North Charleston Police Department," according to Bustle.
However, later on Tuesday, Aylor said that he was no longer the cop's legal counsel.
G/O Media may get a commission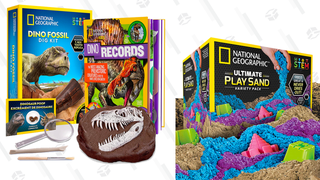 Up to 33% off
National Geographic Science and Activity Kits
Slager has two stepchildren and a baby on the way with his wife, NBC notes. When he applied to the Police Department in January 2009, it was noted that he had not had a felony conviction in the past seven years, according to the news site.
In police documents he was described as "enthused," demonstrating "great officer safety tactics," and "kept calm" in difficult situations. Slager also regularly passed his certifications. In 2014, NBC notes, his annual training, which included subjects such as ethics and Taser use, was signed off on. He retook and passed a firearms qualification in August 2014.
Also in 2014, Slager's assigned patrol unit was "found to be extremely clean and neat in order" in an evaluation.
Also on The Root: "Here's What You Need to Know about Walter L. Scott"