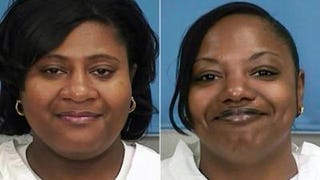 A march and rally were held today outside the Mississippi State Capitol for sisters Gladys and Jamie Scott.
The two were released from prison in January after serving nearly 16 years in prison for an armed robbery during which just $11 was stolen. Now their attorney argues that Jamie and Gladys deserve a full pardon because they have complied with all of the terms of their suspended sentence.
But Mississippi Gov. Haley Barbour disagrees. He told the Associated Press that he doesn't plan to pardon two sisters he released from prison earlier this year on the condition that one donate a kidney to the other.
Asked on Thursday what he'd do in response to a pardon request, Barbour replied, "Tell 'em don't save any space in the newspaper for that to be announced."
OK, no space saved for that. But the there is plenty of space –- online, in newspapers and, today, in front of the governor's mansion — dedicated to the persistent and seemingly increasing support for these two women. 
Read more at ABC News.
In other news: Gmail Motion Announced?
Like The Root on Facebook. Follow us on Twitter.