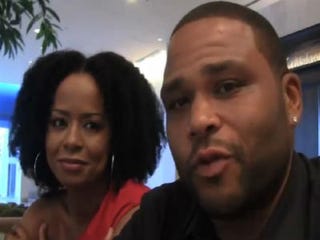 (The Root) — Vanessa Huxtable is back home on the Peacock Network this fall.
Tempestt Bledsoe, the actress who portrayed the middle sister on The Cosby Show, is back on the channel that made her famous, but this time she's married with children. Bledsoe and Anthony Anderson are part of the ensemble cast that make up NBC's Guys With Kids, which premieres Sept. 26 on NBC at 8:30 p.m. ET.
Anderson, who was a series regular on Law & Order, plays Gary, a house husband who hangs out with his kids and buddies all day while his wife, Marny, is at the office.
Bledsoe and Anderson talked about their roles, the impact they expect the show to have and Anderson's obsession with Vanessa during an interview at the Television Critics Association press tour in Beverly Hills, Calif.
"I'm back on NBC, working with Anthony [on] a family show, playing a mother, playing a wife," Bledsoe said. "God puts us where we're supposed to be."
Miki Turner is an award-winning photojournalist in Los Angeles.