According to David Letterman at last night's 53rd Annual Grammy Awards in Los Angeles, the number one surprise of the evening was "Justin Bieber's hairpiece."
Letterman only got it half right. Bieber was surprisingly good, but the big surprise of the 2011 Grammys was how monotonous the show was overall. A friend summed up the hours-long snoozefest: "Kanye has really ruined things."
(A list of all the winners is here.)
The show opened with a tribute to R&B and soul legend Aretha Franklin. Jennifer Hudson, Christina Aguilera, Yolanda Adams and Martina McBride sang Aretha's praises with classics like "A Natural Woman," "Ain't No Way" and "Knock on Your Door." The medley was decent but didn't do the diva justice. At this point, every multi-singer tribute must be compared with the amazing rendition of Nina Simone's "Four Women" at the Black Girls Rock Awards last year. Up against that performance, Aretha's "tribute" gets an A for effort at best.
Later, Bieber (who later lost best new artist to bassist-vocalist Esperanza Spalding) gave his middle-school-to-middle-aged fans exactly what they expect from the teenager from Canada: tons of energy and plenty of high-pitched pleading.
The 16-year-old sang his pubescent heart out in a performance that was an answer to the questions, "Who is this kid?" and "Why is he famous?" He began with an acoustic guitar solo of "Baby," singing in an angelic voice that generally only boys who have yet to hit puberty can muster. Then he kicked it into high gear with "Never Say Never," joined by Jaden Smith in leopard-print skinny jeans.
G/O Media may get a commission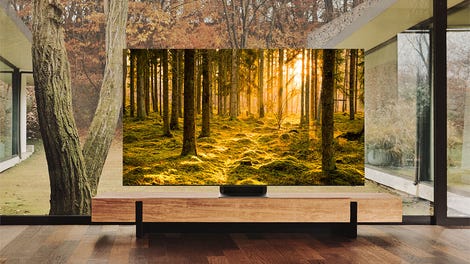 Up to 40% off
Samsung Smart TVs
Afterward, Bieber's mentor, Usher (who won best contemporary R&B album for Raymond v Raymond), gave his best "Rhythm Nation" impersonation — complete with futuristic costumes and alien dance moves. The most pressing question in their back-to-back performances: Was Justin helping Usher, or was Usher helping Justin?
The most anticipated performance of the night was Lady Gaga's "Born This Way," which didn't necessarily live up to its hype. When you think Lady Gaga, you think psycho-psychedelic-techno colors. Setting aside the crazy, bloodstained leotard canon, Lady Gaga eschewed the drama and did what she does best. She sang.
In a surprisingly nondistracting latex skirt and crop top, Gaga tapped into her inner Madonna and, instead of bathing herself in blood (like last year), she just sang her song, danced a quick two-step and shuffled offstage. Her voice is something special. Later in the evening, Gaga took home three Grammys, including best pop vocal album for The Fame Monster. She thanked "all the monsters watching" and Whitney Houston.
Houston should probably guest-star on Fox's hit musical dramedy, Glee. It worked for Gwyneth Paltrow, who is apparently a singer now. While Cee Lo Green, dressed in a Wiz/Parliament outfit, performed his hit, "Forget You" (for which he won best urban/alternative performance), Paltrow writhed on top of his piano belting out the FCC-approved version of the lyrics.
Much of the night gave way to a parade of country and/or white acts paying tribute to black artists. Lady Antebellum, who won five Grammys (including best record and song), sang a few bars of deceased Teddy Pendergrass' early work. Unfortunately, Teena Marie didn't get her own tribute, although she was honored in the "In Memoriam" segment.
Eminem won best rap album for Recovery. Bruno Mars, who won best male pop vocal performance for "Just the Way You Are," was joined onstage by B.O.B. and Janelle Monae for "Nothing on You." Pop star Rihanna and rapper Drake performed "What's My Name," which was, more than anything else, a tribute to Rihanna's fringed skirt and long legs. Her flaming red hair was louder than the song she sang. At least she won something: best dance recording for "Only Girl (in the World)."
Wrapping up a night of monotony, Arcade Fire's The Suburbs beat out Lady Gaga's Fame Monster in the album of the year category. The Canadian band played the last song of the night as the crowd gathered their things and headed for the door. Hopefully the after-parties were more exciting.
Helena Andrews is a regular contributor to The Root and author of Bitch Is the New Black, a memoir in essays. Follow her on Twitter.
Helena Andrews is a contributing editor at The Root and author of Bitch Is the New Black, a memoir in essays. Follow her on Twitter.