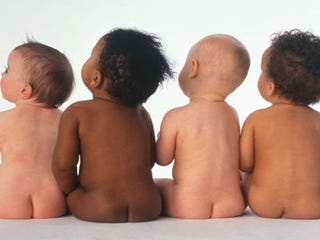 Gerber babies finally reflect American diversity: With today's census figures (for the first time, nonwhite children outnumber white children in this country), a single white baby just wasn't going to do it anymore. New ads feature dozens of infants of various ethnic origins, reflecting what the next generation of Americans actually looks like.
"Thriller" jacket sells for $1.8 million: In an auction featuring Michael Jackson memorabilia,  the red-and-black jacket the late pop star wore during his zombie-ridden "Thriller" video fetched a $1.8 million bid. Part of the proceeds will be going to the preserve where his pet tigers have been living for the past couple of years.
Rihanna to perform at concert benefiting Alabamians: The superstar is adding her name to the list of celebs who have pitched in to help since tornadoes wreaked havoc on a huge chunk of the state on April 27. She tweeted on Monday afternoon that she'll add Birmingham to her "Loud" tour.
Five celebs' weird name changes: Ron Artest (aka "Meta World Peace") is in good company. In our opinion, Muhammad Ali is the only one of these that's not just plain silly. 
In other news: Rocawear Eschews 'Urban,' 'Street' Reputation.