Chris Matthews had a spirited discussion with Robert Traynham, an African-American, openly gay former aide to Republican presidential hopeful Rick Santorum, who is well-known for his anti-gay positions, including his infamous comment equating homosexuality with "man on dog." Most recently he compared being gay to being polygamous.
From the Huffington Post:
Traynham defended his former boss, saying that he was merely raising a Constitutional question, not a personal one. He acknowledged that, as an openly gay man, he disagreed with Santorum about his right to "fall in love and to be with whomever I choose to."
Things got a little awkward when Matthews asked whether Santorum agreed with "your right to have your orientation and to act on it." He wondered, "Doesn't he go further and say that you should not be allowed to be gay in any actual way?"
"Absolutely not!" Traynham said, adding that if Santorum had ever felt that way, he would not have worked for him.
G/O Media may get a commission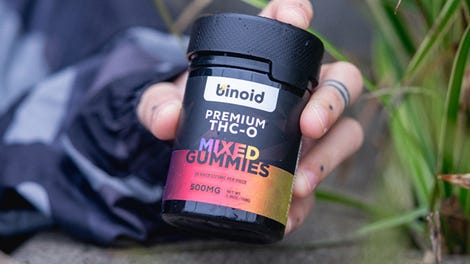 25% Off + Free Shipping
Binoid THC-O Gummies
"This is ridiculous," he finally said. "This is absolutely ridiculous."
Visit msnbc.com for breaking news, world news, and news about the economy
Matthews didn't ask Traynham to weigh in on his support for the candidate from a black (or, as Santorum might say, "blah") perspective, but we'd be interested in hearing that exchange, too.
Read more at the Huffington Post.
Like The Root on Facebook. Follow us on Twitter.