Wait! What? FUBU and Puma are teaming up for a double anniversary celebration, that's what! All I can say is, get yours while you can: Puma x FUBU is the latest release in Puma's yearlong 50th-anniversary celebration of the "Suede." 
Meanwhile, FUBU, hot in the '90s, has a proven track record, 25 years later, as a model for black-owned and -operated fashion businesses, thanks to founder, spokesperson and Shark Tank regular Daymond John.
With another New York Fashion Week coming up—and, sadly, a dearth, once again, of black design talent represented in fashion—what's important to me is that we buy products from our own community in an effort to both retain control of our image and ensure that our dollars come back to us.
John spoke to NiceKicks.com about the difficulty for black entrepreneurs who enter the fashion business, even those who are already at the top of their game in terms of celebrity. He says:
They're starting to empower the people that work for them and those that support them. Only 2% will make it to some place because of all the business behind it, but still it's only a good thing.
G/O Media may get a commission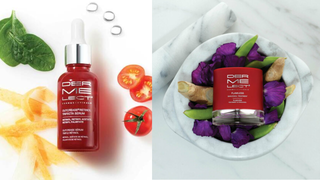 Save $19
Retinol Renewal Kit
After 70 years in the business—and 50 capitalizing on the Suede—the folks at Puma know a good thing when they see it, especially when it comes to co-opting our cultural clout. Puma has always been on the inside track in the collaborative race; after all, it's the brand that literally puts Rihanna's #BlackGirlMagic style at our feet. As a business move, John likens this to record labels that had the foresight to transition music to iPods instead of wax:
You could be Macintosh and suddenly you're Apple and it's all about putting your music on an iPod. You're still Macintosh but you knew in advance where the brand was going and now you're making phones. It's all about that healthy balance. You're thinking for your customers so they want to be part of your brand moving forward.
Moving with the times, the Puma x FUBU mashup is another winner. The Suede sneaker—a Puma classic—is always in style, but it's the throwback details—black velour uppers, red piping lined in red velour (giving off those regal Louboutin vibes), with gold accents and a commemorative 50th-anniversary gold stamp on the tongue—that proclaim these sneakers funky fresh, dressed to impress and ready to party in 2018.
The shoes come with three sets of laces—black, red and white—so you can rock your style your way. Daymond John's old-school fashion tip? Turn skinny laces into fat ones by dipping them in hot water, then ironing them to put your spin on the style.
But why stop there? Unisex velour tracksuits co-branded with the Puma x FUBU logos are tailored to look just right in the here and now. Watch out: You might see my husband and me twinning in some Puma x FUBU for Valentine's Day. That's some "for us, by us" love.