Kelly Wright, Sole Black Male Anchor, Agrees to Leave
Literary Lion Tom Wolfe Had His Critics on Race
Amazon Adopts 'Rooney Rule' for Board Vacancies
Watchdog Group Wants Probe of Gaza 'War Crimes'
Senate Votes to Hold Line on Net Neutrality
ESPN, Netflix Plan 10-Parter on Jordan, Bulls
Tegna Foundation Awards 9 Grants for Diversity
NPR Begins Companywide Mentoring Program
Boston Program to Train Storytellers of Color
Mexicans Mourn 4th Journalist Killed This Year
Royal Wedding a Bonanza for Media
Kelly Wright, Sole Black Male Anchor, Agrees to Leave
Kelly Wright, the sole black male anchor at Fox News, who claimed in a lawsuit that he had "been effectively sidelined and asked to perform the role of a 'Jim Crow' — the racist caricature of a Black entertainer," has reached a settlement with Fox and is leaving the network.
"Attempting to put to rest a drama that has plagued Fox News since the summer of 2016, the network's parent company has reached a roughly $10 million settlement to resolve a group of racial and gender discrimination lawsuits involving 18 current and former employees, according to a document viewed by The New York Times and three people briefed on the deal," Emily Steel reported Wednesday. Steel's reporting on sexual harassment helped the Times win the Pulitzer Prize for public service this year.
G/O Media may get a commission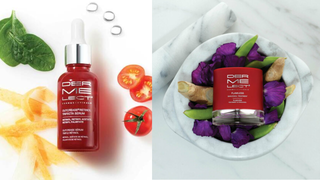 Save $19
Retinol Renewal Kit
"The settlements reached by 21st Century Fox include the class action racial discrimination lawsuit filed last year by the anchor Kelly Wright and several employees in the Fox News accounting department. Their lawsuit said that they had repeatedly complained about 'abhorrent, intolerable, unlawful and hostile racial discrimination' to network executives but that no action was taken and that the inappropriate behavior continued.

"Also included in the settlement were the race, gender and pregnancy discrimination lawsuit brought in 2016 by a former reporter for Fox 5, the network's New York affiliate, and a gender discrimination lawsuit filed by a Fox News Radio reporter.
"According to the document viewed by The Times, terms of the deal included that the employees would agree to drop their claims, leave the network and not seek future employment at Fox News or other 21st Century Fox companies. The settlement specifically included a buyout of Mr. Wright's contract with Fox News, where he was the only black male anchor. Fox News has denied the allegations made in the various suits.
"In a joint statement, a Fox News spokeswoman and Douglas H. Wigdor, a lawyer for the employees involved, said, 'The parties have reached mutual agreements that resolve various cases involving former Fox News employees.' . . ."
On April 26, 2017, Tom Kludt of CNN reported these details of the racial charges:

"Wright's allegations involve, among others, recently fired Fox News host Bill O'Reilly and current network co-president Bill Shine," Kludt wrote. Shine was ousted days later.
"The suit claims that Wright was shunned from O'Reilly's now-canceled program, 'The O'Reilly Factor,' and that Shine 'has demonstrated an obsession with race when it comes to discussions with Mr. Wright, including regularly asking him, "how do Black people react to you" and "how do you think White viewers look at you?" '
"In one alleged example, Wright claims that he was rebuffed in his efforts to show a series of positive stories about the African-American community on the 'Factor' because, according to the complaint, 'it showed Blacks in "too positive" a light.'
"Wright is one of 13 plaintiffs, all people of color who are either current or former Fox News employees, to sue the network in the last month charging racial discrimination.
"The litigation began last month, when two black women filed a lawsuit saying they faced 'top-down racial harassment' from Judith Slater, Fox's now-former comptroller.
"The two plaintiffs, Tichaona Brown and Tabrese Wright, accused Slater of making a number of racially insensitive remarks.
" 'These are meritless and frivolous lawsuits and all claims of racial discrimination against Ms. Slater are completely false. We have yet to see the alleged additions to the original lawsuit. Given how outrageous and offensive these suits are, it's incomprehensible to imagine how anyone has joined or would join these legal actions,' Catherine M. Foti, an attorney for Slater, said in a statement.
"Fox said that it fired Slater on February 28, upon learning of the allegations. Attorneys for the 13 plaintiffs say Fox's assertion that it acted swiftly is 'completely false.' . . ."
CBS News: Why anchor Kelly Wright came forward about alleged racial discrimination at Fox News (April 27, 2017)
Renée Graham, Boston Globe: Black women are waiting for their #MeToo moment

Chris Spargo, dailymail.com: Total of 18 Fox News staffers who sued over 'plantation-style management' and 'hostile racial discrimination' from Bill O'Reilly settle for $10m

Literary Lion Tom Wolfe Had His Critics on Race
"Tom Wolfe, the 88-year-old journalist and best-selling author known for his immersive style, contrarian attitude and hallmark white suits, died Monday in a New York City hospital," Kate Keller wrote Wednesday for smithsonian.com.

"Wolfe leaves behind a literary legacy that details the lives of diverse milieus, from Cuban immigrants to New York City's elite to the hippie counterculture. His novelistic nonfiction particularly helped expose the pluralism and peculiarities of American culture and usher in a new writing style that he called New Journalism. . . ."

Keller also wrote, "Wolfe's writing isn't without its critics. He was charged with [propagating] racist, anti-Semitic and homophobic depictions throughout his career.
"One of Wolfe's most criticized works is a 1970 piece published in New York Magazine about a Black Panthers fundraiser held in the legendary composer Leonard Bernstein's penthouse. Entitled 'Radical Chic,' Wolfe's scathing, satirical portrayal of the event criticized Bernstein's passion for civil rights as disingenuous 'racial tourism.'
"But many objected to his mockery of African-American vernacular and his references to gas chambers. One member of the Black Panthers infamously called him a 'dirty, blatant, lying, racist dog.' Bernstein's daughter later referred to Wolfe as a 'callow journalist' who '[discredited] the left-wing New York Jewish liberals while simultaneously pitting them against the black activist movement — thereby disempowering both groups in a single deft stroke.'
"Wolfe's former editor Byron Dobell later told GQ's Ed Caesar that he had a falling out with Wolfe himself over the novella 'Ambush At Fort Bragg,' the first installment of which was published in Rolling Stone in 1996. Wolfe's first work of fiction since Bonfire of the Vanities, 'Ambush' follows two journalists as they uncover the mystery of a gay soldier's murder on a North Carolina military base.
"Critics of the novella said that Wolfe did not sufficiently condemn the killer's violently homophobic motivations; for his part, Dobell called it 'anti-Semitic, subtly, anti-black, subtly, and anti-gay, not so subtly.' Though Dobell said the two later reconciled, he told Caesar that he saw Wolfe as a 'Puritan in Cavalier clothing'.
"For his part, Wolfe firmly stood by his writing, telling the Guardian's Ed Vulliamy in 2004 that 'the liberal élite hasn't got a clue.'
" 'I was denounced because people thought I had jeopardized all progressive causes,' he said of his New York Magazine piece. 'But my impulse was not political, it was simply the absurdity of the occasion.'
"The portrait of Tom Wolfe, a photograph by Yousuf Karsh, will be on display at the Smithsonian's National Portrait Gallery in honor of the late author through June 3."
Robin Givhan, Washington Post: The genius of Tom Wolfe's white suits
Benjamin Ivry, Forward: That Time Tom Wolfe Lampooned Leonard Bernstein And 'Radical Chic'
Bruce C.T. Wright, newsone.com: Why The Way Tom Wolfe Wrote About Race And Black People Matters
Amazon Adopts 'Rooney Rule' for Board Vacancies
"Amazon's board on Monday said it had adopted a rule requiring directors to consider a diverse slate of candidates for future openings on the retailer's governing council, reversing course in the face of opposition from shareholder groups and some members of Congress," Matt Day reported Monday for the Seattle Times.
"The retailer's board of directors last month had urged shareholders to vote against a shareholder proposal that would mandate considering qualified women and members of racial minorities as candidates.
" 'Amazon's commitment to diversity is reflected in our existing director recruitment and evaluation process,' the board had said in April, adding that its process already included an evaluation of various measures of diversity. 'We are strongly committed to providing equal opportunity; and we are proud of our diverse Board.'
"All of Amazon's 10 board members are white. Three are women.
"Some employees voiced displeasure with the company's response, according to emails obtained by Recode. One asked why the company was suggesting it was satisfied with its current procedures. . . ."
Gaza stands, and rises, alone. #GreatreturnMarch pic.twitter.com/ZKUAcnSisv

— #GreatReturnMarch (@ThisIsGaZa) May 16, 2018
Reporters Without Borders (RSF) said Tuesday it had "formally asked the International Criminal Court to investigate what it regards as war crimes by the Israel Defence Forces (IDF) against Palestinian journalists covering protests in Gaza since 30 March.

"Submitted to ICC chief prosecutor Fatou Bensouda a few hours before today's UN Security Council meeting and based on article 15 of the Rome Statute (which established the ICC), the request concerns the direct shots that IDF snipers have fired at some 20 Palestinian journalists during the 'March of Return' protests in Gaza.

"In RSF's view, these are crimes that clearly fall under the ICC's competence.
" 'The Israeli authorities could not have been unaware of the presence of journalists among the civilian demonstrators, and therefore failed in the elementary duty of precaution and differentiation when targeting these protected persons with live rounds,' RSF secretary-general Christophe Deloire said. . . ."
Senate Votes to Hold Line on Net Neutrality
"The US Senate today voted to reverse the Federal Communications Commission's repeal of net neutrality rules, with all members of the Democratic caucus and three Republicans voting in favor of net neutrality," Jon Brodkin reported Wednesday for Ars Technica.
"The Senate approved a Congressional Review Act (CRA) resolution that would simply undo the FCC's December 2017 vote to deregulate the broadband industry. If the CRA is approved by the House and signed by President Trump, Internet service providers would have to continue following rules that prohibit blocking, throttling, and paid prioritization.

"FCC Chairman Ajit Pai has scheduled his repeal to take effect on June 11. If Congress doesn't act, the net neutrality rules and the FCC's classification of ISPs as common carriers would be eliminated on that date.
"Democrats face much longer odds in the House, where Republicans hold a 236-193 majority. . . ."
ESPN, Netflix Plan 10-Parter on Jordan, Bulls
IT'S HAPPENING. #MichaelJordan #TheLastDance https://t.co/d3EDwt2LKw pic.twitter.com/MapBHmVwSg

— ESPN Films 30 for 30 (@30for30) May 15, 2018
"ESPN Films and Netflix are partnering up for a new 10-part documentary series called The Last Dance," Erin Simon reported Tuesday for the Shadow League.

"The series will highlight the rise of Michael Jordan and the Chicago Bulls during the 1990s era of the NBA. Jordan along with other key members from the Bulls' championship team will be fully participating in the production process. Never-before-seen footage from the team's championship run in their 1997-98 season will also be shown along with additional commentary.

"The docu-series, directed by Jason Hehir (The Fab Five, The '85 Bears, Andre the Giant) and produced by Mike Tollin and by Mandalay Sports Media, in association with NBA Entertainment and Jump.23, is set to premiere in 2019. . . ."
Meanwhile, Howard Bryant, a contributor to ESPN and to NPR's "Weekend Edition Saturday," asked Saturday in the New York Times, " 'How did we get here?' I've gotten that question a lot recently, especially since the publication of my book on black athletes and the politics of patriotism at sporting events," "The Heritage: Black Athletes, a Divided America, and the Politics of Patriotism."
"Where is 'here'? One point of 'here' is Colin Kaepernick and Eric Reid being praised for their courage but jobless for dissenting and filing collusion lawsuits against the N.F.L. Or 'here' is, more generally, our era of the protesting black player at sporting events.
"In my mind, though, all that cannot be decoupled from what Sept. 11 has done to sports. What was once ostensibly a unifying moment in the country has helped transform sports, with flags and flyovers, kneeling and protests — into the most divided public spectacle this side of Congress. . . ."
Cork Gaines, msn.com: Michael Jordan: How the richest NBA player ever spends his $1.65 billion
Tegna Foundation Awards 9 Grants for Diversity
"The TEGNA Foundation, the charitable foundation sponsored by TEGNA Inc. . . . today announced that it has approved a slate of nine grants to support professional development opportunities and training for the next generation of diverse journalists, the foundation said Tuesday.
"The first round of 2018 TEGNA Foundation Media Grants supports projects ranging from developing diversity in media to funding for immersive newsroom experiences for student journalists at industry conferences.

" 'Developing the next generation of journalists and leveling the playing field to strengthen our industry for the future are key priorities for us,' said Dave Lougee, president and CEO, TEGNA. 'We are proud to support the range of organizations and initiatives that are represented in this round of Media Grants and hope that all who are touched by these programs will benefit from these opportunities.' . . . "
The first round of 2018 TEGNA Foundation Media Grant recipients includes:
"Poynter-NABJ Leadership Academy for Diversity in Digital Media . . .
"Investigative Reporters & Editors . . .

"National Association of Hispanic Journalists . . .

"The Native American Journalists Association . . .

"National Association of Black Journalists . . .

"Asian American Journalists Association . . .

"National Association of Broadcasters Education Foundation . . .

"NLGJA − The Association of LGBTQ Journalists . . .

"The National Press Photographers Foundation . . ."

NPR Begins Companywide Mentoring Program
"A new companywide mentorship program at NPR aims to bridge silos and develop careers," April Simpson reported Tuesday for Current.org .
"The pilot program pairs 10 mentors with 10 mentees from throughout the company, including the newsroom, programming, music, IT Strategy, marketing and branding, the executive group and digital media, according to Keith Woods, VP for newsroom training and diversity. NPR plans to continue adding participants in three-month intervals to accommodate everyone who wants to be mentored. . . ."

Boston Program to Train Storytellers of Color
"The Futuro Media Group announces a groundbreaking new project in partnership with MASSCreative and hosted by the PRX Podcast Garage," the company announced Tuesday.

"Starting this fall, we will work with local Boston storytellers to create multimedia journalism that explores and gives a critical voice to the diversity of their experience. This hands-on 15-week program will train participants of color who have no prior formal experience in public media to create podcasts that will be distributed both locally and nationally.
" 'We are thrilled to be able to work with community partners like MASSCreative and local Boston residents to elevate voices that have traditionally been subjects of, but not creators of, public media. Our goal is to expand the depth and breadth of ideas, perspectives and ownership within the voices of public radio,' said Maria Hinojosa, Futuro Media's Founder and President.
"Participants will be paid by the hour to take part in the program, so that they will not have to choose between their craft and a wage. . . ."
Mexicans Mourn 4th Journalist Killed This Year
Radio journalist Juan Carlos Huerta had just pulled out of his subdivision in Mexico's Tabasco state Tuesday morning when a truck rammed into his car and then stopped in the road, blocking his path," Kate Linthicum reported from Mexico City for the San Diego Union-Tribune.

"A blaze of bullets shattered the windows of Huerta's silver BMW sedan. By the time the truck sped off, Huerta was slumped behind the steering wheel, dead.

" 'They went to execute him,' Tabasco Gov. Arturo Nunez Jimenez said at a news conference, dispelling initial speculation that the shooting may have been a botched robbery. He said the motive was unclear and no suspects had been identified. Huerta, a well-known media figure who hosted a radio program called 'Without Reservations,' was at least the fourth journalist killed this year in Mexico.
"His death on the outskirts of the city of Villahermosa shocked Mexico's journalism community, which on Tuesday was marking the first anniversary of the slaying of prize-winning journalist Javier Valdez. . . ."
Royal Wedding a Bonanza for Media
Meghan Markle's "status as a biracial, divorced woman would have automatically eliminated her as a mate for Harry not so many decades ago. The royal family's embrace of her union with the man who is sixth in line to the throne is a sign of the evolution of the modern-day monarchy," according to Variety. (Credit: CBS News)[/caption]

"America loves a royal wedding. But this time around, the fact that the fair prince's betrothed is an American actress has sent interest in the May 19 nuptials of Prince Harry and Meghan Markle into overdrive, creating programming and marketing opportunities for major networks," Cynthia Littleton reported Wednesday for Variety.
" 'It's a fairy tale. Who doesn't love fairy tales?' said Libby Leist, executive producer of NBC's 'Today,' which, like other network morning shows, are going all-in on royals coverage this week.
" 'It's all about history, it's about tradition, it's about fashion,' she said. 'It's got a little something for everybody, which is why we are going so big on it.'
"The major news outlets are sending top anchors and an army of producers and crew members to capture the tradition and finery that will be on display at Windsor Castle, along with a highly telegenic bride and groom. Lifestyle and entertainment networks are hoping that specials ('An American Princess,' 'A Royal Romance,' et al) and live coverage of the big day on Saturday will attract new viewers and drive sampling of other shows.
" 'Once we first heard about Meghan and Prince Harry we were waiting feverishly for the actual wedding date,' said Howard Lee, president and general manager of TLC and Discovery Life.
"The wedding has been a bonanza for media, in part because of Markle's background. Not only is she an actress, but as viewers of 'The Crown' can attest, Markle's status as a biracial, divorced woman would have automatically eliminated her as a mate for Harry not so many decades ago. The royal family's embrace of her union with the man who is sixth in line to the throne is a sign of the evolution of the modern-day monarchy.
"Moreover, viewers are yearning for a little feel-good fare amid the relentless cycle of news shocks and surprises out of Washington, not to mention international conflicts and natural disasters. . . ."
Jessica Contrera, Washington Post: The making of Meghan Markle
Jeremy Barr, Hollywood Reporter: Royal Wedding: How U.S. News Shows Will Cover Prince Harry's and Meghan Markle's Nuptials
Daniel Holloway, Variety: CBS Programming Bosses 'Feeling Good About Our Diversity' With Fall Schedule
When you shop @AmazonSmile, Amazon will make a donation to Journal-Isms Inc. https://t.co/OFkE3Gu0eK

— Richard Prince (@princeeditor) March 16, 2018
---
Support Journal-isms Go Fund Me page 
Richard Prince's Journal-isms originates from Washington. It began in print before most of us knew what the internet was, and it would like to be referred to as a "column." Any views expressed in the column are those of the person or organization quoted and not those of any other entity.
Send tips, comments and concerns to Richard Prince at journal-isms-owner@yahoogroups.com.

Follow Richard Prince on Twitter.
Like "Richard Prince's Journal-isms" on Facebook.
Journal-isms is originally published on journal-isms.com. Reprinted on The Root by permission.