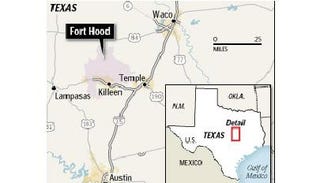 At least one U.S. soldier in uniform opened fire on troops at Fort Hood, Tex., Thursday, killing at least 12 people and wounding more than 31 others, officials said.
Officials said two other soldiers suspected of being involved in the shooting were in custody. The shooting occurred at a processing center and nearby theater where soldiers were preparing to deploy to the wars in Iran and Afghanistan, officials said.
Lt. Gen. Bob Cone, the commanding general of Fort Hood, said one gunman was shot at the processing center and that two others suspected of involvement were apprehended later.
President Obama called the incident "a horrific outburst of violence."