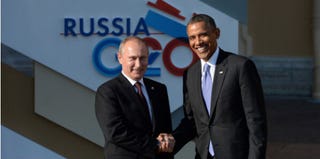 Forbes magazine's "World's Most Powerful" title was handed to Russian President Vladimir Putin for 2013, moving him one step ahead of President Barack Obama, who previously held the title. 
According to Forbes, Putin has kept steady control over Russia, while Obama's "lame duck" period, which the magazine says "has seemingly set in earlier than usual for a two-term president," has hurt his ranking. Forbes cited the government-shutdown fiasco and National Security Agency leaker Edward Snowden as evidence of the "shifting … power dynamics."
This is the second time that Obama has been demoted from the No. 1 position on the list of the world's most powerful people, the magazine said. In 2010 he was pushed down by Hu Jintao, China's former political and military leader. 
Read more at Forbes.