"In 2019, women around the globe took action, claiming leadership positions in government, business, philanthropy and media," writes Forbes in the introduction to its 2019 list of the World's 100 Most Powerful Women, published Thursday. "These trailblazers are not to be messed with," they add.

Many of the names are familiar—for instance, German Chancellor Angela Merkel tops the list for the ninth consecutive year, followed by Christine Lagarde, the first woman to head the European Central Bank, as of November of this year. And unsurprisingly, United States Speaker of the House Nancy Pelosi comes in at number three. At No. 20—the same spot she earned last year—Oprah is the first woman of color on the list, closely followed by Jessica Tan (co-CEO, COO, CIO, Ping An Healthcare and Technology Company) at No. 22, and Ho Ching (Executive Director and CEO, Temasek) at 23.
The next black woman to appear on Forbes' list is 43rd: Rosalind Brewer, the first African-American COO of Starbucks, falls right behind Ivanka Trump (No. 42). Rihanna, who Forbes previously named the world's richest female musician this year, makes the 61st spot, while Beyoncé comes in at 66—both beating out Taylor Swift at No. 71. And admirably, Ava DuVernay comes in at 79 on the list, just a few spots above Serena Williams at No. 81. Sahle-Work Zewde, Ethiopia's first female president, makes the 93rd spot on the list, and the British-Nigerian Deputy Secretary-General of the United Nations, Amina Mohammed, ranks at 98. Notably, 16-year-old climate change activist and Trump nemesis Greta Thunberg rounds out the list in the 100th spot.
But Forbes, where is Michelle Obama?
Obama—who topped the list in 2010 with repeat appearances in subsequent years through 2016, also topped global bestsellers' lists in 2019 due to the publication of her first memoir, Becoming, in November 2018. The book sold over 10 million copies and was speculated to be the most successful memoir on record. Add to that a sold-out worldwide book/arena tour and a global survey that ranked her the most admired woman in the world, and 2019 was indisputably a tremendous one for the forever first lady. But somehow, even that level of influence wasn't enough to crack the 100 ranked on Forbes' list. Interesting.
G/O Media may get a commission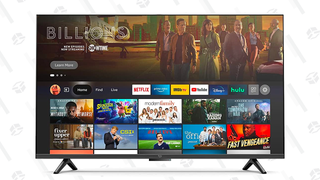 22% off
Amazon Fire TV - 50" Omni Series 4K - Early Access Deal
As for Forbes' methodology, they explain it as follows:
To determine the rank within each category, as well as overall rank on the list of 100, Forbes applied four metrics: money (GDP, revenue, assets under management, or net worth), media mentions, impact (employee count, population) and spheres of influence. Collectively, Forbes looked at hard power (currencies and constitutions), dynamic power (audiences, communities and creative influence), and soft power (what are leaders doing with their influence) within the context of each woman's field: business, media, technology, finance, philanthropy and politics. The list was locked on December 9, 2019.
We're pretty sure Obama qualified on "dynamic power" and "soft power" alone, but I suppose we can't expect too much from the same publication that labeled Kylie Jenner a "self-made" billionaire (no shade to Kylie's beauty industry acumen, but like self-made millionaire Donald Trump, she had a little help with the start-up). But moving on...Forbes also asks us to turn our eyes to the future, writing:
There is plenty of evidence that other women not yet in these ranks are also making moves. The United States Congress has a record 126 women in its chambers and more women are being appointed to S&P 500 boards than at any other point in global history.
Those facts are the foundation for another article published by Forbes in tandem with the top 100: Power Rising: Women to Watch in 2020, in which the opening paragraph reads, in part:
Women who make the top 100 are billionaires, heads of states, founders of companies and superstars with legions of social media devotees. They're also women who have held their positions of power long enough to make a measurable impact.
(Again, how do those metrics exclude Michelle Obama? But we digress.)
Perhaps recognizing the dearth of black and Latinx women in its top 100 (less a fault of Forbes that the persistent issue of the intersection of race and gender equality), the Women to Watch list is more diverse than the 40 percent (predominantly Asian) women of color represented on the main list. Shoutouts include Theo Sowa of the African Women's Development Fund; Andia Chakava of the Graca Machel Trust; San Juan, P.R. mayor and gubernatorial hopeful Carmen Yulín Cruz and Kamissa Camara, Mali's youngest and first female minister of foreign affairs, now the Minister of Digital Economy and Planning.
And then, there's Botswana's former and one of the country's youngest-ever ministers of investment, trade and industry, Bogolo Kenewendo. Interestingly, Forbes notes Kenewendo now helms women's leadership and mentorship program Molaya Kgosi, which she was initially inspired to create after attending a young African women leaders' conference hosted by none other than Michelle Obama.
Is Forbes' list of powerful women complete? By our metrics, no, but it is nevertheless inspiring. Here's hoping it continues to get even more colorful in years to come.