Authorities have arrested an employee at a fried-chicken restaurant, accusing the worker of helping a murder suspect evade capture two days before authorities say the same suspect fatally shot an Orlando, Fla., police officer, the Associated Press reports.
According to the report, Zarghee Mayan allegedly gave restaurant food to his former co-worker Markeith Demangzlo Loyd, drove Loyd around and offered him money, despite knowing that he was wanted in connection with an earlier killing of his pregnant girlfriend.
"Mayan did so with the intent that Markeith Demangzlo Loyd avoid or escape detection, arrest, trial or punishment," the arrest affidavit read, according to AP.
Mayan reportedly told authorities that he last saw Loyd on Saturday, two days before Orlando Police Master Sgt. Debra Clayton was gunned down in a Wal-Mart parking lot. Loyd is now also wanted by authorities in Clayton's death.
According to the report, Mayan acknowledged that on Saturday, he had noticed that Loyd was armed and wearing body armor when they embraced, the arrest affidavit indicated.
G/O Media may get a commission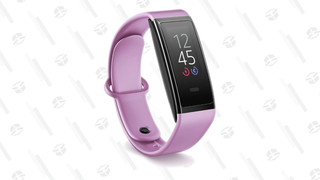 44% Off
Amazon Halo View Fitness Tracker
Mayan, 33, was taken into custody Tuesday on a charge of accessory after the fact. According to the newswire, jail records show that no bond had been set, and there was no name of a defense attorney listed for him.
Loyd, 41, has been the subject of a massive manhunt ever since he allegedly killed Clayton Monday morning. According to the report, more than 500 tips have come in from the public, tips that police think are especially important because others may be helping Loyd hide.
A $100,000 reward is being offered for information leading to Loyd's arrest.
"If you know where he is at and you call us 3 o'clock in the morning, 3 o'clock in the afternoon, we will have people prepared to dispatch and go capture him," Barb Bergin, executive director of the local Crimeline, said in urging the public to come forward.
Federal, state and local authorities are all taking part in the manhunt, although Orlando Police Chief John Mina declined to give details about search tactics.
"There are many things going on behind the scenes that our community is not aware of and that we are not at liberty to discuss," Mina said.
Read more at Time.