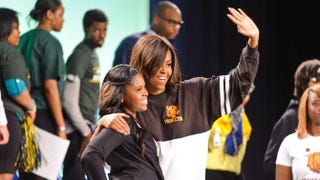 First lady Michelle Obama will be celebrating her third annual College Signing Day at New York City's Harlem Armory on Tuesday, with more than 4,000 high school students from across New York in attendance, according to the Whitehouse.

As part of the first lady's Reach Higher initiative, College Signing Day is another step in encouraging young people to continue their education past high school. In addition to the event in New York, more than 1,000 College Signing Day events have been planned in almost every state by communities, students and organizations interested in helping youths to pursue their goals of higher education, the White House said. 
Several celebrities will be attending the New York event with the first lady, including hip-hop artist Common, musician Jidenna, the New York Knicks' Carmelo Anthony, Chef Roble and actress Tracee Ellis Ross.
Read more at Whitehouse.gov.