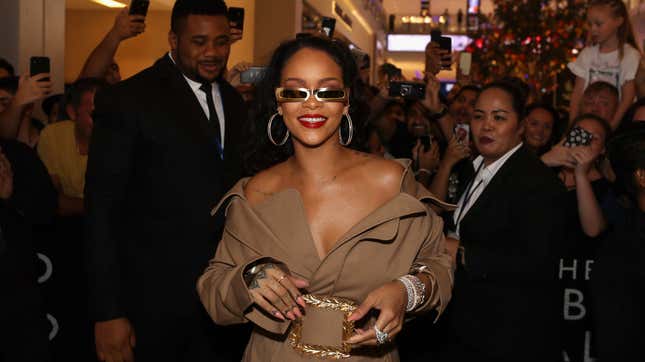 Whew, life Rihanna comes at you fast.

It seems only a couple of months ago, we were speculating on whether or not Rihanna's purported deal with luxury conglomerate LVMH was more than a rumor—oh, wait, we were. Now, we're getting glances at Fenty Maison's first collection, due to debut this May 22 or 29, depending on who you're asking (we suggest signing up for the Fenty website to remain up to date on the drop—and check out more looks).
Comedian London Hughes Talks New Book, Parents Watching Her Very Sexual Comedy, & Beyoncé
The palette? Simple: white, black, blush and tan, all monochromatically styled. The silhouettes? A largely gender-fluid selection of roomy pantsuits, micro-miniskirts, strong-shouldered jackets with cinched waists (thank God) and boning, artfully cut shirting and a lot of denim. Oh, and stop trying to fight the return of the fanny pack, because according to Rih, it's back.
As Fenty style director Jahleel Weaver (also Rihanna's stylist) told the New York Times' T Magazine, the idea "is to really speak to how multifaceted today's woman is. We're thinking about each release as a different facet to a woman's wardrobe and how she approaches dressing. Luxury has been defined in the past as one woman, one brand ... Which is fine, but you think about how that relates to the modern woman. I don't think she is just one thing, Rih being the perfect example of that."
The overall aesthetic so far gave us just a touch of "Yeezy-but-make-it-work structured" vibes. In fact, looking at some of the selections, we couldn't help but reflect on the similarly styled look Rihanna gave us last June for former Yeezy designer Virgil Abloh's Louis Vuitton Menswear debut in Paris.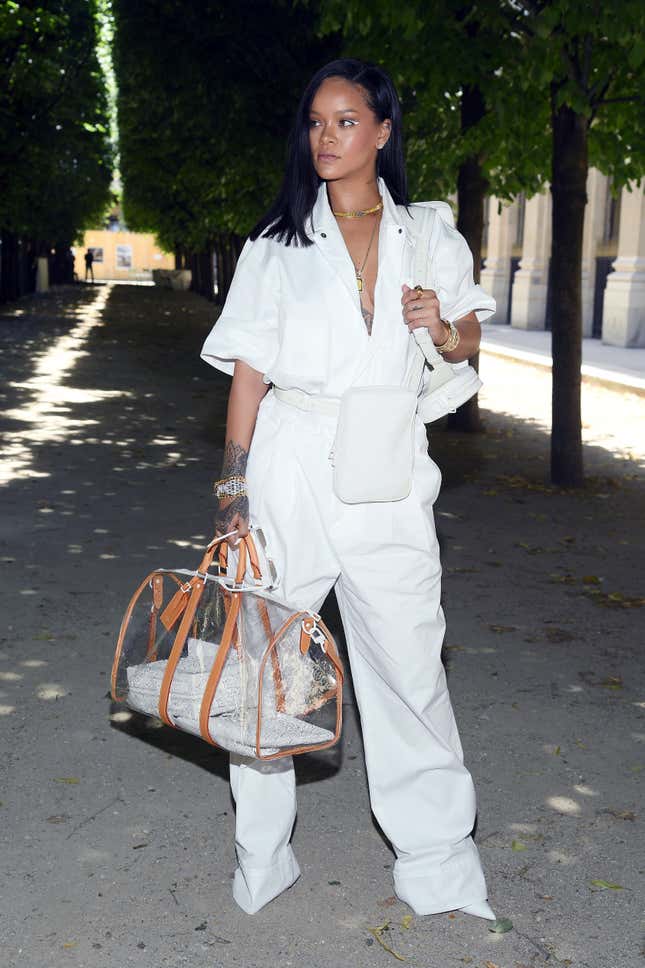 Rihanna also spoke with T, as well as starring on their first digital cover. In the interview, published Sunday (notably penned by Slave Play author Jeremy O. Harris), the style icon discussed her evolution into luxury fashion.
"I've been slowly evolving throughout the fashion world," she said. "First wearing it, buying it, being recognized for my style and then collaborating with brands. I never just wanted to put my name on something and sell my license. I'm very hands-on, so I wanted to take it slowly and gain respect as a designer." She says LVMH was a natural fit, evidenced by their prior successful collaborations on ventures like Fenty Beauty. "[T]hey extended the offer to me and it was a no-brainer because LVMH is a machine," she added. "[Chairman and CEO] Bernard Arnault was so enthusiastic; he trusted me and my vision."
Of her debut collection, Rihanna confirms that she, rightfully, is the muse. And like the enigmatic entertainer, the label's releases will be unpredictable, following an uncommon distribution model that eschews the typical runway show followed by a six-month production cycle in favor of buy-it-now drops, with some items exclusively available online.
"[W]ith this, you see it, you love it, you can have it. I want to be as disruptive as possible. The brand is not traditional. ... It's a new way of doing things because I believe that this is where fashion is going to go eventually," she says.
Riffing on stylist Weaver's analogy that the label's releases are like album singles, she elaborates, teasing, "[t]he first single is really strong and edgy, compared to the drop right after, which is a little more feminine. But the first one, there are a lot of classic pieces as well."
And speaking of albums, what about that long-awaited ninth album Rihanna's Navy has already dubbed R9? While she confirmed that a reggae album is in the works, she was more cryptic about a release date—and about her music career, in general.
"I didn't have these dreams when I was little. I had a dream of making music; that's it," she told Harris. "I didn't even think about the fame part, and then that happened, and it's like, 'Do I really like this? How much do I really love music that I'm dealing with this?' Then the one-hit-wonder comment came straight out of the gate and that put a fire under my ass, and I just never stopped working.
"Every time it was about challenging myself: I have to do better, I have to do better," she continued. "And what's next, what's next? I won a Grammy and that was seconds into my past as soon as it got into my hands. I have to think about the next thing, which is terrible because people should live in the moment. I just started branching out into different creative outlets. That's what makes me happy."
Rihanna's now looking at who's next, telling T she's got her eye on the next generation of designers, and making space for black, brown and female faces.
"I am always looking at grad collections, who's about to leave college, who wants a year here. And we've done that with a couple young designers and a couple new ones that are coming in," she says. "Even if you've never designed something in your life, you might have impeccable taste: I'm welcoming everyone's vision here because that's what it's gonna take. I can't just think I know everything. ... I welcome other people's expertise. I love new, young talent."
If Rihanna's proven anything with Fenty Beauty and Savage x Fenty, it's that she believes in inclusion, and, in addition to her adoption of a more "thicc" body type, as she refers to it, she's extending that ethos to her luxury line—at least in part. Fenty will debut in sizes extending to a French size 46 (US 14).
"I'm thick and curvy right now, and so if I can't wear my own stuff then, I mean, that's not gonna work, right? And my size is not the biggest size. It's actually closer to the smallest size we have," she says. "We're saying we can meet you at any one drop that we put out."
In perhaps one of the cutest moments of their interview, Harris tells Rihanna the meaning of her last name, "Fenty."
"[I]t's Spanish and Portuguese. It derives from the word "infante," a title for the children of royals," he shares. "It's a medieval name."
It's also fitting, since "Rihanna" is a derivation of "queen." As the first black woman to launch a luxury label with the likes of LVMH, we're ready to hand her the crown (and speaking of crowns, she tells us not to count out Fenty Hair in the future). But if it's a pioneering achievement, it's one Rihanna is keeping well in perspective as she sets out to disrupt the fashion world.
"You're going to be black wherever you go. And I don't know if it's unfortunate or fortunate, because I love being black," she says. "So, sorry for those who don't like it—that's the first thing you see before you even hear my voice.
"There are also other factors: I'm young. I'm new to the family. I'm a woman. Those factors do come into play, but I will not apologize for them, and I will not back down from being a woman, from being black, from having an opinion," she continues. "I'm running a company and that's exactly what I came here to do. I don't know if it makes people uncomfortable or not, but that's not even my business, you know? I do know that the reason I'm here is not because I'm black. It's because of what I have to offer. That's what they're invested in. And the fact that I'm black is just that: a fact."