Longtime Staffer Patrik Henry Bass Also Out
Clyburn to Step Down from FCC after 8 Years
Chow Leaving Asian American Journalists Group
Short Take
Editor-in-Chief Vanessa DeLuca and Editorial Projects Director Patrik Henry Bass of Essence magazine have been let go in a restructuring, sources told Journal-isms on Thursday.

DeLuca, who became editor-in-chief in 2013, had been with the company for 15 years, and Bass, best known as the magazine's books editor but also an organizer of the annual Essence Festival, had been with Essence for 18 years. A source who did not want to be identified said that Bass learned of his dismissal in a telephone call as he was riding the "R" subway train in New York.
Michelle Ebanks, president of Essence Communications, issued this statement:
"As we forge our new path as an independent company, ESSENCE remains committed to its authentic vision—highlighting the beauty, power and magic of Black women. We are also committed to continually evaluating how we need to transform and evolve to best serve the interests of Black women around the world in a more elevated and comprehensive way.
G/O Media may get a commission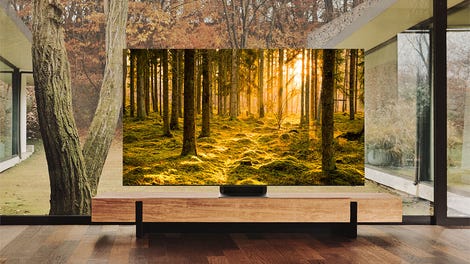 Up to 40% off
Samsung Smart TVs
"This includes addressing the needs that align with our future as a fully-integrated, cross-platform content company that reflects the diverse range of who she is, where she is, and how she lives. To ensure that we have the infrastructure necessary to support this path forward, we are realigning our editorial team structure to include more content integration and audience development across all platforms, including digital, social, video, live experiences and the magazine. "
Ebanks sent this message to the staff:
"As you're aware, we're transforming our company to ensure we are positioned to successfully address the demands of an evolving industry. I am writing to inform you of changes to our editorial team and wanted to share with you that ESSENCE Editor-in-Chief Vanessa De Luca and Editorial Projects Director Patrik Henry Bass will be leaving the company. We will not be replacing these roles moving forward and will share more with you in the coming weeks regarding our realigned structure.

"In the immediate term, Digital Content Director, Yolanda Sangweni, and Executive Editor, Jacklyn Monk, will oversee content and operations across all platforms — including digital, social, video, live experiences and the magazine.

"Vanessa has a diverse and accomplished history with ESSENCE. She first joined the company more than a decade ago as the magazine's Beauty and Fashion Features Editor and went on to serve as Lifestyle Editor and Executive Editor. During her five year tenure as Editor-in-Chief, Vanessa sharpened ESSENCE's journalistic focus and the brand's creative vision by developing new multi-platform editorial franchises, including the Woke 100. Committed to bringing ESSENCE content to life, she created programming for the ESSENCE Festival and other live experiences.

"As part of this transformation, ESSENCE Editorial Projects Director Patrik Henry Bass will also be leaving the company. Patrik has contributed tremendously to ESSENCE's editorial legacy over nearly two decades. He joined the company as Books Editor and served as Features Editor before expanding his role as Editorial Projects Director. In this capacity, he co-programmed the ESSENCE Festival's Empowerment Experience and edited a variety of successful ESSENCE books, including The Obamas in The White House and Black Women in Hollywood: A Salute to Trailblazers at the Oscars, among many others. . . .".
In January, Time Inc. announced that it had sold Essence Communications, publisher of Essence magazine and operator of the festival, to a newly formed black-owned company that was giving the all-female Essence leadership a stake in the business.

Essence Ventures, created in 2017, is led by Richelieu Dennis, a Liberian-born entrepreneur who sold Sundial Brands, parent company of Shea Moisture and related personal care products, to consumer goods giant Unilever in November.

The 2013 announcement naming DeLuca, then named Vanessa Bush, as editor, said, "Bush recently introduced ESSENCE's #HeIsNotASuspect social media campaign aimed at reducing racial profiling of young African-American men. She has spearheaded numerous editorial franchises including 'Guns Down', ESSENCE's multi-part series addressing gun violence in our communities and 'Where Smart Starts', a year-long initiative around education.
"During her tenure, ESSENCE launched a new Twitter program, #ESSENCEDebates, and Essence.com introduced the innovative Beauty Matchmaker tool. In addition, under her leadership, the 2013 ESSENCE Festival's ESSENCE Empowerment Experience daytime programming enjoyed record-breaking attendance; bringing ESSENCE content to life around the pillars of family, health, relationships, beauty, careers, personal empowerment, activism, and more. . . ."
Bass joined Essence under Editor in Chief Susan Taylor and has worked with eight of Essence's nine editors-in-chief.
The Essence Festival "Empowerment Experience" that Bass co-programmed featured such names as Al Sharpton, Oprah Winfrey and Iyanla Vanzant.
Clyburn to Step Down from FCC after 8 Years
"FCC Democratic Commissioner Mignon Clyburn announced plans to step down from the agency Tuesday, ending an eight-year tenure focused on the needs of low-income and minority communities," Margaret Harding McGill reported for Politico on Tuesday.
"Clyburn, an Obama nominee who joined the FCC in 2009, made the announcement at an FCC meeting. She did not say what she plans to do next but said she would depart the commission before its next scheduled meeting on May 10.
" 'I've done all I know to do. And it's time for me to serve in another way,' she said.
"Clyburn was part of the Democratic majority that approved the net neutrality rules in 2015, and has been a vocal critic of their repeal in December by the agency's Republican leadership under Chairman Ajit Pai. The rules required internet service providers like Comcast and Verizon to treat all web traffic equally as it passes through their networks. . . ."
McGill also wrote, "Senate Minority Leader Chuck Schumer has already recommended Geoffrey Starks, an assistant chief in the FCC's enforcement bureau, to the White House to nominate for Clyburn's seat when she departs, POLITICO reported last month. Presidents traditionally defer to the Senate minority leader when filling opposing-party seats on the commission. . . ."
Jamie Lovegrove and Schuyler Kropf wrote for the Post and Courier in Charleston, S.C., "In an interview with The Post and Courier later Tuesday, Clyburn said she only decided to step aside hours earlier.
" 'I was not 100 percent sure when I woke up this morning that this was the day,' Clyburn said. 'I felt relatively confident. But it just goes to show you there's never the perfect time but the right time.' . . ."
Brian Santo wrote March 14 for fiercetelecom.com, "Reps. G.K. Butterfield, Yvette Clarke and Bobby Rush are on record supporting Starks' appointment. The Joint Center [for Political and Economic Studies], a political think tank, has also recommended him. . . .
"Starks has been with the FCC since 2015, serving in the Investigations and Hearings unit. Prior to that, he worked at the Department of Justice for nearly three years.
"Starks has left barely any public record, undercutting the ability to even speculate about what to expect from him as an FCC commissioner, beyond some assurance that as a current employee of the FCC he might be expected to hit the ground running. . . ."
Chow Leaving Asian American Journalists Group
Kathy Chow (pictured left), executive director of the Asian American Journalists Association, is resigning after eight years, she and AAJA President Yvonne Leow announced on Thursday.

"I have accepted the position to be the first female Executive Director of the American Association of Cosmetology Schools, a national association with 94 years of success advancing the beauty and wellness profession," Chow said. She added, "Together we have accomplished a lot including launching Media Institute, securing the largest foundation funding the organization has ever received for programs such as the Criminal Justice Project, the Heartland Project and enhancing professional opportunities for the membership. . . ."
In the Heartland Project, AAJA partnered with the National Lesbian & Gay Journalists Association "to increase media coverage of racial minorities and lesbian, gay, bisexual and transgender (LGBT) communities in Nebraska."
Chow was director of the nonprofit Hands On Sacramento when she was named to the executive director position in 2009. Before that, Chow worked for six years at the Sacramento Bee in public affairs, where she was introduced to AAJA programs and values through the Bee's sponsorships for the journalism group.
AAJA, which today has more than 1,300 members, had left its previous annual convention with a projected $237,000 deficit.
Chow's appointment was the association's second try at replacing Rene Astudillo, who held the post for 10 years.
It hired Ellen Endo, who was president of the Little Tokyo Business Association and a veteran of 24 years in the television business, in December 2008, but Endo and AAJA parted over "philosophical differences over AAJA's vision and direction."
Short Take
You can listen here, or read the column here.

---
Support Journal-isms Go Fund Me page. 
Richard Prince's Journal-isms originates from Washington. It began in print before most of us knew what the internet was, and it would like to be referred to as a "column." Any views expressed in the column are those of the person or organization quoted and not those of any other entity.
Send tips, comments and concerns to Richard Prince at journal-isms-owner@yahoogroups.com.

Follow Richard Prince on Twitter.
Like "Richard Prince's Journal-isms" on Facebook.
Journal-isms is originally published on journal-isms.com. Reprinted on The Root by permission.