Emil Wilbekin is a superstar journalist who intends to change the way black gay men are perceived and received in mainstream media. He intends to shift culture through his initiative, Native Son, which is inspired by James Baldwin's Notes of a Native Son.
"Mr. Baldwin talks a lot about social justice, the black church, family, identity of African Americans in pop culture, and he's self-critical as a black gay man who is struggling with his sexual identity," Wilbekin tells The Root. Those themes are what stuck out to Wilbekin, not only when he was looking for a name for his movement, but when he was shaping what he wanted it to be.
Wilbekin has been in the media for years, and his résumé boasts many major publications, like Vibe, Complex, AOL Black Voices, Out magazine, Giant magazine and Essence. At each publication, he's been able to make major moves that have helped the brands develop.
Three years ago, Wilbekin stepped out on faith and became an independent consultant and editorial content executive, and now, Native Son is flourishing. What a wonderful blessing it is to watch one's idea develop into a movement!
I talked to Wilbekin about what Native Son is and how he plans to shift the culture through his movement.

G/O Media may get a commission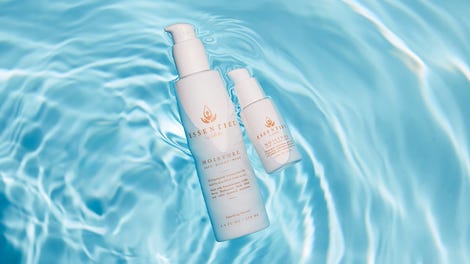 20% off
Essentiel by Adele
The Root: What does it mean to you now to take Native Son for yourself and transform it?
Emil Wilbekin: Wow, that's a great question. For me, Native Son is really about fellowship among black gay men. So, it's really creating inspiration and empowerment around black gay men. How do we celebrate each other and how do we see each other?
To me, James Baldwin is the perfect icon to represent this movement because he is probably the most brilliant activist, journalist, artist and man of color who owned being "other." As black gay men now, we look back, and a lot of the words and writings of Mr. Baldwin are completely relevant for the times we're living, especially in this age of Donald Trump.
TR: How do you feel about the way black men are portrayed in the media?
EW: There's two kind of tentpoles that I really am focused on with Native Son: 1) How do we control our narrative? 2) Having more visibility.

When I look at the current state of media, I'm happy because there's more images of black gay men in the media. There's more black gay men in Hollywood who are creating work or in writing rooms.
There's Lee Daniels, there's Ben Cory Jones, who is in the Insecure writing room. There's Jussie Smollett. There's gay storylines on Greenleaf and Being Mary Jane; we're seeing ourselves more. Obviously, this is the year Moonlight won the Oscar for Best Picture. I Am Not Your Negro, the James Baldwin documentary, was nominated for an Oscar, so we're being seen a lot more.

This is obviously new and a counter to the stereotypical, almost misogynistic, homophobic images that we've seen in media—in kinda girling gay black men, regulating them to being the gay best friend or hairdresser-stylist. I'm excited to see a more well-rounded vision of what black gay men are and what we can be.

TR: Do you feel like that's a lot to take on as Native Son, or is it something that can help shift the stereotypical images of black gay men in the media?
EW: It's a lot to take on, but I believe that we as black gay men have to control our destiny. We can't rely on mainstream media, white gay media or anyone else to tell our story properly. We have to tell our story.
It's a lot to take on, but ever since I began this movement last year, there are so many black gay men who are business executives, Hollywood executives, government officials, health care experts, people in tech, who all want to come together, and we want to tell our story. We want to help.
I'm not doing this alone. That's why I call it a movement. It's illuminating and encouraging black gay men in their truths to walk in their truth and tell their stories.
TR: What are you working on with Native Son, and what can we look forward to?
EW: I'm so excited because Native Son has exceeded my expectations. We've hosted a panel with Google around black gay men in tech, so that's a very important, forward-leaning initiative. I think it's important to know where black gay men fit in tech. What are our stories within that?
I was honored by the Boy Scouts of America. I received the Harlem Good Scout Award, and I am so humbled by this. To be a black gay man honored by Boys Scouts of America, it shows how the world is moving forward and how as a black gay man, I can continue to break barriers and go through glass ceilings.
Next year, aside from the awards and these talks we're doing, we're launching empowerment seminars that are going to be two-day workshops where we focus on issues around identity and who we are. I think there's a lot of brokenness, woundedness and shame in the black gay community, and we need to heal ourselves so we can be stronger and move forward.