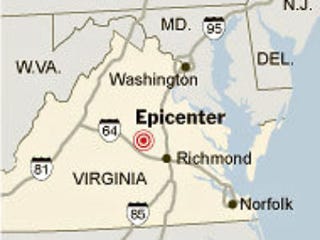 An earthquake with a magnitude of 5.9 struck near Washington, D.C., this afternoon, the U.S. Geological Survey reports.
The epicenter was in Virginia, but it was felt up and down the East Coast in Philadelphia and New York City and on Martha's Vineyard, where the president is vacationing.
The Capitol, the White House and the Pentagon have all been evacuated. CNN's Barbara Starr reports,  "When the [Pentagon] building began shaking rather violently, hundreds of people began streaming out," because many people thought that the building was under attack."
In this developing story, USA today reports that there were no reports of damages to roads or bridges a few minutes after the quake.

Read more at USA Today and CNN.
In other news: Reports: Will and Jada Split.