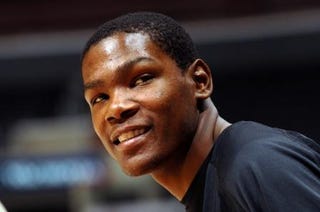 NBA fans, meet your new superstar, Kevin Durant.
If that last sentence seems a little strange, then it's because Kevin Durant has been presented to basketball fans as a superstar for two years now. He was Player of the Year in college, won Rookie of the Year last season. From Day 1 in the NBA, he has been the best player on his team. He has all the hype that a player not named LeBron or Kobe could want. But there was one troublesome, little detail; until recently, he wasn't producing like a superstar.
His rookie numbers were superficially impressive. He averaged 20.3 points per game. That stat alone probably won him the Rookie of the Year award, but the real story was that he was part of a draft class that has been slow in skills development and in adjusting to the NBA game. I might have been tempted to give the ROY award to Atlanta Hawks forward Al Horford, but a better decision would have been to simply not award anyone in the category. But then sneaker companies would riot.
In all fairness, the draft class of '07 was an unusual case. Three of the best players from this draft were missing in action last season. Portland Center Greg Oden missed the campaign with a knee injury. Portland guard Rudy Fernandez and Memphis Grizzlies center Marc Gasol missed last season due to obligations with European pro teams.
Some top 10 picks such as guard Mike Conley of the Memphis Grizzlies, forward Yi Jianlian of the New Jersey Nets and Corey Brewer of the Minnesota Timberwolves appear to have been vastly overrated. A few others such as Thaddeus Young of the Philadelphia 76ers, Joakim Noah of the Chicago Bulls and Rodney Stuckey of the Detroit Pistons are just beginning to meet the expectations that come with being a high draft pick. The smart money is on the rookies to beat the sophomores in the annual challenge game during All Star Weekend in Phoenix next week.
For the longest time, that 20.3 points per game was all that Durant had to hang his hat on. His rebounding, 4.4 boards per game, was subpar for a 6'9" player; he didn't pass the ball particularly well (2.4 dimes per contest); and he failed to get to the free throw line much (only 5.6 attempts per game). Pile that on to the fact that his shooting was atrocious. Durant shot 43 percent from the field, which was below the league average, and from behind the arc, he bricked a miserable 28.8 percent from three-point range. Stat-savvy basketball fans have always known that a healthy points-per-game average can cover up a lot of other sins; last year proved that it can cover up a lot better than Oliver North during the Iran-Contra scandal.
The shooting percentage and free throw attempts are big, as it marks an improvement in his efficiency. It's not just how much you score but how efficiently. Teams alternate possessions, so typically the most successful ones are those that get the most points possible when they have the ball and limit their opponent's efficiency on defense. This makes shooting better than the league average a must, and getting to the free throw line is a good sign that Durant is taking the ball to the basket. This yields higher percentage shots and runs up fouls on opposing players, either putting them in foul trouble or your team in the bonus.
Durant has gone from being the sole option on a bad team during his rookie year to being an elite player in his second year (and he's only 20; he's likely to improve for the next five or six seasons). His Oklahoma City Thunder isn't a very good team, but there's reason for hope. Durant's teammate, forward Jeff Green, another draft class of 2007 player, is starting to find his game and rookie point guard Russell Westbrook is making a strong case for Rookie of the Year. They could be the other cornerstones of a future contender.
For now, the Thunder is one of the more interesting doormats in the NBA. Their 11-38 record reflects a team that is a work in progress. For instance, Wednesday night, they trailed Denver 114-113 and had the ball with five seconds left. When the designed play failed to offer an open lane for Durant to move to the basket, he stepped back and hoisted a 30-foot prayer that clanged harmlessly off the backboard. There seemed to be no attention to a Plan B. It was another loss in a season that is looking more like a learning experience for a young team.
One of the hallmarks of this season is the emergence of several players whose incubation period was longer than expected. Minnesota guard Randy Foye, Orlando guard J.J. Redick, and Toronto forward Andrea Bargnani are all enjoying their best seasons after having been written off as busts. Top draft picks are always the poster boys of hope for their new teams, but fans have to learn to be patient. But even for top players, the NBA isn't a quick study.
Martin Johnson is a regular contributor to The Root.
Martin Johnson writes about music for the Wall Street Journal, basketball for Slate and beer for Eater, and he blogs at both the Joy of Cheese and Rotations. Follow him on Twitter.