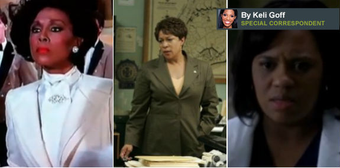 Keli Goff is The Root's special correspondent. Follow her on Twitter. 
Kerry Washington recently achieved a milestone that few black actors and actresses have when she landed the cover of Vanity Fair's August issue. In it she opens up about her role in the phenomenon that is Scandal, which is only the second network drama to feature a black woman as the lead.
But other black actresses have had key roles in television dramas. In celebration of Washington's Vanity Fair cover celebrating her portrayal of Olivia Pope, The Root decided to look back at some of the most memorable black female characters in TV drama-series history.
Christie Love
Teresa Graves, an actress and singer, made history in 1974 when she became the first black woman to star in a network drama. Graves portrayed Det. Christie Love in Get Christie Love! Although the program didn't last long, it netted Graves a Golden Globe nomination and would open the door for other black actresses, most notably Kerry Washington, whose starring turn came nearly 40 years after Graves'.
Dominique Deveraux
The 1980s nighttime soap Dynasty is famous for its costumes and catfights, but probably none is more famous than the smackdown between legendary villain Alexis Carrington Colby (Joan Collins) and archrival Dominique Deveraux, portrayed by Diahann Carroll. Carroll had previously made history playing a nurse in the comedy Julia, becoming the first black woman to star in a TV series as a professional woman rather than in a subservient role. Carroll's portrayal of Deveraux was so popular, she would appear in Dynasty spinoff The Colbys.
Lydia Grant
As the dance teacher Lydia Grant on the series Fame, Debbie Allen became known for trying to prepare young performers for the big time. She probably had one of the most memorable lines in the history of television theme songs: "Fame costs, and right here is where you start paying — in sweat." She is also half of one of the most successful sibling acts of the '80s: Her sister, Phylicia Rashad, starred in The Cosby Show.
Ernestine Shoop
Though probably best remembered for her turn as the queen in the film classic Coming to America, Jamaican actress Madge Sinclair first gained fame for her co-starring role as nurse Ernestine Shoop on the '80s hospital drama Trapper John, M.D. The role earned her three Emmy nominations. She would eventually win the award in 1991 for her performance in the short-lived drama Gabriel's Fire, featuring her Coming to America co-star James Earl Jones.
Lilly Harper
Actress Regina Taylor portrayed housekeeper Lilly Harper in the series I'll Fly Away, which was set in a Southern town at the height of the civil rights movement. Harper's relationship with the white family she worked for, which included a heroic widowed district attorney portrayed by Sam Waterston, served as a contrast to the tumultuous race relations of the time. In 1999 TV Guide ranked Harper among the 50 greatest TV characters of all time.
Lt. Anita Van Buren
In her first appearance on Law & Order, S. Epatha Merkerson played a crime victim, but she would become a Law & Order legend for her role as the show's head crime fighter. Though the show is famous for rarely delving into the personal lives of its characters, over the course of two decades, the portrayal of Lt. Anita Van Buren helped bring attention to real-life issues that black women face, from cancer to discrimination in the workplace. Merkerson would portray Van Buren from 1993 to 2010, making her the longest-running (in terms of episode count) character in the show's history.
Teri Joseph
Originally portrayed by former Miss America Vanessa L. Williams in the film Soul Food, the role of Teri Joseph was assumed by Nicole Ari Parker in the series of the same name. Following in the footsteps of The Cosby Show's Clair Huxtable, Joseph was notable for being a prominent attorney who juggled her role as a high-flying legal eagle with a sometimes complicated love life.
Dr. Alexx Woods
Khandi Alexander spent years as a successful choreographer for artists like Whitney Houston and Natalie Cole before transitioning into acting in the early 1990s. With numerous TV and movie roles under her belt — she's currently appearing in the HBO series Treme — she is still perhaps best known for her role as medical examiner Dr. Alexx Woods on CSI: Miami.
Dr. Miranda Bailey
With Scandal's Olivia Pope, show creator Shonda Rhimes proved that she knows how to create strong, black female characters, but Pope wasn't the first. Grey's Anatomy's Dr. Miranda Bailey, played by Chandra Wilson, is considered so fierce that her interns actually called her "The Nazi."
Like The Root on Facebook. Follow us on Twitter.