On Friday, Straight Outta Compton opens in theaters, and from the marketing of the film, everyone is expecting it to be a blockbuster hit. But it's another "hit" that has people talking. Specifically, the hits Dr. Dre has given women over the last couple of decades.
Dr. Dre has made millions over the last few decades with his music and Beats by Dre headphones, but one aspect of his life that people rarely mention happens to deal with the physical abuse of women.
Dre and N.W.A were profiled in a 1991 Rolling Stone article, "N.W.A.: Beating Up the Charts," which made mention of an encounter with Dee Barnes, host of a Fox TV video show called Pump It Up.
Last November the Fox TV rap video show Pump It Up ran a segment on N.W.A. in which it crosscut between members of the group dissing their former partner Ice Cube and a previous interview with Cube in which he bad-mouthed them. The members of N.W.A. decided that the clip made them look bad. On January 27, Dre ran into Pump It Up host Dee Barnes at a record-release party in L.A.

According to a statement issued by Barnes, Dre picked her up and "began slamming her face and the right side of her body repeatedly against a wall near the stairway" as his bodyguard held off the crowd. After Dre tried to throw her down the stairs and failed, he began kicking her in the ribs and hands. She escaped and ran into the women's restroom. Dre followed her and "grabbed her from behind by the hair and proceeded to punch her in the back of the head." Finally, Dre and his bodyguard ran from the building.
At the time, Dr. Dre didn't deny the event happened, and even bragged about it to Rolling Stone.
"People talk all this [s—t], but you know, somebody [f—ks] with me, I'm gonna [f—k] with them. I just did it, you know. Ain't nothing you can do now by talking about it. Besides, it ain't no big thing—I just threw her through a door," Dr. Dre said.
G/O Media may get a commission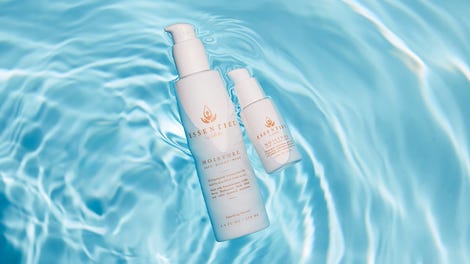 20% off
Essentiel by Adele
Barnes eventually filed a lawsuit against Dr. Dre, but ended up settling out of court. But that wasn't Dr. Dre's last brutal encounter with a woman.
Popular '90s singer Michel'le, who currently appears on a reality-TV show, dated Dr. Dre from 1990 to 1996 and has a child by him. The singer often spoke about the abuse she suffered at the hands of an ex, but it wasn't until an appearance on The Wendy Williams Show that she pointed fingers at Dr. Dre, when most people assumed she had always been referring to Suge Knight.
"Well, if it isn't Suge, then the fingers are pointing at you, Dr. Dre," Williams stated.
"He knows it. It was very public. It was very, very public, so that wasn't a secret. I did five videos and we had to cover three black eyes. It seemed like the day before a video, I would get a black eye and we had to cover it," Michel'le explained.
As Straight Outta Compton opens this weekend, Dr. Dre's past brings up a lot of questions. Do you support someone you know was an abusive person? Do you turn a blind eye to it?
In a recent Rolling Stone article, Dr. Dre commented about the incident with Barnes. And it's nothing he's proud of.
"I made some [f—king] horrible mistakes in my life. I was young, [f—king] stupid. I would say all the allegations aren't true—some of them are. Those are some of the things that I would like to take back. It was really [f—ked] up. But I paid for those mistakes, and there's no way in hell that I will ever make another mistake like that again," Dr. Dre stated.
In the same interview, Ice Cube was asked about N.W.A's lyrical content towards women and his repsonse wasn't as civil as Dre's.
"If you're a [b—ch], you're probably not going to like us," he says. "If you're a ho, you probably don't like us. If you're not a ho or a [b—ch], don't be jumping to the defense of these despicable females. Just like I shouldn't be jumping to the defense of no punks or no cowards or no slimy son of a [b—ches] that's men. I never understood why an upstanding lady would even think we're talking about her."
In the world of entertainment and sports, I think if people stopped supporting celebrities because of their abusive ways, people like Mike Tyson, Chris Brown and R. Kelly would have far fewer fans. But then there are those who will always have a person's back, even if he's been accused of urinating on a young girl.
There are also those who don't judge someone by past actions if he seems to have changed. Then there are those who don't think people who were known abusers change easily.
One can only assume that these low points in Dr. Dre's life have somehow been omitted from Straight Outta Compton, but the women who felt the brunt of his abuse won't easily forget them.