Thank God for a waist-length wig.
Nicki Minaj has never been known for her modesty, but on Sunday she gave the Made in America festival audience in Philadelphia much more of a show than they'd expected. During her headlining performance, her low-cut velvet tunic repeatedly slid open to fully reveal both breasts (which we won't be showing in full here)—and what may have been wardrobe tape clearly failing at its job (if so, you had one job, tape!)
Minaj clearly took the wardrobe malfunction in stride, simply pulling her top closed while continuing her set and only pausing once to acknowledge the issue, saying, "You know what? Let's go at it. They done saw my nipples at least 50 times tonight," before launching into "Motorsport."
Of course, given Minaj's recent attention-getting antics in protest of the performance of her latest release, Queen, led many to believe that the reveal was more strategic than a "slip," tweeting their suspicions that Minaj was simply trying to remain a trending topic.
G/O Media may get a commission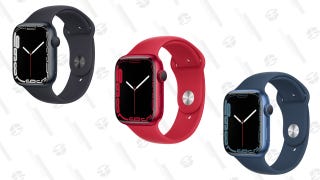 Up To $45 Off
Apple Watch Series 7
And as reported by People Magazine, this is far from the first time Minaj's cleavage has decided to make a cameo: In 2011, she was forced to apologize for a nip slip that occurred during a performance on Good Morning America, and at the 2014 VMAs, she almost lost her entire dress after an inadequate quick change before performing "Bang Bang" with friends Ariana Grande and Jessie J.
So maybe this latest malfunction was no big deal—and accidents do happen. But given the recent spate of firings on Minaj's glam squad, one has to wonder if her stylist might be next.