Donald C. "Don" Cornelius — the deep-voiced, longtime host and producer of the original must-see-TV dance-and-music showcase Soul Train – was found dead in his California home earlier today at the age of 75. Law-enforcement sources are saying he died of an apparent self-inflicted gunshot wound, according to the Los Angeles Times. There was no sign of foul play, according to police.
During its heyday in the 1970s and 1980s, the show that Cornelius created and syndicated helped bring black popular culture to America and gave artists from myriad genres wide exposure in a hip forum.
Cornelius, who was born Sept. 27, 1936, in Chicago, spent his younger years on the South Side. He was selling insurance for Golden State Mutual Life in 1966 when he decided to leave the $250-a-week job to work in the news department at WVON radio for $50 a week. He learned the ropes in broadcast by working as a substitute DJ and host of talk shows. By early 1968 Cornelius was the sports anchorman on A Black's View of the News, which aired on UHF station WCIU-TV.
The following year he pitched his idea for a black dance show to WCIU's owners, who agreed to let Cornelius use the studio space — at his own expense — to produce the pilot. (Sears Roebuck & Co. was an early sponsor.) Taking the risk paid off for Cornelius: The program, which debuted in August 1970, quickly became the number one show within Chicago's black community.
In addition to being the show's host and owner, Cornelius was also selling all of the advertising, which was a struggle because most businesses wanted to advertise to a general audience. His winning ratings, however, led to national syndication by 1971, along with key sponsorship from Johnson Products, the black-owned manufacturer of hair products and cosmetics. During that same year, he moved production to Los Angeles.
G/O Media may get a commission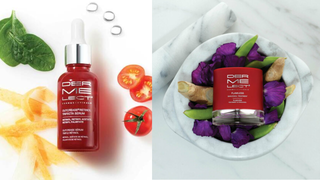 Save $19
Retinol Renewal Kit
Cornelius faced hurdles in getting stations to sign up Soul Train, but early on, viewers in Atlanta, Cleveland, Detroit, Houston, Los Angeles, Philadelphia and San Francisco — in addition to the hometown Chicago audience, of course — were gathering around their TVs each Saturday to catch the smooth host and the groovy "Soul Train line."
And then there were the musical guests, who over the years included virtually every soul music superstar on the scene — Aretha Franklin, Gladys Knight, Smokey Robinson, the Jackson 5 and Marvin Gaye, to name a few — but also lesser-known artists. Giants from funk, disco, hip-hop, pop and even rock (including David Bowie, Robert Palmer, Sting and Elton John) also appeared on the Soul Train stage. "Almost all of what I learned about mounting and hosting a dance show, I learned from Dick Clark," Cornelius once told Advertising Age.
Cornelius remained Soul Train host until 1993, and the show continued with guest hosts until 2006. In 1987 he launched the Soul Train Music Awards, which now air on Viacom's Centric cable channel. Centric also airs past Soul Train episodes, featuring Cornelius' classic closing line: " … and you can bet your last money, it's all gonna be a stone gas, honey. I'm Don Cornelius, and as always in parting, we wish you love, peace and soul!"
Monée Fields-White is a Los Angeles-based writer.