Drake needs a woman who's going to make him happy.

Drizzy Drake's Scorpion album has caused a lot of chatter in the Twitter world already. The album was released Friday, with an A and a B side, where basically one side is hip-hop, while the other is R&B.
Much like any album, it has received hate as well as praises from die-hard fans. It seems as though the majority of his songs are very, very slow and emotional, as I pictured the album's songs to be. He even mentions his long-rumored son, bringing closure to the controversy and drama surrounding the child.
In the song "Emotionless," he samples Mariah Carey's MTV Unplugged performance of "Emotions." He confirms that he has a child with this line, "I wasn't hiding my kid from the world ... I was hiding the world from my kid."
On the closing track, "March 14," he has more to say about his son: "I'm out here on front lines just tryna make sure that I see him sometimes. It's breaking my spirit/A single father, I hate when I hear it."
G/O Media may get a commission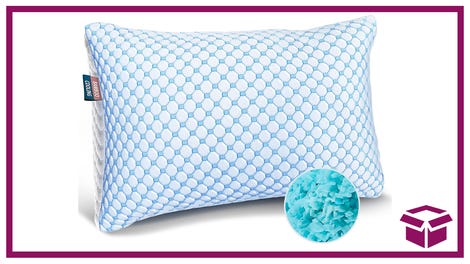 23% off
Nestl Cooling Pillow - Queen Size
I've been a Drake fan since he was Wheelchair Jimmy, and I'm slightly disappointed with the album. I love the songs "That's How You Feel," "After Dark," "Final Fantasy," "Nonstop," "8 Out of 10" and "In My Feelings."
Honestly, I think there are way too many songs. Unless I'm on a plane ride, I don't want to hear an hour and 30 minutes' worth of music. If he'd focused on at least 10 songs, I would've said the album was a 10/10.
The last thing I have to get off my chest is, what's the deal with this Michael Jackson song, "Don't Matter to Me"? I just want the King to rest in peace, but instead, Drake decided to add this unnecessary song to the album.
Whew, child.
What's your favorite song so far?