Two Would-Be NABJ Presidents Join the Discussion
Unity: Journalists for Diversity, the coalition given up for dead by its creators after the National Association of Black Journalists and National Association of Hispanic Journalists pulled out, demonstrated Friday that the appetite for an umbrella group to work for newsroom diversity still exists—even if there is no agreement on what form that group should take.
Toheeb Jimoh Talks The Power, Acting With Toni Collette, & Ted Lasso on That's So Random
An assembly of 60 diversity advocates that included two newly filed candidates for NABJ president, along with current NABJ President Bob Butler, heard recently installed Unity President Russell Contreras say, "We messed up as an organization. . . . We've gone astray. You don't have to tell us. We know. We got that. Then let's move on."
The would-be NABJ presidential candidates are former board member Sarah J. Glover, social media editor for NBC-Owned Television Stations, based in New York, and Mira Lowe, senior features editor for CNN Digital, based in Atlanta.
Glover ran for NABJ president two years ago, losing to Butler, then vice president—broadcast. Lowe, also a former editor of Jet magazine, has not served on the NABJ board. She is the wife of Herbert Lowe, who was NABJ president from 2003 to 2005 and called her then "the first lady of NABJ."
G/O Media may get a commission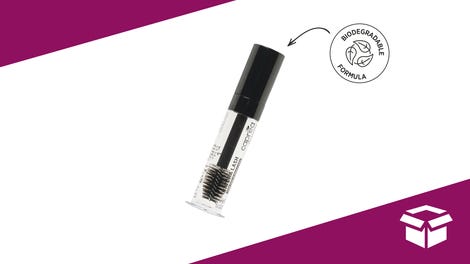 It's $8
20% Off Lash + Eyebrow Serum 2.0 - Caprea Beauty
Neither is officially a candidate until certified by the NABJ elections committee.
Also at the all-day meeting, held at the Washington Post, Karen Hansen of the Radio Television Digital News Association previewed results of the annual RTDNA/Hofstra University diversity survey of local television and radio stations. Progress "hasn't been making it to the leadership level," Hansen said.
In newspapers and online outlets, the American Society of News Editors found, journalists of color filled 12.37 percent of newsroom positions in 2014, although census data show that minorities make up 37.02 percent of the U.S. population. The minority proportion of the population will increase to 42.39 percent by 2025, according to the U.S. Census Bureau.
Unity was created partly to improve those numbers. It was formally established as a nonprofit organization in 1990, with the NABJ, the NAHJ, the Asian American Journalists Association and the Native American Journalists Association as members. The groups held their first joint convention in 1994 in Atlanta. The alliance took its name from the convention year, such as "Unity '99," before becoming Unity: Journalists of Color Inc.
The coalition's peak came in 2008, when then-candidate Barack Obama addressed the group in Chicago. However, in 2011, the NABJ pulled out over financial and management issues. Unity invited the National Lesbian & Gay Journalists Association to join and changed its name to Unity: Journalists for Diversity. The 2012 convention was a failure, and in 2013 NAHJ left the coalition citing the same complaints as NABJ.
In December, representatives of the three remaining groups — AAJA, NAJA and NLGJA — elected Russell Contreras, a former NAHJ vice president and financial officer who had not been on the Unity board, as Unity president. Contreras announced that the coalition would no longer hold conventions but would shift to regional meetings, such as a scheduled May 2 conference on the Pine Ridge Indian Reservation in South Dakota.
Friday's was the second annual "Unity Diversity Caucus," and participants were urged to forget Unity's contentious history. "Let's stop fighting against each other and fight for each other," Contreras told the group. Unity board members who contributed to the ill will have departed. The meeting opened and closed with a tribute to Dori J. Maynard, the president of the Maynard Institute for Journalism Education who died in February. Evelyn Hsu, acting executive director of the institute, said Maynard would have reminded people of work not done and urged participants to look inward.
Conferees turned their attention to issues of economic inequality, listed geographic areas of the country that they believed had been undercovered and discussed how to diversify sources and stories amid changing business models.
Participants ranged beyond the current Unity members, encompassing organizations with no history in Unity's politics, such as the Society of American Business Editors and Writers, the Association for Education in Journalism and Mass Communications, and Journalists and Women Symposium, known as JAWS.
"Think of the problems Muslim journalists have," Paul Cheung, AAJA's national president, told the group. "We have to think beyond skin color."
The group attempted to list undercovered groups, identifying as such those in "flyover country" or even in "flyover communities" within a metro area.
Keith Woods, NPR vice president for diversity in news and operations, alerted participants to an internal NPR web page, http://sourceoftheweek.tumblr.com/, created as an interactive aid for broadening sources for news stories and available to all journalists.
Another volunteered the Women's Media Center's SheSource, which describes itself as "an online braintrust of female experts on diverse topics designed to serve journalists, producers and bookers who need female guests and sources."
Latoya Peterson, deputy editor-Voices at Fusion, said media members often report from a middle-class point of view because they don't know any poor people — even though those people might be beside them serving their meal.
Jesse Holcomb, senior researcher at the Pew Research Center, reported on recent findings on social media and people of color.
"Both Hispanics in Denver and blacks in Macon closely follow local and neighborhood news at higher rates than their white counterparts," concluded one study, "Local News in a Digital Age," released March 5.
Another, "U.S. Smartphone Use in 2015," concluded, "12% of African Americans and 13% of Latinos are smartphone-dependent, compared with 4% of whites."
In a analysis that perhaps goes contrary to popular belief, "How Millennials Get News: Inside the Habits of America's First Digital Generation," released by the Media Insight Project on March 16, concluded, "Millennials are more likely to report following politics, crime, technology, their local community, and social issues than report following popular culture and celebrities, or style and fashion . . . ."
As the 9 a.m.-to-4 p.m. session wound down, small groups discussed four questions not designed to produce unanimity: How is Unity perceived? What policy issues should be priorities for Unity's work? What should Unity not do? If Unity should be wildly successful, what would that look like?
Among the responses: A group is needed to address the intersection of race and gender or race and class — a condition dubbed "intersectional." That coalition should address larger issues such as net neutrality. Don't be defined only by color. Don't define diversity too broadly — in Silicon Valley the word has become code for white women. Monitor industry panels to make sure they are diverse. Resolve the issue of a suitable business model for Unity. Define its mission. Consider the possibility of inviting other groups to join. Broaden the definition of diversity to include geography, class "and other important criteria."
Contreras told the group that a Unity board meeting this weekend at Gannett headquarters in McLean, Va., a facility it is soon to vacate, prompting it to operate with a "virtual office," would discuss the suggestions. He acknowledged that one of Unity's failures had been not addressing many of the suggestions made at a similar gathering last year, and apologized.
"UNITY decided to move out of the Gannett space and move to a virtual office to reduce cost and focus more resources toward exciting new programming," Contreras said afterward by email.
As the meeting concluded, Kevin Merida, Washington Post managing editor, paid tribute to Post photojurnalist Michel du Cille, a three-time Pulitzer Prize winner who died in December while covering the Ebola crisis in Africa. The Post's Matt Schudel wrote at the time, "He was renowned among journalists for his ability to look inside a crisis and find enduring portraits of sorrow, dignity and perseverance."
"That's one of our challenges," Merida told the group, "to see things that others don't see."
The day's facilitator, Jill Geisler, who holds the Bill Plante Chair of Leadership and Media Integrity at Loyola University Chicago, asked participants for one-word summaries of the meeting.
Their answers underscored the notion that much remains to be done.
Among them: "Phoenix." "Dialogue." "Unity." "Rethink." "Work." "Vigilant." "Future." "Optimism." "Innovate." "Forward." "Sustainability."
Monica Anderson, Pew Research Center: A Rising Share of the U.S. Black Population Is Foreign Born

Toni Fitzgerald, medialifemagazine.com: Hispanic media habits: A breakdown

Nikki Usher, Columbia Journalism Review: Is the Times' coverage of the super-rich alienating millennials?
NPR Rebukes "Latino USA" on Chicago Election Report
"NPR has asked Latino USA to remove all NPR branding from last weekend's episode of the show, saying it 'does not meet NPR's editorial standards,' " Elizabeth Jensen, NPR's ombudsman, wrote on Friday.
"A tough penalty, to be sure, but in this case it's warranted; the show's execution simply did not meet the goals the producers had intended. NPR's statement follows, along with a response from Latino USA."
The note from NPR's editors began:
" 'Chuy and the battle for Chicago,' the April 3, 2015, episode produced by Latino USA, does not meet NPR's editorial standards. NPR distributes Latino USA to more than 130 stations, and did not have an opportunity to review the program prior to distribution.
"In the episode, his opponent and other critics make some serious charges about Mayor Rahm Emanuel and the way he has governed the city. There are mentions of 'financial mismanagement,' that he cares only about 'millionaires and billionaires,' that he threw immigration reform 'under the bus' and that decisions he made while working for President Obama led to deportations.
"The episode appeared just four days before Chicago's run-off election. But there are no responses to those charges from Emanuel or his aides. There was no mention in the episode about whether Latino USA even tried to get any comment from them.
"In fact, a Latino USA producer did contact the Emanuel campaign to get its assistance in reaching prominent Latino supporters of the mayor. But the campaign also needed to be informed that specific complaints would be heard during the episode and then be given a chance to respond. If the campaign wouldn't cooperate, Latino USA needed to find and use previous responses. . . ."
"Latino USA" responded:
"Latino USA and the Futuro Media Group acknowledge NPR's concerns regarding the 'Chuy and the Battle for Chicago' episode. Having covered Latino issues in the United States for over two decades, we understand the weight of our responsibility. We regret any appearance of imbalance or lack of fairness in the episode, particularly as it may have reflected on NPR.
"We should have made clear in the program that we had reached out to the Emanuel campaign numerous times without response. We also are reviewing other ways in which the program might have been better executed. We intend to redouble our efforts to bring to our listeners overlooked stories while conforming at all times to the highest journalistic standards."
Kai El' Zabar, Chicago Defender: Garcia to supporters: We will continue to fight to make Chicago work for all residents
<br</br
Mary Mitchell, Chicago Sun-Times: Humility, black partnerships forge a win for Rahm Emanuel
Jeb Bush Order Found to Have Reduced Black Enrollment
"As he courts Republicans across the country, Jeb Bush boasts that an executive order he signed that ended race-based college admissions in Florida upheld conservative principles while helping minorities," Robert Samuel reported Monday for a front-page story in the Washington Post's print edition.
" 'We ended up having a system where there were more African American and Hispanic kids attending our university system than prior to the system that was discriminatory,' the former governor and likely presidential contender said recently at a conference of conservative activists.
"But at Florida's two premier universities, black enrollment is shrinking. At the University of Florida in Gainesville and at Florida State University in Tallahassee, administrators say they worry that the trend risks diminishing their standing as world-class universities and hurts the college experience. . . ."
Michael Calderone, Huffington Post: Hillary Clinton Team Holds Off-The-Record Journalist Dinner Ahead Of 2016 Announcement

John Eggerton, Broadcasting & Cable: Reports: Clinton to Declare Candidacy

David Freedlander, Daily Beast: Is Al Sharpton Ready for Hillary?

Latino Decisions, HuffPost LatinoVoices: Rubio's Standing With Latino Voters

David A. Love, theGrio.com: Why Rand Paul's presidential bid should matter to black America

Errol Louis, Daily News, New York: Hillary Clinton should embrace the real Brooklyn: Appeal less to hipsters and more to raucous activist Democrats

Harold Meyerson, Washington Post: Today's GOP is the party of Jefferson Davis, not of Lincoln

Wamara Mwine, the Hill: Republicans' diversity twilight zone

Matt Wilstein, Mediaite: Rep. Castro Corrects Andrea Mitchell: I'm Mexican-American, Not Cuban-American
Journalists Debate Coverage of Killings by Police
"It's been five months since the civil unrest in Ferguson, Missouri, drew hordes of journalists and TV crews to a small Midwest community that literally burned with rage during protests over the death of an unarmed black man," Aaron Morrison reported Friday for International Business Times.
"But in the ensuing news coverage, the performance of media outlets was up for debate Friday at the Rev. Al Sharpton's National Action Network convention in New York City, during a panel discussion of how race is tackled by the media.
"Panelists who work in mainstream and ethnic media agreed the coverage surrounding Michael Brown's death last summer should have a lasting, teachable impact for how police shootings and race are written and talked about in an increasingly democratized media landscape.
"New and racially diverse voices that emerged during several months of coverage helped media outlets learn lessons about avoiding stereotypical portrayals of African-American shooting victims, for which they would be held accountable for failing at being fair in race-based coverage, some panelists said. 
" 'In a very profound way, Michael Brown and Eric Garner force the media to change the way that we cover the shootings of black men by police,' said Joy Reid, a national correspondent for MSNBC. 'There was a point in the coverage when part of the media were trying to spin the entire Ferguson story into one of out-of-control black people rioting. . . . ' "
Alan Blinder and Manny Fernandez, New York Times: South Carolina Police Shooting Seen as Crime Strategy Gone Awry

Editorial, Post and Courier, Charleston, S.C.: Police cams an apt response

Editorial, Post and Courier, Charleston, S.C.: Police, citizen teamwork vital

Paloma Esquivel, Richard Winton and Veronica Rocha, Los Angeles Times: FBI probing videotaped beating by San Bernardino deputies

Greg Howard, Deadspin: The Police Are America's Terrorists

Latino Rebels: Latino Group Condemns Scott Shooting & Calls for Charges in #PascoShooting

Donovan X. Ramsey, Gawker: White America's Silence on Police Brutality Is Consent

David Uberti, Columbia Journalism Review: How smartphone video changes coverage of police abuse

Investigation Finds Rapes Could Have Been Prevented
"Darren Sharper, former NFL football player and New Orleans Saints safety, has agreed to plead guilty or no contest to raping or attempting to rape nine women in four states," T. Christian Miller reported Thursday for ProPublica.
"It was a rampage that could have been prevented, according to a recently published joint investigation by ProPublica and The New Orleans Advocate. Police didn't take recommended steps, such as contacting other law enforcement agencies to check on Sharper's history.
"Now, our partners at The New Orleans Advocate have an exclusive account of the details of the plea agreement, under which Sharper will serve as few as nine years of a 20-year sentence. He had been facing life in prison.
"Sharper's post-prison life will be anything but easy, however. Among the terms of his probation: He may have to wear a so-called 'penile plethysmograph' —a kind of polygraph for the penis that he would wear to monitor his response to images of coercive and non-coercive sex acts. Medical experts are critical of the device, but Sharper has agreed to subject himself to the tests.
"Other parts of the plea deal: He gets probation for life. He will have to register as a sex offender. He can never drink alcohol again. And he can never use the Internet to pick up women.
" 'There will never be a time he will be finished,' one person familiar with the deal told the Advocate."
Carl Bialik, FiveThirtyEight: Better Data Entry Could Help Stop Rapists Like Darren Sharper Before They Assault More Women

Ryan Gabrielson, ProPublica: For Darren Sharper, a Place in Prison. But in Hall of Fame, Too?

T. Christian Miller and Ryan Gabrielson, ProPublica, and Ramon Antonio Vargas and John Simerman, The New Orleans Advocate: Upon Further Review: Inside the Police Failure to Stop Darren Sharper's Rape Spree

Terry Parris Jr., ProPublica: ProPublica Investigated NFL Star Darren Sharper's Rape Spree: A Q&A With Reporters
Don Lemon Glad He's Stirring "Passion and Debate"
"Don Lemon is no stranger to criticism," the Hollywood Reporter reported on Thursday.
"At The Hollywood Reporter's 35 Most Powerful People in New York Media party on Wednesday night, the CNN anchor revealed that though he doesn't listen to critics, he's happy to have them chime in.
" '[I'm] there for the viewer. I'm not there for the critics, so let the critics be the critics,' he said. 'I have your attention. I'm glad you're watching, and I'm glad that I'm moving you in some way — that I'm stirring some sort of passion and debate. I love it.'
"Lemon also admitted to being a devoted viewer of Fox News' Megyn Kelly, saying, 'I think that Megyn Kelly is very powerful. I think that she's very honest. I think that she's very fair. I think she's a star, and I watch her every single night.' "